Latest Updates
Files
Links
Department Resources
May 20, 2019
The quiz on human reproduction system will be on Thursday (Day 4), May 23, 2019. It will be in Google Classroom.
May 16, 2019
Part One of the Religion 9 Final will be on Wednesday, June 5, 2019 (Day 2).
Part Two of the Religion 9 Final will on Thursday, June 6, 2019 (Day 3) except for E period which will take it on Friday, June 7, 2019 (Day 4).
May 14, 21019
There will be a quiz on the Drugs and Alcohol content on Friday (Day 7), May 17, 2019. It will be based on all of the notes from class.
May 7, 2019
There will be a quiz on Holy Week on Friday, May 10, 2019
May 1, 2019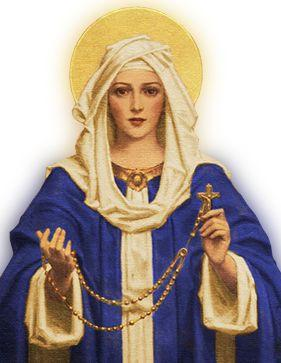 The month of May is dedicated to the Blessed Virgin Mary. During this month we reflect on her model of discipleship and motherhood with all of his simplicity, humility, and depth. There are many devotion and prayer forms associated with Mary. One of the most popular is the Holy Rosary. During this month, why not try to renew this devotion in our lives by praying the rosary in which we reflect on the various events and mysteries in the life of her son, Jesus, and her life. Attached is a wonderful guide on How to Pray the Rosary.pdf.
May the Blessed Mother be a source and guide on your journey of holiness.
April 10, 2019
Project: Old Testament Prophets
Each class will be assigned one of four prophets on Monday, April 15, 2019
1. You will receive an Introduction to the book of the prophet taken directly from your Bible.
2. You will receive a study guide with five questions to research and answer, that will be your cover page.
3. You will write your answers on loose leaf.
4. It is due on Tuesday, April 30, 2019
Periods A and B have the prophet Amos
Period C has the prophet Isaiah (First Isaiah)
Period E has the prophet Jeremiah
Period F has the prophet Ezekiel
April 9, 2019
There will be a quiz on the Ten Commandments on Monday April 15, 2019.
April 5, 2019
There will be a quiz on Thursday, April 11, 2019 on the ten plagues of Egypt.
March 8, 2019
There will be a test on Friday, March 15, 2019.
Students have been given a reading guide that is to be completed and submitted on March 15, 2019.
March 6, 2019 Ash Wednesday
This is the Lenten message from Pope Francis.
Lenten Message 2019 from Pope Francis
March 5, 2019
There will be a quiz on Friday on the meanings of the following vocabulary words and literary forms. All the definitions can be found in your notebook or textbook.
Vocabulary: exegesis, myth, Original Holiness and Original Justice, Pentateuch, primeval history, Paschal Mystery, Torah
Literary Forms: Anthem, Anthropomorphism, Census, Chronicles, Contracts, Debate, Genealogy, Hyperbole, Parable
March 1, 2019
Ash Wednesday, March 6, 2019 marks the beginning of Lent. The following fast and abstinence regulations are observed:
Ash Wednesday and Good Friday, April 19, 2019, are days of fast and abstinence.
Fridays during Lent are days of abstinence.
All Catholics who have reached their 14th birthday are to abstain from eating meat on Ash Wednesday, Good Friday and on all Fridays during Lent.
All Catholics over 18 years of age to the beginning of their 60th year are bound to the obligation of fasting. Those bound by this rule may take only one full meal and two smaller meals unless dispensed or excused.
February 26, 2019
There will be a quiz on Friday, March 1, 2019 on the vocabulary from pages 8-11 in the textbook.
February 15, 2019
The following is homework for the mid-winter recess. It must be done on loose leaf and submitted on February 25, 2019.
Religion 9 Mid Winter Recess 2019 Homework.docx
February 11, 2109
Make up times for the Midterm.
Tuesday 2/12 H period 7:45 AM in W205
Wednesday 2/13 H period 7:45 AM in W214
If you missed both parts, please be sure to complete Part 1 before Part 2.
Bring a #2 pencil and a pen.
If you are unable to attend one of these sessions please email me immediately!!!!
February 5, 2019
Some practical suggestions for the midterm on February 6 (Part I) and February 7 (Part II):
Please make sure to secure the following for the midterm:
1. make sure you have two sharpened Number 2 pencils for the answer document on Part I
2. make sure you have two pens, blue or black ink for Part II
3. All electronic devices, including apple watches are to be stored in your book bags and left at the front of the room during testing.
Thank you and good luck,
Mr. Melendez
February 1, 2019
Some students did not take the homework on Mary today. Please use the link below to complete it on loose leaf and submit it on Tuesday at class time.
Getting_to_Know_Mary Scripture search.pdf
January 29, 2018
The midterm will take place on February 6 and 7. Part I will be administered on February 6 and Part II will be administered on February 7.
Here is the Review for the Midterm.docx
December 19, 2018
There is a project due on January 4, 2019 about the Mass. Students are to create a pamphlet/booklet that explains the four parts of the Mass. They may use their notes, the PDF study guide, the Google slide presentation that is in their Google classroom.
December 17, 2018
There will be a test on Thursday, December 20, 2018 on the Liturgical Calendar, Liturgical Colors, and Parts of the Mass.
December 10, 2018
There will be a quiz on the liturgical calendar on December 14, 2018
Here are the review sheets: LITURGICAL CALENDAR QUIZ.docx
Article on the Liturgical Colors.docx
November 29, 2018:
On December 4, 2018 (Period C which will take it on December 5), students will have a test on Chapter 10.
Click on the Review for Chapter 10 on Prayer.doc
Project on St Francis of Assisi Due October 31.doc

October 19, 2018
The next Project is a biography on St. Francis of Assisi using the three sources of the video of St. Francis (above), Timeline of St. Francis and St. Clare, and the biography of St. Francis (under the files section).
REVIEW FOR THE QUIZ ON THE FOUR FRANCISCAN VALUES.doc
October 12, 2018
There will be a quiz on the Four Franciscan Values on Wednesday October 17, 2018. Attached is the review sheet. A copy has been sent to each student in Google Classroom.
PROJECT ON THE FRANCISCAN VALUES.doc
October 3, 2018
Our first project is due on October 19, 2018.
Please refer to the attached file for the explanation. We will have gone over it in class.
Files