Season 2019
---
Welcome to 2019 Outdoor Track! Performance List
Guidelines and rules LOCKER RULES
---
---
Eastern States Championship - Results
4 x 800 Eastern States Champions
Mikayla Barnave, Krista Olivieri, Elena Duffy & Tara Mansfield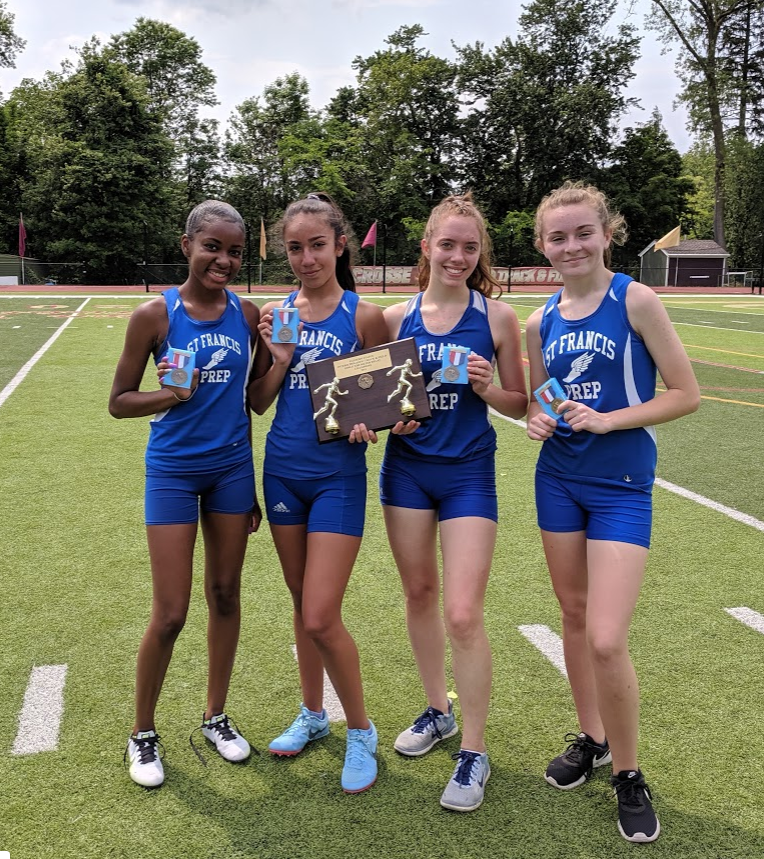 Demetra Vasilliadis 3rd 100m Hurdles & 5th TJ
Sprint Medley Relay 5th Place Medals
Demetra, Melissa Gonzalez, Tara Mansfield & Maria Calisi
---
Saturday 5/25 Varsity Intersectional Championship – RESULTS
Congratulations to medal winner 4 x 800 Mikayla Barnave, Chiara Cinquemani, Elena Duffy & Tara Mansfield
5th Place finish and year's best time. Stephanie Zovich and Indya Lovell 4th and 5th in the Javelin with Personal best throws.
Demetra Vasiliadis 5th place finish in the Triple Jump with a personal best jump.
---
Freshman Records Sophomore Records Varsity Records
Anyone interested in joining should see Mr. May 
in the computer lab (W201) during the day
 or email at [email protected]
CONGRATULATIONS BROOKLYN-QUEENS CHAMPIONS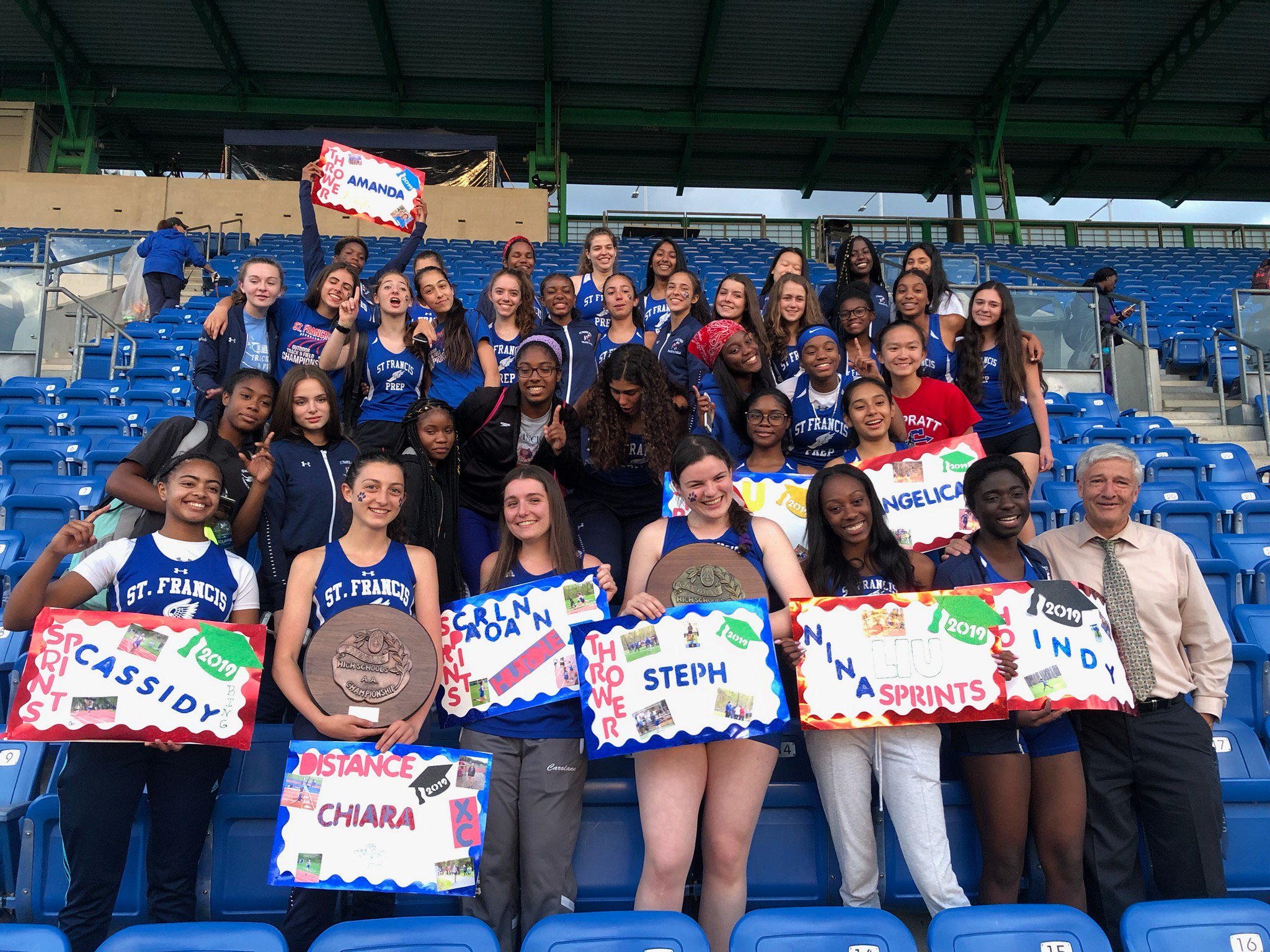 Congratulations Fran Palmeri
Sophomore Triple Jump Catholic State Champion
Outdoor Roster Tryout guidelines
---
St. Anthony Invitational Highlights Results
Tara Mansfield 3rd Place Medal in the 1500m
Stephanie Zovich 6th Place Medal in the Shot Put
---
Tri-Valley Invitational Results
Congratulations 4 x 800 Relay of
Elena Duffy, Krista Olivieri, Maria Calisi & Chiara Cinquemani
for winning the Tri-Valley Invitational.
---
VARSITY RESULTS HERE FROSH/SOPH Relays Results
Medal Winners Fran Palmeri & Melissa Gonzalez
2nd TJ Relay, 3rd LJ Relay and with Kaitlin Masse Placed 4th in the Shuttle Hurdle Relay
Varsity Events Chiara Cinquemani Placed 2nd in the 3000m Run
---
North Shore Autism Awareness Meet Results
Medal Winners
Fran Palmeri Triple Jump - Elena Duffy 4 x 4 - Melissa Gonzalez Long Jump
Krista Olivieri 4 x 4 - Chiara Cinquemani 1500 & 4 x 4 - Tara Mansfield 800 & 4 x 4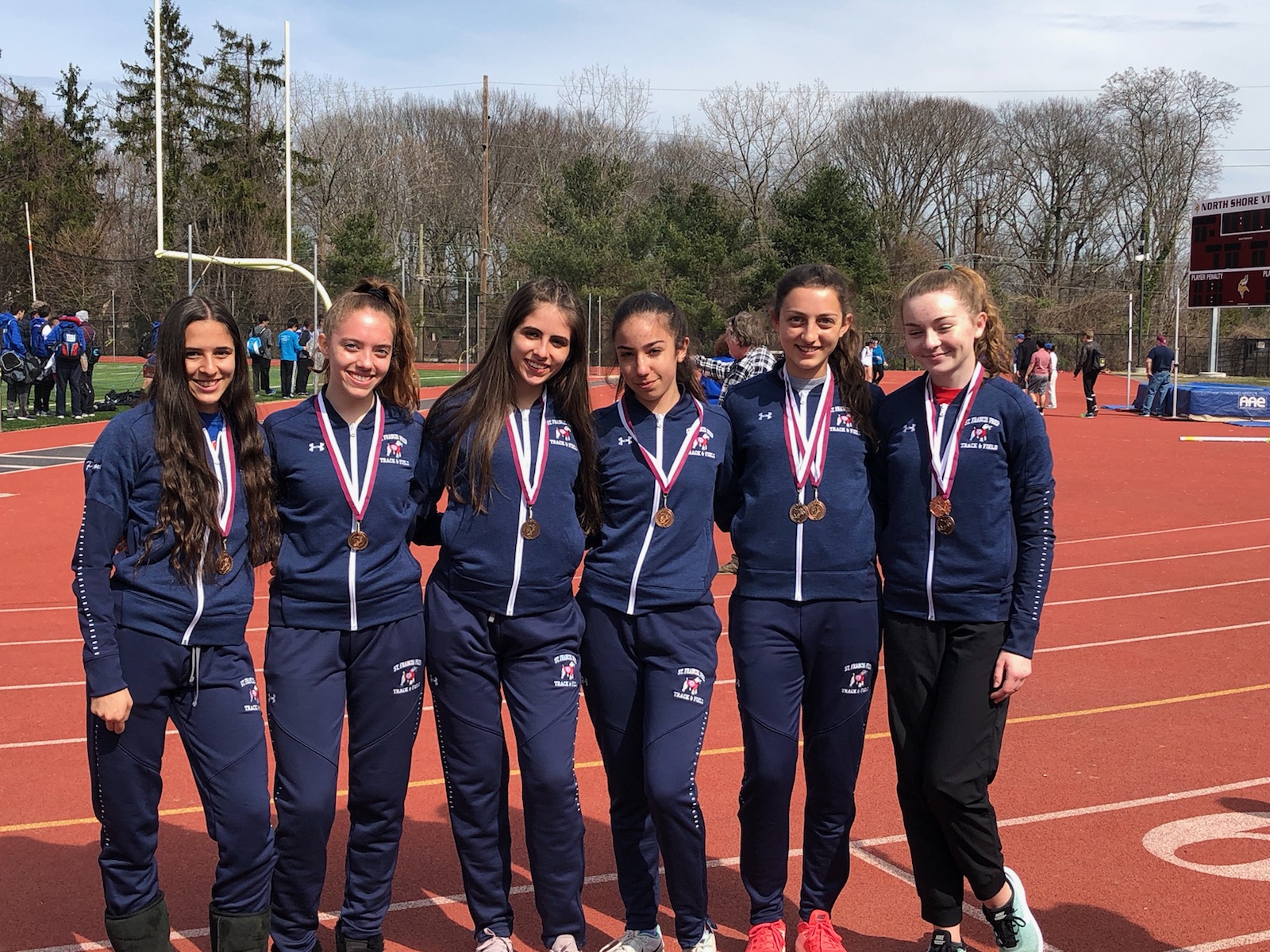 Javelin Relay places second ( Stephanie Zovich & Indya Lovell)
---
---
---
---
---
Iona Prep Invitational Results
Winners Included
Stephanie Zovich Shot Put
Amanda Joseph Discus
Kiriaki Georgiou Hammer and SOPH SCHOOL RECORD
MEDAL WINNERS