Upcoming Games
Full Schedule
Upcoming Games
Date
Team
Location
Opponent
4/29/2019
Golf Varsity
Marine Park 3:30
St. Edmund's
Away
5/1/2019
Golf Varsity
North Shore Towers 3:30
Molloy
Home
5/2/2019
Golf Varsity
Tam O'Shanter CC 3:30
Long Island Lutheran
Away
5/6/2019
Golf Varsity
Douglaston 3:30
McClancy
Home
5/8/2019
Golf Varsity
Douglaston 3:30
Holy Cross
Home
Full Schedule
Date
Team
Location
Opponent
Result
Score
3/25/2019
Golf Varsity
Douglaston 3:30
Cardinal Hayes
Home
No Result
4/3/2019
Golf Varsity
North Shore Towers 3:30
Holy Cross
Away
No Result
4/8/2019
Golf Varsity
Douglaston 3:30
Christ the King
Home
No Result
4/10/2019
Golf Varsity
Douglaston 3:30
Molloy
Home
No Result
4/15/2019
Golf Varsity
Douglaston 3:30
St. Edmund's
Home
No Result
4/29/2019
Golf Varsity
Marine Park 3:30
St. Edmund's
Away
No Result
5/1/2019
Golf Varsity
North Shore Towers 3:30
Molloy
Home
No Result
5/2/2019
Golf Varsity
Tam O'Shanter CC 3:30
Long Island Lutheran
Away
No Result
5/6/2019
Golf Varsity
Douglaston 3:30
McClancy
Home
No Result
5/8/2019
Golf Varsity
Douglaston 3:30
Holy Cross
Home
No Result
5/9/2019
Golf Varsity
Knollwood CC
Iona Prep
Away
No Result
5/13/2019
Golf Varsity
Clearview 3:30
McClancy
Away
No Result
5/15/2019
Golf Varsity
Douglaston 3:30
Long Island Lutheran
Home
No Result
5/20/2019
Golf Varsity
Kissena 3:30
Cardinal Hayes
Away
No Result
Latest News
Coaches
Sport Resources
1st Golf Tryout:**Changed!!**
When: Wednesday, March 6 @ 3:30pm
Where: Spring Rock Golf Center (https://springrockgolf.com/)
ADDRESS : 377 Denton Ave. New Hyde Park, NY 11040
PHONE : (516) 739-0167
- Must be cleared by the nurse's office to participate.
- You must be academically eligible to tryout. If you failed 2 or more classes in the 2nd quarter, you are not eligible to tryout.
- You are responsible to have your own transportation to and from all tryouts.
- The first tryout will be at the driving range
- If you make the 1st cut, you will be invited to continue with tryouts. That may be at the range again. It may be at the golf course (depending on weather)
Weather: https://weather.com/weather/5day/l/USNY0530:1:US
2018 SFP Golf Team
Match #1: April 9 vs. St. Edmund's @ Marine Park
SFP 5 St. Edmund's 0
In brutally cold and windy conditions Matthew Recupero lead the team by shooting 1 under(through 5 holes) par on his way to a 5&4 victory. Anthony Castellano, Rob Cazzola, Anthony Moretto, and Max Tockarshewsky also won their matches.
Match #2 April 10 vs. Iona Prep @ Wykagyl CC (non-league)
Iona Prep 5 SFP 0
The boys played well, but couldn't manage to upset perennial powerhouse Iona Prep. Good experience for the team as Ioan Prep will be the type of team we can expect to see if we play well enough to make the playoffs and Wykagyl CC is a beautiful course.

Match #3 April 11 vs. Holy Cross @ Douglaston
SFP 3 Holy Cross 2
Very tightly contested match, but a great win against our rival, Holy Cross. Senior Captains Matt Recupero and Anthony Castellano both closed out their matches on the 8th hole winning 3&1. Sophomore Anthony Moretto closed out his match the same way to get the decisive 3rd point. We see Cross again on May 8 @ North Shore Towers.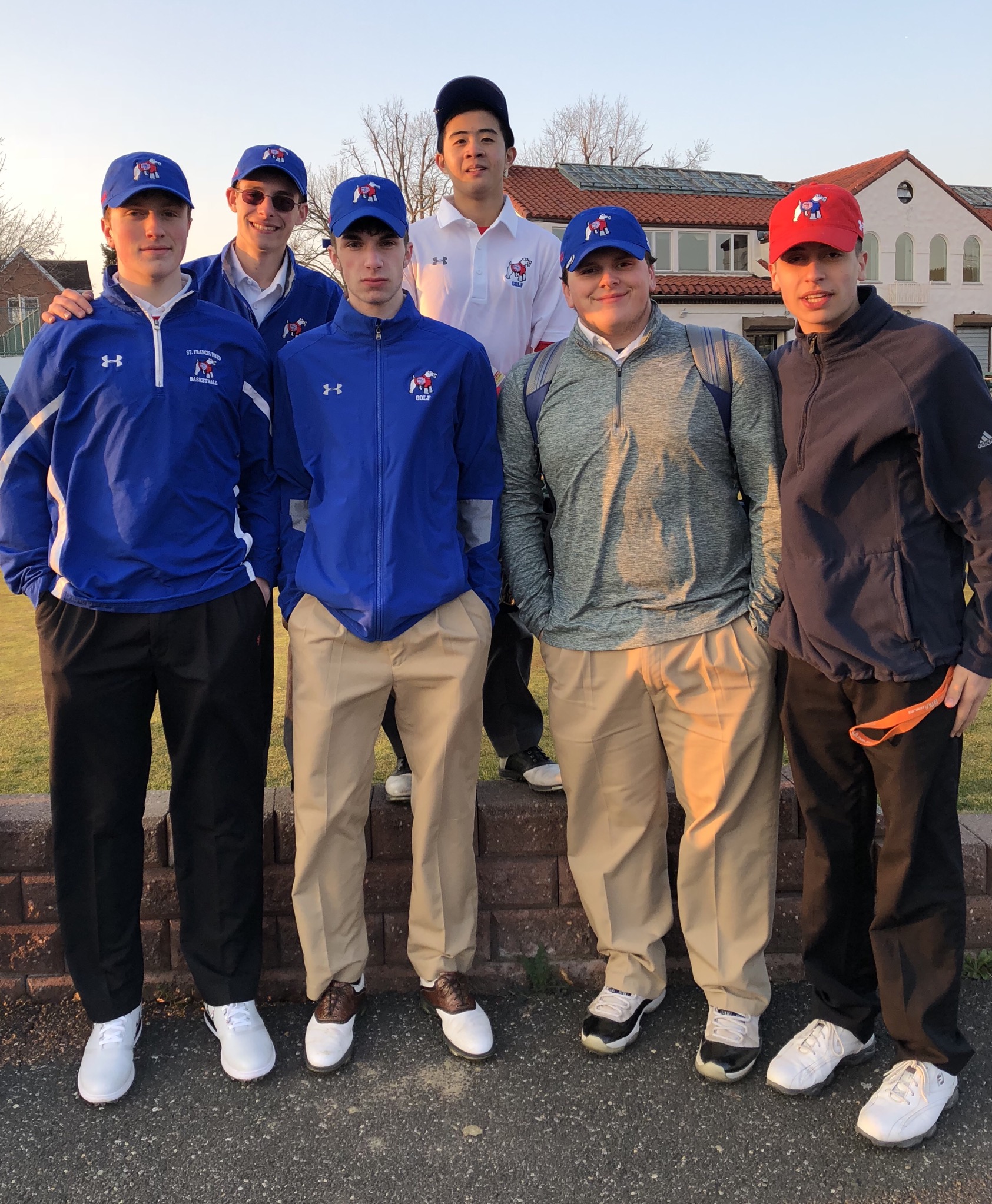 Match #4 April 24 vs. Molloy @ North Shore Towers
SFP 4 Molloy 1
A huge win against Molloy puts us into the driver's seat to win the division. Senior Captain Anthony Castellano was down 1 with one hole to play and on a short par 4, drove the green and birdied the hole. This sent his match to extra holes and Anthony made par on the 1st extra hole to secure our 1st point. Sophomores John Sun (5&4) and Anthony Moretto (4&3) cruised to victories. The 4th point was picked up by senior Rob Cazzola. We see Molloy again on May 16 @ Douglaston.
Matches #5 and #6 April 30 vs. McClancy @ Clearview GC
Played 2 matches to make up the match on April 16 that was postponed due to rain. Clean sweep 5-0 with Matt Recupero, Anthony Castellano, John Sun, Rob Cazzola, and Anthony Moretto picking up wins. John Sun started out impressively with birdies on the first two holes en route to a low score, 3 over par day.
Match #7: May 2 vs. St. Edmund's @ Douglaston GC
Another sweep, 5-0, with Matt Recupero, Anthony Castellano, John Sun, Rob Cazzola, and Anthony Moretto winning once again. Anthony Castellano and John Sun tied for low round at 4-over par.
Match #8: May 8 vs. Holy Cross @ North Shore Towers
Big win against our rivals Holy Cross, 4-1. John Sun led the way with another stellar outing shooting 3-over par. Senior captains Matt Recupero (5-over) and Anthony Castellano (7-over) both cruised to victories. Anthony Moretto shot a personal best (for 9 holes) 5-over par.
Match #9: May 9 vs. LI Lutheran @ Douglaston GC
Tough loss vs. a strong program. Anthony Castellano picked up the only win. It was a tightly contested match with Anthony Moretto and Bohbin Shim losing in extra holes.


Match #10: May 14 vs. Cardinal Hayes @ Kissena GC
Big division win!!! Wins by Matt Recupero, Anthony Castellano, Anthony Moretto, and Bohbin Shim gave us a 4-1 victory over Cardinal Hayes. John Sun shot a team low 8 over par, 40, but lost to the #1 golfer from Hayes.
Match #11: May 18 vs. Molloy @ Douglaston GC
This win clinched a 3rd straight division title!! Match was played in terribly rainy conditions, so each match was stopped after it had been decided. Wins by John Sun, Matt Recupero, Anthony Castellano, and Anthony Moretto led the team to a 4-1 win. John Sun shot even par over 5 holes to lead the way.
Match #12: May 21 vs. Cardinal Hayes @ Douglaston GC
This match was the last of the regular season and the win 5-0 made us undefeated in the division for a 3rd consecutive year. We also clinched the #1 seed in the city playoffs for the first time. John Sun shot 3 over par to lead the way as Matt Recupero, Anthony Castellano, Anthony Moretto, and Bohbin Shim all picked up W's.
City Quarterfinals: May 23 vs. St. Peter's (SI) @ Douglaston GC
Tough loss versus St. Peter's, 4-1. John Sun picked up the lone victory for the Terriers. Tough way to end the season, but the team put together another terrific season. I want to thank the whole team and specifically seniors Matt Recupero, Anthony Castellano, Robert Cazzola, and Max Tockarshewsky for a great year!! Good luck to the seniors as they move on!!
2017 Lu-Hi Open Champs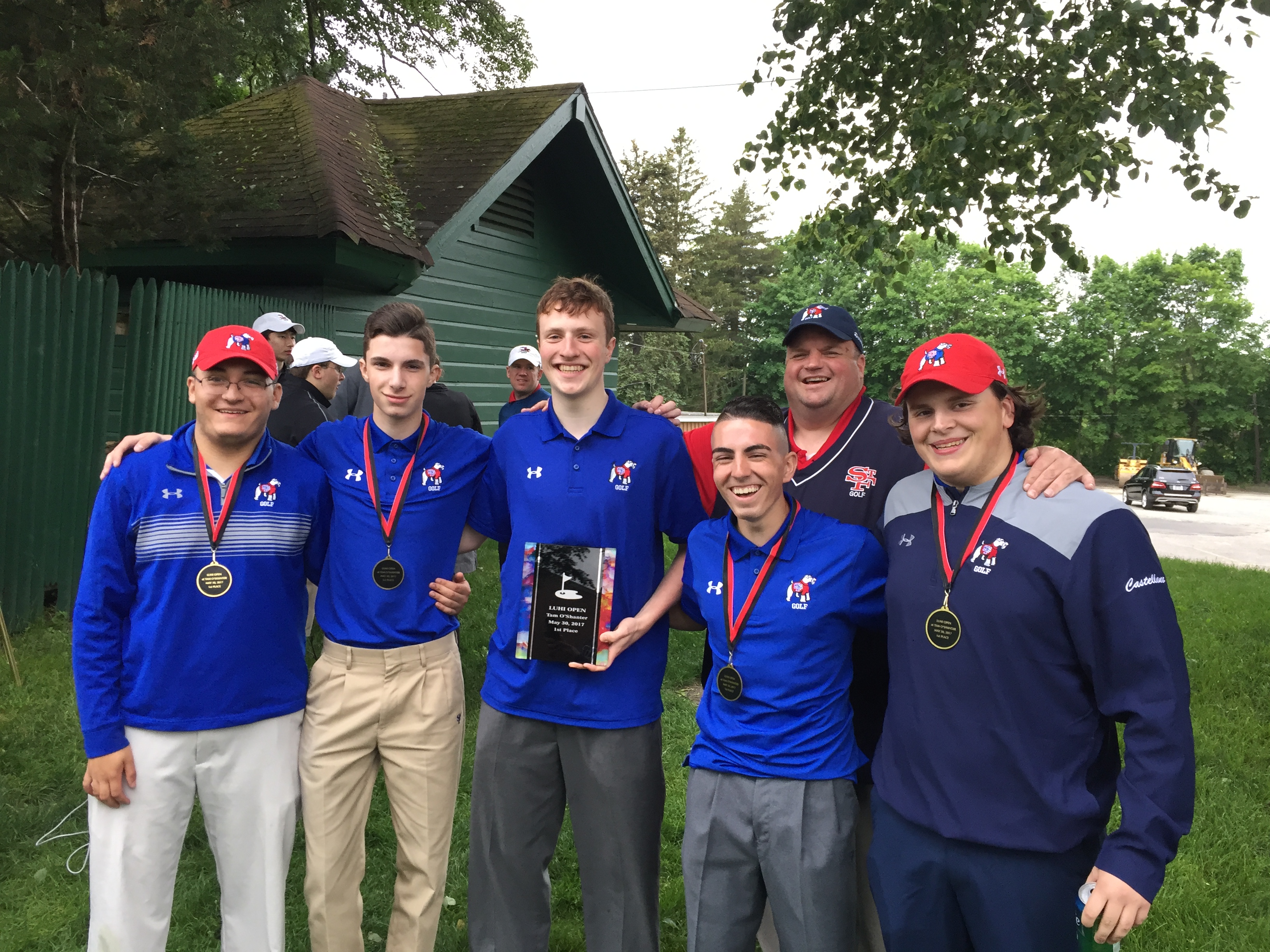 Varsity Golf is a spring sport and tryouts are in the beginning of March.
The team came in 1st place in the Brooklyn Queens Division in 2016, 2017, and 2018. They also won the Long Island Lutheran Open in 2017. Schools in the Brooklyn Queens division include Christ the King, St. Edmund's, Holy Cross, Monsignor McClancy, Cardinal Hayes, and Archbishop Molloy. The team plays its home matches at Douglaston GC. Away matches are played at North Shore Towers CC, Tam O'Shanter CC, Clearview GC, and Marine Park GC.
Any announcements will be posted here and announced in COR. If you have any questions, feel free to see Mr. McCormack in room E014.
Golf Course Score Cards:
http://www.golfnyc.com/douglaston_scorecard/
https://course.bluegolf.com/bluegolf/course/course/northshoretowers/detailedscorecard.htm
http://www.golfnyc.com/kissena_scorecard/
http://www.golfmarinepark.com/course/scorecard/
http://www.tamoshanterclub.com/Life_At_The_Club/Golf/Course_Tour
https://course.bluegolf.com/bluegolf/course/course/Wykagyl/detailedscorecard.htm
http://www.divotdog.com/golf/course/ny/bayside/clearview-golf-course/18-hole-course/
http://www.golfnyc.com/forestpark_scorecard/
Moderator and Coaches
Moderator: Mr. McCormack
Coach: Mr. Brian McCormack
Assistant Coach: Jeff Reinhart
Golf Varsity
Moderator: Mr. McCormack