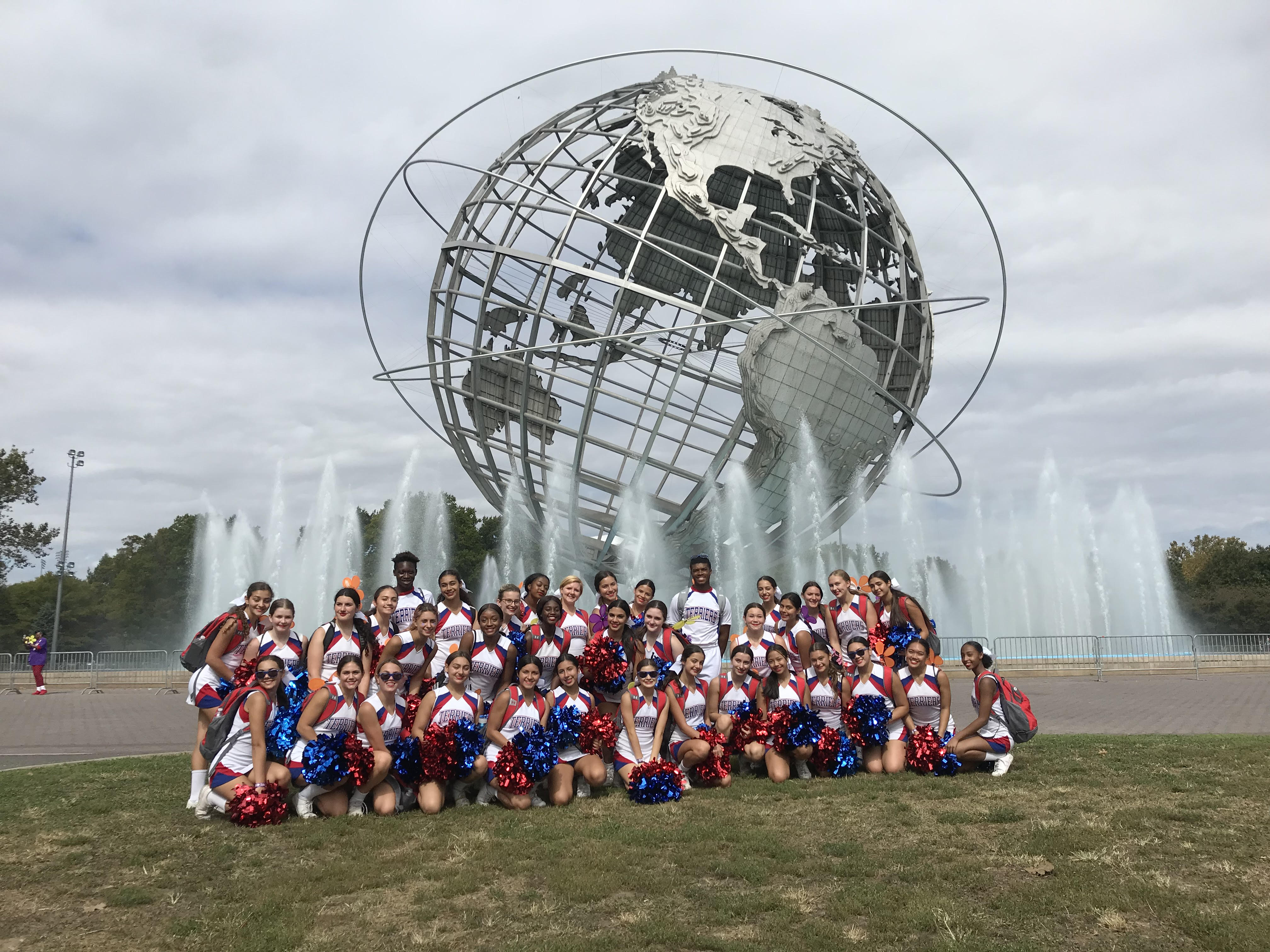 The State CHSAA Executive Committee has approved the following sports for the Fall Season:
Baseball, Bowling, Cross Country, Flag Football, Girls Swimming (RVC), Golf, Sideline Cheer, Soccer, Softball and Tennis.
The State CHSAA Executive Committee has moved Competitive Cheer, Football, and Girls Volleyball to the Fall II Season.
Varsity Sideline Cheerleading 2020-2021
1. Ciela Anderson
2. Kasmira Jeannot
3. Jessica Campise
4. Jenn Delia
5. Angelica Rizzo
6. Angelina Oppedisano
7. Brooke Miraglia
8. Kimberly Ortiz
9. Mirabel Bok
10. Cheryl Zhu
11. Andre Brown
12. Madison Keszthelyi
13. Saniah Antoine
14. Isabella Sferrazza
15. Gabby Montalvo
16.Cameron Taylor
17. Nicolette Buccola
18. Ginger Chin
19. Bella Frey
20. Nina Lehr
21. Victoria Kekatos
22. Alyson Pineda
23. Natalie Gallo
24. Mia Occhipinti
25. Gabby Cavallo
26. Effy Dionysiou
27. Kaylin Sheehan
28. Emma Muller
29. Marisa Lyons
30. Milena Velez
31. Kaia Afnaime
32. Amelia Cassandro
33. Melissa Paredes
34. Samantha Fordell
35. Irene Kreatsoulas
36. Angelica Zeideia
37. Isabel Luna
38. Marijana Lipotica
39. Jillian Schmalz
40. Ava Banham
41. Imani Innis
This is a message from Principal Patrick McLaughlin:
CHSAA
Brooklyn/Queens Diocese
The Principals Committee of the CHSAA Diocese of Brooklyn/Queens has voted to conduct Fall Athletics beginning practice sessions on September 21, 2020 as per the guidelines set forth by the NYS Governors Office, NYS Department of Health, NYS Department of Education, the State CHSAA, NYSPHSAA Return to Athletics guidance and chairpersons return to play.
The CHSAA will support our member schools and student athletes during these challenging times. We will keep our focus on the following areas as we open the Fall 2020 Season:
Ensuring the health and safety of student-athletes
Maintaining maximum flexibility in scheduling
Maintaining clear communication and contingency plans following the above guidelines
Safety Rules
NO jewelry

NO fake/long nails

NO candy or gum

NO piercings *

If you have a new piercing or newly done nails you can only sit and watch. Band aids covering ears or other areas are not permitted. You are however permitted to have athletic (rubber or soft plastic retainers) in while stunting. If you are anticipating getting a

new piercing

before school begins, please make sure to purchase a sports retainer to change into once summer

workshops begin.*
Note: Coaches reserve the right to sit any athlete who does not adhere to safety rules. Rules are in place and strictly enforced to ensure the safety of all athletes.

All athletes will be trained in proper technique, safety drills, and successful execution and step by step progression of all cheerleading stunts by a knowledgeable coach.

Repetition is utilized and adhered to before the athlete is considered to execute a skill on their own.

A minimum of two safety spotters will always be assigned to watch and stand next to a stunt when a new athlete is attempting a skill for the first few times. This is to protect and secure the athletes at the bottom and to catch the athlete at the top if a fall is occurring due to a mistake made in technique during the execution of the skill.

A minimum of 2 CPR/First Aid and Concussion certified coaches are always present on the mat (or grass) with direct supervision of the skills being performed.
Injuries
As with any sport, cheerleading carries a high risk for injury if there is a lack of watching, listening and communication by an athlete participating. In the event of illness or an injury beyond a small abrasion, cut or bruise, parents/guardians of the injured athlete will be notified by the supervising coach via phone call.

If the athlete feels well enough to resume participation after sitting, with parental permission they can resume.

If the coach feels the injury sustained should be looked over by a physician, the parent/guardian must come pick up that athlete. This will be a combination of the coaches and parents' discretion based on how the athlete is responding to treatment and physical appearance of the injury (swelling etc.)

If an athlete is being taken to a doctor, an accident report must be filed. If an athlete cannot resume participation in the workshop, an accident report will be filed, and the athlete must be cleared by a physician before being allowed to resume during the following workshop.

With any head/neck/mouth injury, there is a small risk of concussion and a parent will be notified regardless of the severity. If any concussion symptoms begin to present themselves, the athlete will need to be picked up and CANNOT drive themselves home or to the doctors (upcoming Seniors).

As stated previously, all athletes are required to adhere to all safety rules to maintain a safe environment for all participants.

Note:

The coaches are ALWAYS available for first aid (bandaging, wrapping, ice packs etc.) However, the coaches are there to teach self-accountability and responsibility. They will wrap and tend to previously strained areas (i.e.: sprained ankle from last season,

tendinitis

near the wrist etc.) the first time an athlete reports irritation, slight inflammation, or discomfort. After that, if a previous injury is flaring up or bothersome while participating and the athlete does not have a brace, the athlete will be asked to sit until they can responsibly wrap/brace properly on their own or until they see a doctor to be medically cleared due to the reoccurring injured area.
What You Should Wear
Sneakers/Socks

Appropriate Fitted Athletic Attire (T-Shirt, Shorts etc.)

Shorts should NOT be rolled multiple times to where they look inappropriate, NO crop tops, jean shorts, flip flops, indecent language/graphics/gestures written on clothing (friendship type bracelets made of string/fabric is allowed for the Summer) allowed.

Hair should be up and pulled away from the face/neck. If hair is too short (neck length) to do so, keeping it down is allowed but a soft hand-band must be used to keep hair out of the eyes/face.
What You Should Bring
Cold Water

Small Sweat Towel/Travel Size deodorant (if needed)

Any Soft Medical Braces (wrist/knee/ankle, if needed)
Tips for New Athletes Attending Workshops
Recommended Attire Purchases

(Modells, Dicks Sporting Goods, Amazon etc.)

Soffee shorts

in Royal blue, red, black and white – Cost: $6-10

Spandex shorts

in Royal blue and red; black, white or patterned is also okay for workshops/practices

(Nike Pro Women's Training Shorts 3 or 5 Inch OR Under Armor Women's On The Court Shorts OR Team Shorty Shorts 3 or 4 Inch) Cost: $30.00

*These should be worn underneath your Soffee shorts ESPECIALLY for new members who we designate a top girl/flyer.

White athletic "cheer" sneakers

– Prices Vary ($20.00-70.00) *

Can be found at stores such as Sketchers, Payless, and Target as well as online at Dick's, Omni Cheer, and Amazon.

The above-mentioned attire is not mandatory for workshops but highly encouraged to purchase due to the requirement of said

i

tems for tryouts as well as the first week of practices and UCA camp tentatively taking place in August upon making the team.

If you do not know many or any athletes in the program or at workshops, please do not stress! The coaching staff will introduce you to veterans who are there to help you and make you feel comfortable. We will also be playing many team bonding games each week to help everyone gain familiarity between one another. We will put you into a stunting group during each workshop to try new skills and meet new people.

If you are new to workshops starting the week of Monday, August 17th and do not know anyone there, the coaching staff will assign you a tryout group, this way you can practice with that group during the material teaching days that week and you don't have to feel pressured to ask a potential stranger to be in a group that you are unfamiliar with.
TRYOUTS FOR THE 2020-2021 SEASON
2020-2021 SFP Cheerleading Information Tryout Packet
The Information Packet will be e-mailed to everyone on our e-mail chain and will provide important information about our 2020-2021 season including the general rules and expectations of our program, tentative upcoming important dates and estimated seasonal costs for new and returning members.
The Tryout Packet will be e-mailed to everyone on our e-mail chain as well. It will be a packet including a series of questions and fill-in responses that our coaches will take closely into consideration (in addition to athletic performance). This is mandated and must be completed and signed by both athlete and parent before being handed in on the day of tryouts.
Medical Clearance for Tryouts
Click this link:

https://www.sfponline.org/docs/PHYSICALEXAMFORM.pdf

to download the medical clearance form

Must be filled out by a physician and dated on or after June 1st 2020
The current physical completed must be included and dated on or after June 1st 2020

Signed by a parent/guardian and athlete

Cheerleading MUST be circled as the primary sport! If you do not circle cheerleading, your child will not be on our list and not cleared specifically to try out with us.

Submit to the SFP Nurse, Mrs. Pappas (in person submission or being faxed are both acceptable)

If you are not on the clearance list or do not have a clearance slip from the Nurse by an hour before tryouts begin on Monday, August 24th, you are NOT allowed to try out. There will be no exceptions made.

In the rare event you were cleared on or after June 1st BUT were thereafter injured at workshops and will not be cleared to tryout by August 24th, the coaches will arrange a private tryout for you once you are medically cleared. You MUST still be in attendance to learn the tryout material; it will not be taught to you privately afterwards. If you selected a group to tryout with, you could attend with them and observe on the sidelines as they tryout.
Although we do not yet know the status of Summer Workshops due to the current situation with COVID-19, as of now it is still expected and required that all athletes receive clearance to participate in a Fall sport.

You cannot hand in your physical the week before tryouts and expect the Nurse to be able to clear you! The Nurse and her staff need ample time to process all paperwork especially with everything going on currently. Remember, she has many other athletes to clear besides Cheerleaders for Fall Sports Tryouts that same day and the rest of that week.

If you will be away on vacation for most of the Summer but you plan on trying out, you must plan to get your physical done before you leave! We will be checking the clearance list frequently beginning in August ending one hour before tryouts begin.
Group Formation, Clinic Sign Up and Number Distribution Date
Monday, August 17th

Detailed review of tryout score sheet categories.

Athletes are expected to form their own tryout groups unless brand new to workshops. There should be no less than 4 athletes in each group: maximum of 6.

Athletes will be asked are responsible for notifying coaches of their tryout groups.

Each athlete will get a tryout number.

Tryout Numbers should be written or typed boldly on a piece of paper taped to the front of the t-shirt for the judges to see during tryouts.

Note:

You will have the option to purchase:

SFP T-shirts for $10.00 each to wear for workshops and/or tryouts.

Plain Blue/Red or White solid color bows for $2.00 each to wear for workshops or tryouts.

Optional Tryout Group Private Coaching Sign Up

If you are away on vacation and will not be back until after August 17th, please let us know what group you are going to be a part of no later than that morning.
We will mark you down on our group spreadsheet. The list of individual tryout numbers will be e-mailed out to everyone by August 18th.
Official In-Person Tryout Material Learning Dates
August 18th-August 20th

Material videos will be sent out and posted on the evening that they are taught.

Athletes who are unable to attend are expected to learn all material on their own remotely.

Each athlete will have approximately 4-6 days to practice and perfect all material taught.
Tryout Material Overview
As a group:

Competitive Dance

Band Chant Dance

Fight Song

1 Sideline

1 Cheer

Returning JV and Varsity flyers are expected to use a sign and/or poms in the air during the cheer.

Individually:

2 Jumps (New Members MUST at least show a single Toe Touch and a Pike)

Any Elite Tumbling (Standing Back handspring and Back tuck/Running Roundoff Back handspring alone or into back tuck, layout or full; we also anticipate asking everyone to show a forward roll and cartwheel)

All tryout athletes will be evaluated by a panel of 6 or more judges made up of:

Current Coaches

Retired coaches

Cheerleading Alumni
Very Important Tryout Information
Tryout Groups

Start considering who you want to tryout

within the beginning of August. Instead of pairing with friends, look to pair with a stunt group that you have been working well in. It is good to see each athlete be consistent yet versatile. Please try to ensure that each group has at least:

1 Flyer

2 Bases

1 Backspot

The group will have the opportunity to perform the cheer section 2 times to rotate other athletes into a stunt ONLY if your group has 5-6 athletes.

Depending on the judges' discretion, athletes may be asked to repeat a section of the tryout.

Attire

New athletes

– Please wear the required colors (red, white or blue) and anticipate coordinating outfits with your group. Colors will be announced in advance.

Returning Athletes -

Returning members are required to wear specific S.F.P Cheer attire to tryout (to be announced in advance) and are expected to bring their Poms.

NO Tank Tops/Crop Tops/Shirts Tied Up (With Rubber band/Scrunchie in Back or Front)

NO Lone Sports Bras/ Lone Spandex Shorts

NO Jean Shorts

NO Long/Acrylic Nails; nails should be cut finger-tip length or shorter with nude or clear polish.

DO NOT wear hair down or with any hard beading.

NO jewelry/piercings (friendship/religious fabric bracelets should be removed at this point)

NO Candy or Gum

Note:

If any of these rules are broken, the athlete will receive a ZERO for appearance score and a deduction in overall score.

"All-American" Tryout Look

T-shirt (tucked in)

Soffe Shorts

White Crew/"Half Calf" Socks

White sneakers

Hair Pulled Back and Up Neatly Away from Face

Low Parted-Ponytail or a High Ponytail

No Fly-Aways

With a Bow (if you have one; facing front for High Pony and Back for Low Pony)

Red Lipstick (aim for smudge proof so it does not rub off on and stain your clothing if an error is made with stunting)

Natural Makeup (i.e.: blush and mascara)

Optional:

Small stickers/facial water based tattoos (red, white, and royal blue preferred) or glitter.

Make-up Tryout Update/Tryout Objections

There is Only ONE tryout for the Fall season.

There will not be a second/make-up tryout for vacations as there has been in previous years. The only exception to this rule would be for an extreme circumstance (unexpected death in the family or a last-minute contagious illness confirmed by a physician's note) and must be approved by the Athletic Director.

Tryout Scores and team placement are not up for discussion. All decisions made by the coaching staff, moderator, and athletic director are final and should be respected.

After Team Placement

Team Practices on Monday, August 24th, Tuesday, August 25th and Wednesday, August 26th of the tryout week are considered mandatory to prepare for UCA camp beginning on Thursday, August 27th.
UCA Camp

Jerry Pershutti's sleep away camp "Pine Forest Cheerleading Camp". We will be attending the location of Trail's End in Pennsylvania from early morning on Thursday, August 27th until midafternoon on Sunday, August 30th.

Considered mandatory for all JV and Varsity athletes. If there is an issue or reservation with your child's attendance, please let us know.

Supervised by coaching staff of 7+ adults and a camp staff of over 50 trained adults.

UCA camp is a wonderful experience for athletes to bond and learn new skills under the instruction of highly trained cheerleading professionals.

Athletes make lifelong memories and learn together not only in small groups but as an entire program.

Please follow the link below to learn more information about UCA Camp:

https://a996413d-b59a-4995-977b-fffc35b082f6.filesusr.com/ugd/12273f_fa87bfce4e6447d1875a7dc2996ec6fa.pdf
Other Fall Sports
If you're planning on trying out for another Fall Sport (swimming, tennis, soccer, or volleyball) the coaches MUST be notified prior.

You are permitted to participate in more than one sport in the same season.

Practices/events for that sport will be excused. However, these dual-sport athletes are at a higher risk for falling behind on skills because they will likely miss out on important practices and events due to schedule conflicts which will delay technical progression.

Any type of absence, excused or unexcused, can and will affect placement in a stunt group or on a competition team. An athlete can be put into or taken out of a spot on the mat within one practice' time.

Please anticipate juggling two sports and schoolwork to be a difficult commitment, especially for incoming freshmen who are brand new to the school and High School level schedule/academic requirement. Time management and communication with coaches will be crucial.

It is certainly possible to participate in two sports and maintain a passing average as it has been accomplished before by multiple athletes, but it will require a higher level of dedication.
Contact Info
Please e-mail

[email protected]

or call the Head of the Program Coach Rosie Tombolo at 646-361-7764 with any questions/inquires.

To receive Social Media alerts and see fun content please follow sfpcheerleading on Instagram!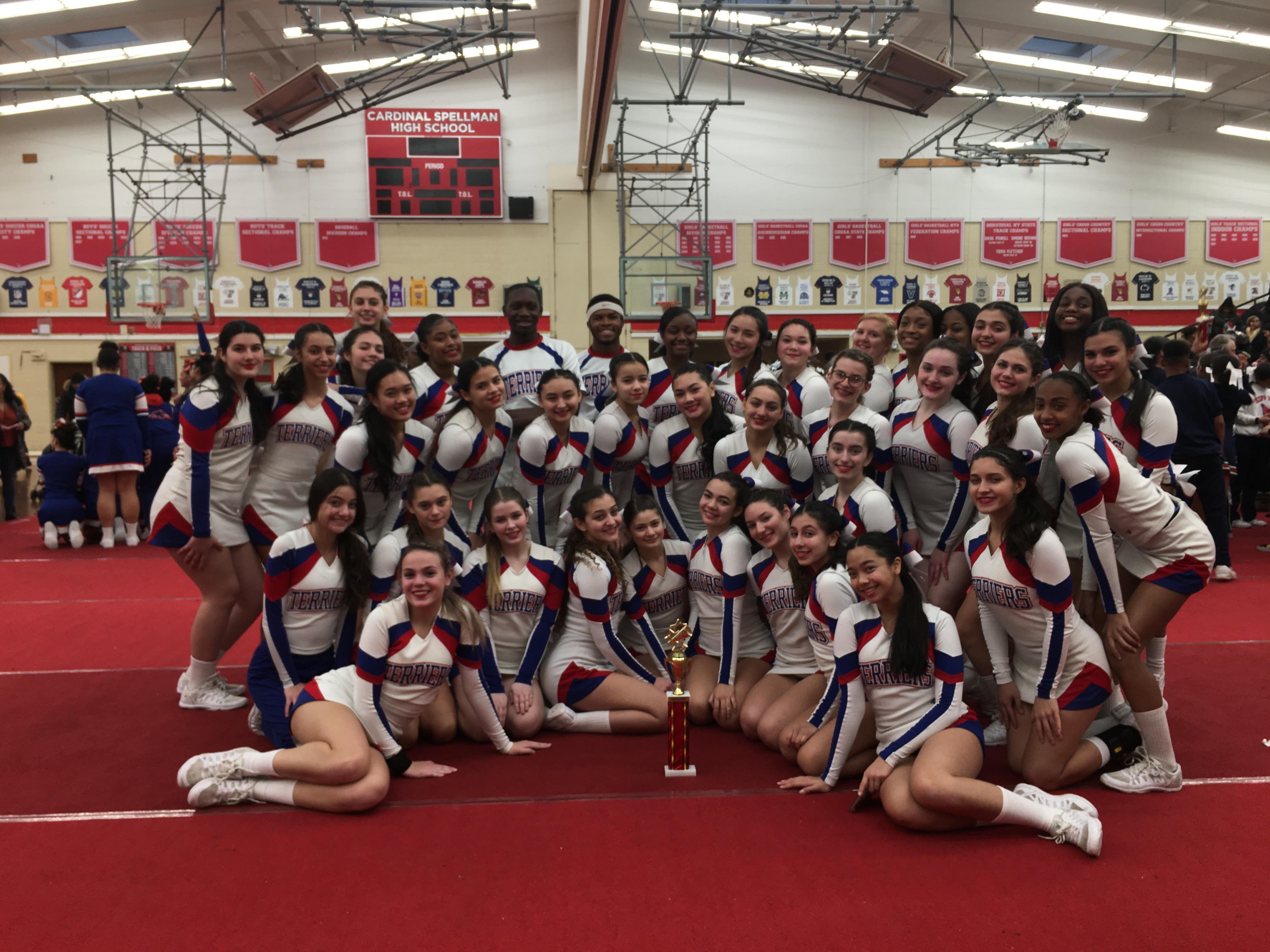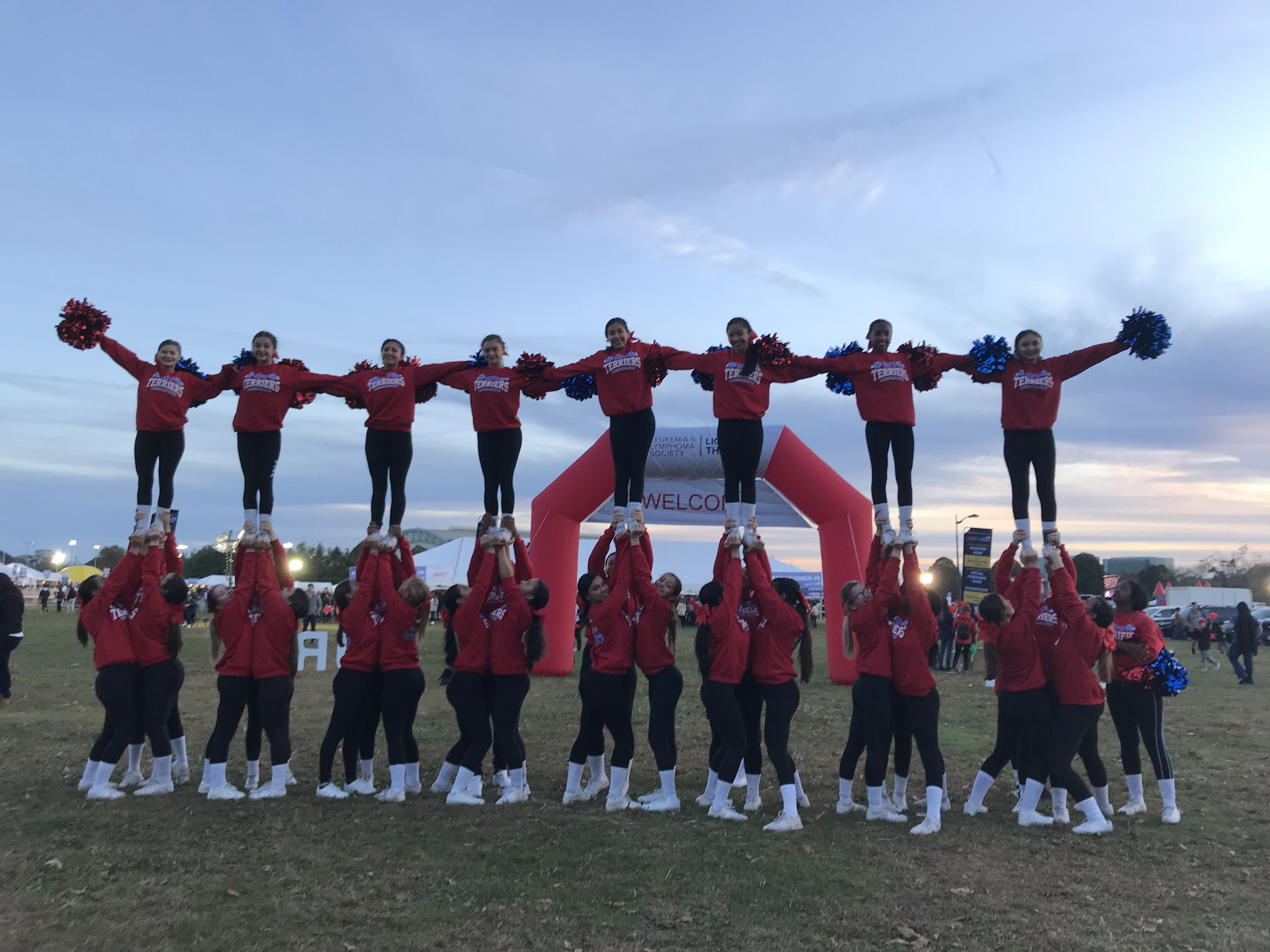 Moderator and Coaches
Moderator: Ms. O'Neill
Head Coach: Ms. Rosemarie Tombolo
Assistant Coach: Ms. Maureen O'Neill
Assistant Coach: Ms. Nina Cyrus
Assistant Coach: Ms. Jennifer Di Vanna
Cheerleading Varsity
Moderator: Ms. O'Neill