Upcoming Games
Date
Team
Location
Opponent
12/9/2021
Basketball Varsity-Girls
SFP 6PM
Molloy
Home
12/14/2021
Basketball Varsity-Girls
@St. John's Prep 4:30
St. John's Prep
Away
12/16/2021
Basketball Varsity-Girls
St. Francis Prep 6:00 pm
Mary Louis
Home
12/20/2021
Basketball Varsity-Girls
TBA
TBA
Away
12/22/2021
Basketball Varsity-Girls
Kellenberg Memorial HS 7:30 pm
Kellenberg Memorial HS
Away
Full Schedule
Date
Team
Location
Opponent
Result
Score
Basketball Varsity-Girls
Truman
Home
No Result
11/23/2021
Basketball Varsity-Girls
St. Mary's HS 5:00 pm
St. Mary's (scrimmage)
Away
No Result
11/29/2021
Basketball Varsity-Girls
South Shore HS 6:00 pm
South Shore HS (Scrimmage)
Away
No Result
12/1/2021
Basketball Varsity-Girls
St. Mary's HS 6:00 pm
St. Mary's
Away
No Result
12/5/2021
Basketball Varsity-Girls
SFP 12:45
Nazareth
Home
No Result
12/9/2021
Basketball Varsity-Girls
SFP 6PM
Molloy
Home
No Result
12/14/2021
Basketball Varsity-Girls
@St. John's Prep 4:30
St. John's Prep
Away
No Result
12/16/2021
Basketball Varsity-Girls
St. Francis Prep 6:00 pm
Mary Louis
Home
No Result
12/20/2021
Basketball Varsity-Girls
TBA
TBA
Away
No Result
12/22/2021
Basketball Varsity-Girls
Kellenberg Memorial HS 7:30 pm
Kellenberg Memorial HS
Away
No Result
12/28/2021
Basketball Varsity-Girls
TBA
TBA
Away
No Result
12/30/2021
Basketball Varsity-Girls
St. Francis Prep 6:00 pm
Bishop Loughlin
Home
No Result
1/10/2022
Basketball Varsity-Girls
@McClancy 6pm
McLancy
Away
No Result
1/11/2022
Basketball Varsity-Girls
@Christ the King 5:30 pm
Christ the King
Away
No Result
1/16/2022
Basketball Varsity-Girls
Moore Catholic HS 12:30 pm
Hoopers NY Classic vs. Our Lady of Lourdes
Away
No Result
1/21/2022
Basketball Varsity-Girls
Staten Island Academy 7:00 pm
Staten Island Academy
Away
No Result
1/26/2022
Basketball Varsity-Girls
@Scanlon 6pm
Msgr. Scanlon
Away
No Result
1/28/2022
Basketball Varsity-Girls
Bishop Loughlin HS 6:30 pm
Bishop Loughlin HS
Away
No Result
2/6/2022
Basketball Varsity-Girls
St. John's Prep 2:45 pm
Xavierian HS
Away
No Result
2/8/2022
Basketball Varsity-Girls
SFP 6PM
Christ the King
Home
No Result
2/13/2022
Basketball Varsity-Girls
SFP 12:45
Msgr. Scanlon
Home
No Result
2/16/2022
Basketball Varsity-Girls
@Molloy 6pm
Molloy
Away
No Result
2/19/2022
Basketball Varsity-Girls
SFP 12:45
St. John's Prep
Home
No Result
Congratulations to the following student athletes for making the girls varsity team!

Athena Koutsothanasis
Eleni Kapsokavadis
Skye Owen
Brianna Camaj
Kayla Martin
Ruby Teeter
Grace Lavin
Sofia Maldonado
Kimora Smith
Skylah Kemp
Arianna Davis
Christina Psarros

We will have study hall Tuesday 11/9/21 at 3pm in room W111. Practice will follow from 330-630. Please wear a reversible.
0
email [email protected] if you have questions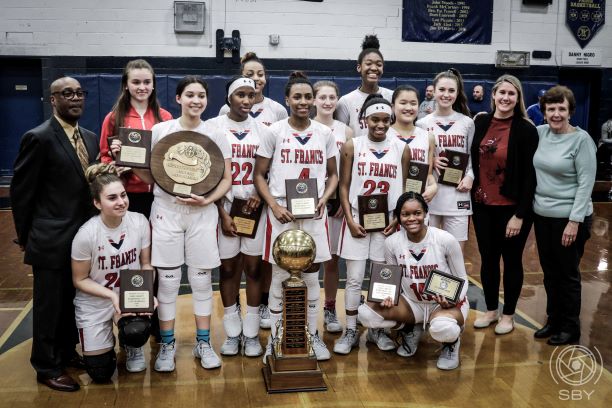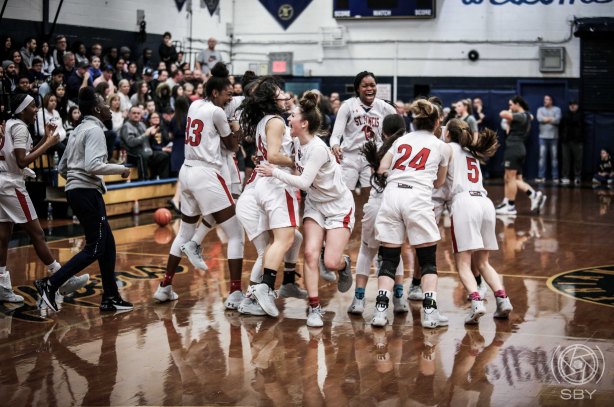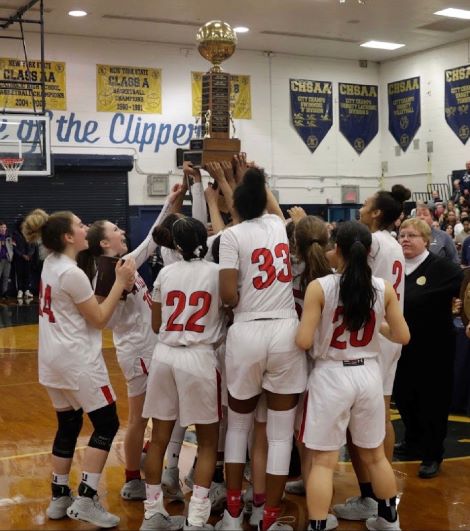 the accomplishments for girls basketball:

JV -
Brooklyn/Queens Champs 2017-2018, Brooklyn/Queens and NYC Champions 2018-2019

Varsity -
City Champions 2019-2020
Brooklyn/Queens Champions 2019-2020 *Season cut short due to COVID-19
Brooklyn/Queens Runner-Up 2018, 2019
4 All-State Selections (2019-2020)
McDonald's All-American Selection, Jordan Brand Classic Selection - Emily Engstler (2017-2018)
10 Tablet All-Stars in the last 3 years
7 All-State Selections in the last 3 years


School Valedictorian (2018) Olivia Morris - now attending Harvard University
85% of our student-athletes are on honor roll

Basketball season runs from November-March.

All potential student-athletes need to have a physical dated AFTER June 1st of this year and select girls basketball. You must be cleared by the nurse to tryout.

There will be a meeting in early September with more information to follow.

Follow us on Twitter - SFPGVB
Follow us on Instagram - sfp.girls.varsity.basketball



Moderator and Coaches
Moderator: Mrs. Wagner
Assistant Coach: JoAnn Wagner
Head Coach: Kerri White
Assistant Coach: Craig Williams
Basketball Varsity-Girls
Moderator: Mrs. Wagner