Upcoming Games
There are no Upcoming Games yet...
Full Schedule
Date
Team
Location
Opponent
Result
Score
10/10/2020
Swimming Varsity-Girls
Eisenhower Park Aquatic Center
bye
Home
No Result
10/24/2020
Swimming Varsity-Girls
Eisenhower Park Aquatic Center CANCELED
sacred heart 2-3:30 pm
Home
No Result
10/31/2020
Swimming Varsity-Girls
Eisenhower Park Aquatic Center
Mary Louis Academy 4-5:30
Home
L
11/7/2020
Swimming Varsity-Girls
Eisenhower Park Aquatic Center
St. Mary's 8-9am
Home
W
11/9/2020
Swimming Varsity-Girls
Eisenhower Park Aquatic Center 7-8:30pm
St. Anthony's
Home
L
11/14/2020
Swimming Varsity-Girls
Eisenhower Park
Champs- Trials 12-5pm
Home
No Result
11/15/2020
Swimming Varsity-Girls
Eisenhower Park
Champs- Finals 12-4pm
Home
No Result
WELCOME TO SFP VARSITY GIRL'S SWIM TEAM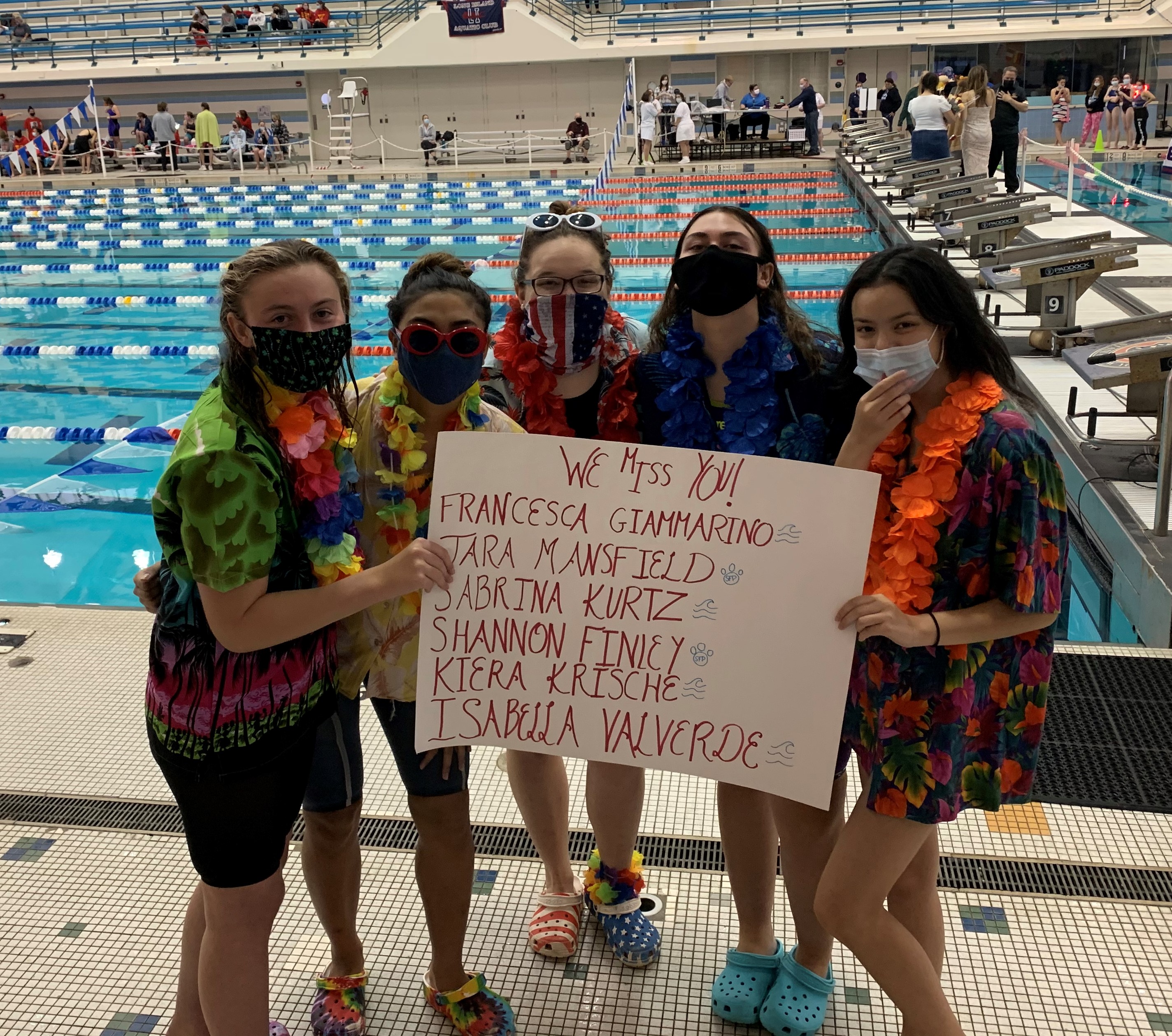 Please keep checking the website for updated information!
***You will not be able to participate/ tryout in any sports activities until the school nurse clears you.

Contact Coach Maria Finn if you have any questions.
[email protected]
ATTENTION ATHLETES
MEDICAL FORMS:
SWIMMING CHECKLIST:
PLEASE FOLLOW THESE DIRECTIONS AND TAKE THEM SERIOUSLY!
Every student must bring a medical form filled out properly, signed, and dated after JUNE 1st to the St. Francis Prep medical office in order to be permitted into the pool. https://www.sfponline.org/docs/PHYSICALFORM.pdf
Please circle "swimming" on the medical form. The physical must be dated after June 1st and signed by physician, parent or guardian, and student. Return your completed medical to the nurse as soon as you go to the doctor.
The nurse will clear you and add you to the swimming roster. If your name is not on the list, you will not be permitted to swim. If there is a problem with your medical, you must make the proper changes immediately to avoid delays. Medical cards will not be accepted at the pool. Parents please be sure you sign the parental permission form if you will not be with your child.


NO MEDICAL! NO SWIM! SAFETY FIRST!
Mrs. Gambino
St. Francis Prep Swimming Moderator
Thank you to all the girls who tried out this week! Please know how much we appreciate you coming out for the team and if you did not make it this year---tryout again next year!
GIRL'S VARSITY SWIM TEAM 2020
ACLAO, JOROMYA
AHN, JOLIE TERESA
ATHANASOPOULOS, NICOLE
BURMESTER, ASHLEY HEAVERLY
CAPRIA, CHRISTINA JEAN
DIRE, JESSICA ROSE
DWYER, BRIDGET ELISE
FALCONI, NICOLE ISABEL
FINLEY, SHANNON KERA
FLORENTINO, MADELYN ANNE
FORTUNA JIKKO, MIA ANGELINA
GAYLE, NEVAEH B
GIAMMARINO, FRANCESCA RITA
HANIF, KATERINA MELIN
HUGHES, GRACE BRIANNA
IOANNOU, ISABELLA M
KESZTHELYI, MADISON MARIE
KOHM, RILEY S
KONTOGIANIS, CHRYSSANTHE
KOUTSODONTIS, ZINOVIA
KRISCHE, KIERA HELENE
KURTZ, SABRINA MARIE
MANSFIELD, TARA MAUREEN
MARIAN, AVA NICOLE
MARKARIAN, LILY
MCNAMARA, JANE
MELECIO, MADISON JACQUELINE
MOGLIA, CAROLYN GRACE
MORAGLIA, GABRIELLA ELISE
OHARA, ANDREA CRISTINA
OLSZEWSKI, JACQUELINE MARIA
REGAN, JACLYN R
REID, VANESSA NICOLE
RODGERS, CAILEY MARIE
SKENDERIS, KRISTINA KALIOPI
STROESCU, SARA JANE
TITO, OLIVIA M
VALVERDE, ISABELLA ALEJANDRA
WINSLOW, SIENNA PAIGE
Congratulations to last year swim award recipients!
We are sorry you could not be honored at the end of year dinner!
GIRLS SWIM AWARDS:
ROOKIE OF THE YEAR: JOLIE AHN
MOST IMPROVED SWIMMER: KATERINA HANIF
MOST VALUABLE SWIMMER: JOROMYA ACLAO
MOST DEDICATED SWIMMER: BRIDGET DWYER
MOST IMPROVED SWIMMER: MADELYN FLORENTINO
SPIRIT AWARD: SABRINA KURTZ
COACH'S AWARD: TARA MANSFIELD
SCHOLAR ATHLETE: LEONDRA CRAIG
PARTICIPATION AWARDS:
4TH YEAR:
JAELA BURMESTER
SABRINA DEMO
ISABELLA LOVASZ
MARIA LOUIZA MANESSIS
3RD YEAR:
JOROMYA ACLAO
JESSICA DI RE
BRIDGET DWYER
SHANNON FINLEY
MADELYN FLORENTINO
FRANCESCA GIAMMARINO
SABRINA KURTZ
TARA MANSFIELD
JANE MCNAMARA
ISABELLA VALVERDE
2ND YEAR:
ASHLEY BURMESTER
CHRISTINA CAPRIA
KATERINA HANIF
CAROLYN MOGLIA
GABRIELLA MORAGLIA
JACQUELINE OLSZEWSKI
NICOLE ATHANASOPOULOS
LEONDRA CRAIG
Daily practice at the Douglaston Immaculate Conception Center
MONDAY TO FRIDAY 3:30-5 PM.

Directions to the DOUGLASTON IMMACULATE CONCEPTIN CENTER pool for practice:

Q30 bus at the corner of Horace Harding and Francis Lewis Blvd (at the flag pole)

Push the button right after you see East Hampton Blvd. (approximately 10 minutes)

Get off the bus and walk up the hill Douglaston Parkway to the pool.

Bring your swim suit, cap, goggles, towel, shorts, T-shirt, socks, & sneakers.
All swim practices Monday to Friday 3:30 to 5 pm. at the Douglaston Immaculate Conception Center.
Make a sincere effort to be at every practice and arrange for timely pick-up!
If you are unable to swim these days, please contact Coach Maria Finn

[email protected]



Mrs. Gambino
Coaches: Mrs. Maria Finn [email protected]tfrancisprep.org
Danny Finn [email protected]
Moderator: Ms. Gambino [email protected]
SFP GIRLS VARSITY SWIM TEAM PRACTICE SCHEDULE FALL 2020
PLACE: Eisenhower Park/Aquatics Center
THERE WILL BE NO BUS SERVICE FROM SCHOOL. SWIMMERS NEED TO GET TO AND PICKED UP FROM EISENHOWER ON THEIR OWN DUE TO COVID. YOU COME IN YOUR SUIT AND LEAVE IN YOUR SUIT.
Nassau County Aquatic Center
Eisenhower Park
Merrick Avenue
East Meadow, NY 11554
Directions
Eisenhower Park Map (PDF)
please click on our videos!!
https://www.youtube.com/watch?v=enffTXlV6dI&feature=youtu.be
https://drive.google.com/file/d/1QkJYcQwZCqfTGUarsaweA8UnvGwutt72/view?ts=5e7650cd
Moderator and Coaches
Moderator: Mrs. Finn
Assistant Coach: Ms. Domenica Cinquemani
Head Coach: Mr. Danny Finn
Assistant Coach: Ms. Maria Finn
Swimming Varsity-Girls
Moderator: Mrs. Finn
Pages