Upcoming Games
Full Schedule
Upcoming Games
Date
Team
Location
Opponent
2/23/2019
Indoor Track-Girls
Armory
Purple Champions Pentathlon Invitational
Home
2/24/2019
Indoor Track-Girls
Ocean Breeze, Staten Island
USATF Championship 4 x 800
Home
3/2/2019
Indoor Track-Girls
Ocean Breeze, Staten Island
NY State Championship
Home
Full Schedule
Date
Team
Location
Opponent
Result
Score
Indoor Track-Girls
Home
No Result
11/30/2018
Indoor Track-Girls
Armory
North Shore Season Opener
Home
No Result
12/8/2018
Indoor Track-Girls
St. Anthony HS
St. Anthony's Meet
Home
No Result
12/16/2018
Indoor Track-Girls
Ocean Breeze, Staten Island
Bishop Loughlin Games
Home
No Result
12/26/2018
Indoor Track-Girls
Armory
North Shore Invitational
Home
No Result
12/30/2018
Indoor Track-Girls
Ocean Breeze, Staten Island
Ocean Breeze Holiday Festival
Home
No Result
1/5/2019
Indoor Track-Girls
St. Anthony HS
St. Anthony's Meet
Home
No Result
1/7/2019
Indoor Track-Girls
Ocean Breeze, Staten Island
USATF CHSAA Time Trial 4 x 800
Home
No Result
1/12/2019
Indoor Track-Girls
Armory
Stanner Games
Home
No Result
1/18/2019
Indoor Track-Girls
Armory
New Balance Games
Home
No Result
1/19/2019
Indoor Track-Girls
Armory
New Balance Games
Home
No Result
1/27/2019
Indoor Track-Girls
Armory
Brooklyn-Queens Championship
Home
No Result
2/9/2019
Indoor Track-Girls
Ocean Breeze, Staten Island
Intersectional Championship
Home
No Result
2/19/2019
Indoor Track-Girls
Armory
Eastern States - Qualifiers
Home
No Result
2/23/2019
Indoor Track-Girls
Armory
Purple Champions Pentathlon Invitational
Home
No Result
2/24/2019
Indoor Track-Girls
Ocean Breeze, Staten Island
USATF Championship 4 x 800
Home
No Result
3/2/2019
Indoor Track-Girls
Ocean Breeze, Staten Island
NY State Championship
Home
No Result
Latest News
Coaches
Sport Resources
Follow the team @SFPTrack on twitter for all team updates
2018-19 Season
Results Performance List NHS Members
CONGRATULATIONS 4 x 800 Qualifies for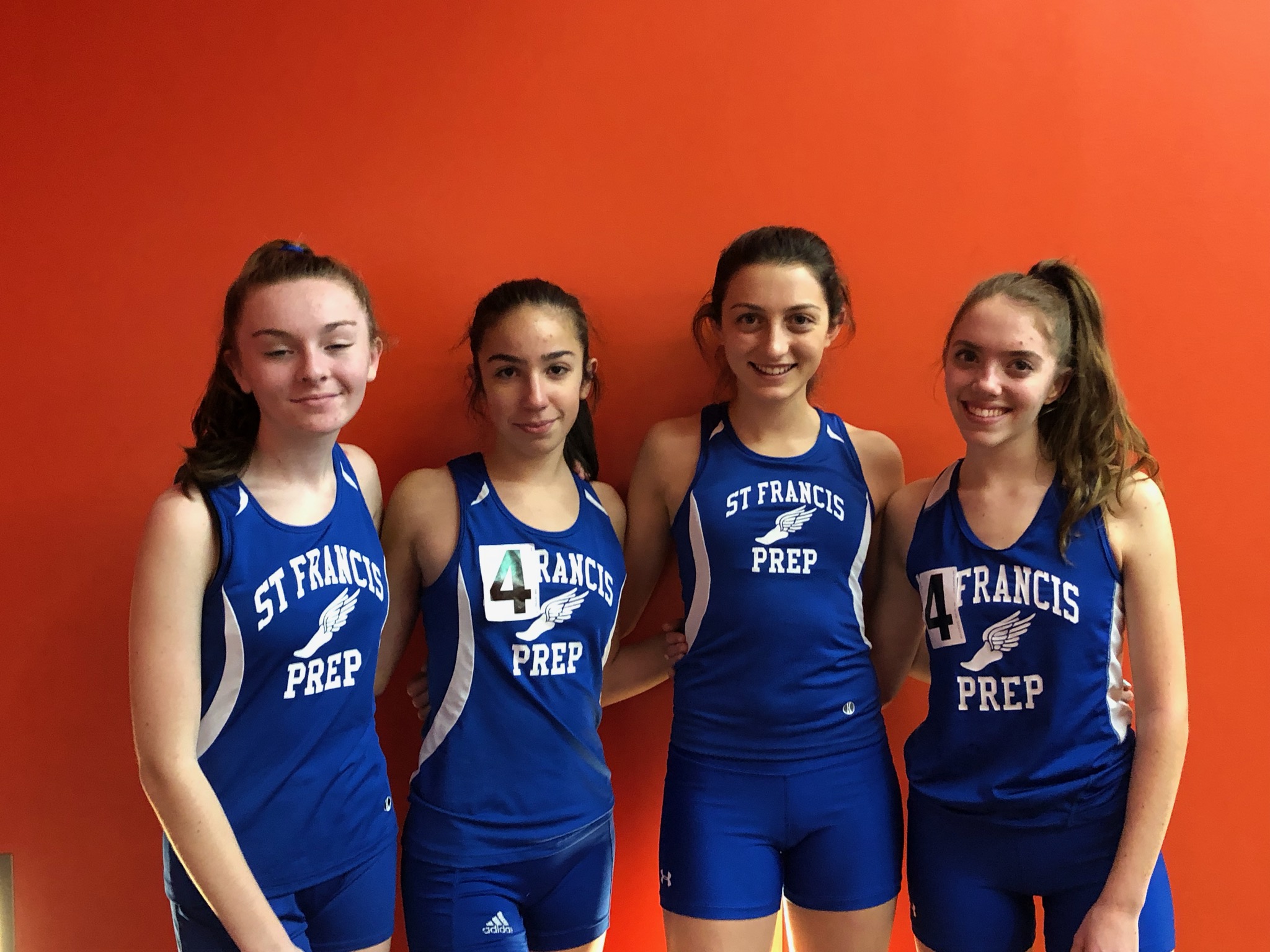 USTF Championship CHSAA 4 x 800 - Results
Elena Duffy
Chiara Cinquemani
Krista Olivieri
Tara Mansfield
School Records
Freshman Records Sophomore Records Varsity Records

Roster INDOOR RULES INDOOR STANDARDS
---
---
CONGRATULATIONS CATHOLIC STATE CHAMPION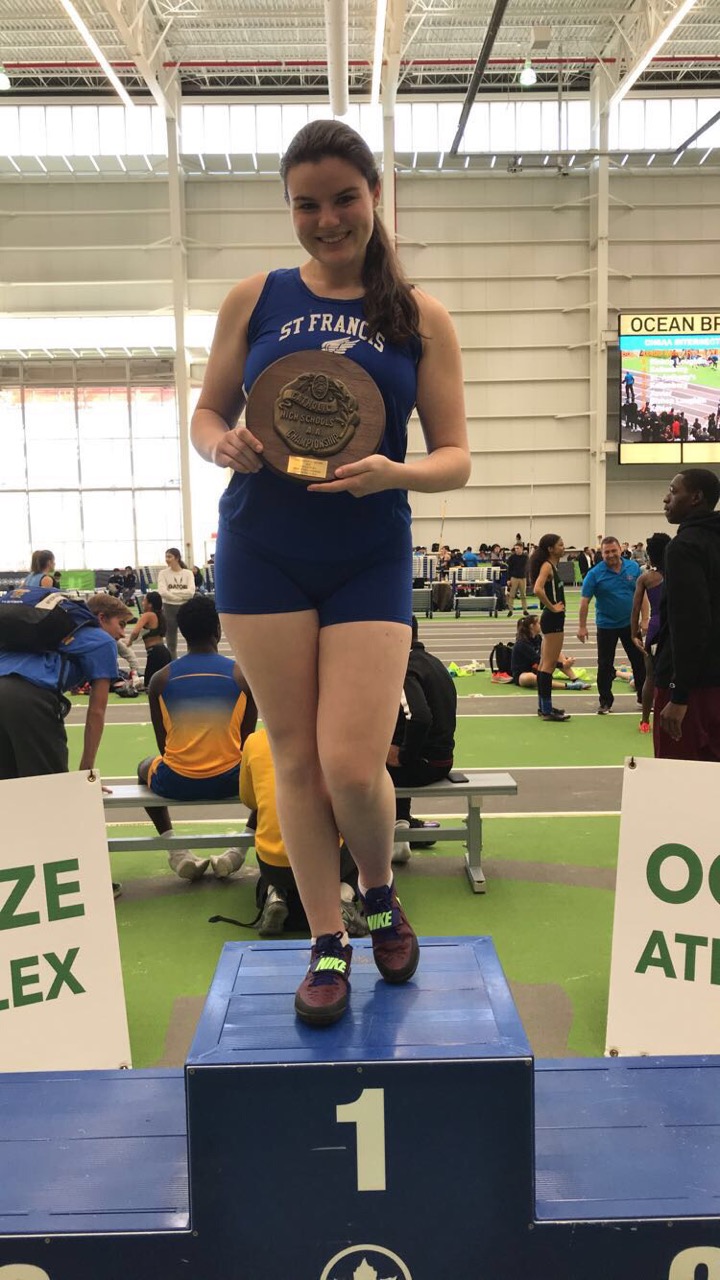 STEPHANIE ZOVICH - SHOT PUT
New school record for Kiriaki Georgiou with her third place finish in the weight throw
Team finished 7th at the Catholic State Champs
CONGRATULATIONS
Varsity 4 x 400 team of
Melissa Gonzalez, Elena Duffy, Amanda Morris and Kaitlin Masse
Placed third at the NYU Invitational with a season best time. Results
CONGRATULATIONS on Placing second in the City Championship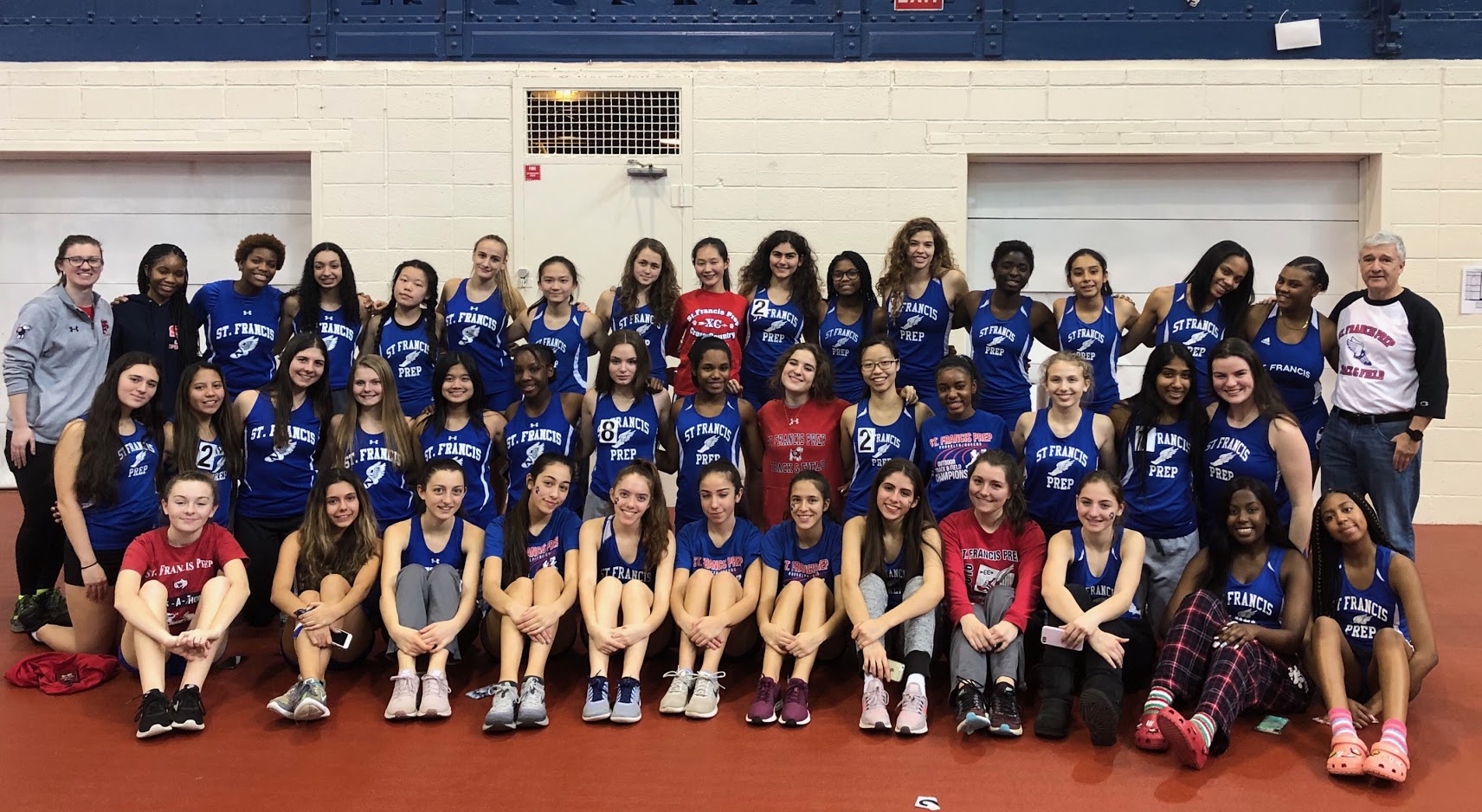 ---
---
New Balance Games Highlights - Medal winners
Melissa Gonzalez sophomore Long Jump and 55m Dash
and Tara Mansfield Sophmore 1000m run
New Balance Games Friday Results
New Balance Games Results Saturday
---
---
Ocean Breeze Holiday Festival Results
Highlights - Sophomore 4 x 800 places 6th
Nicoletta Lagudis - Maria Calisi - Krista Olivieri - Tara Mansfield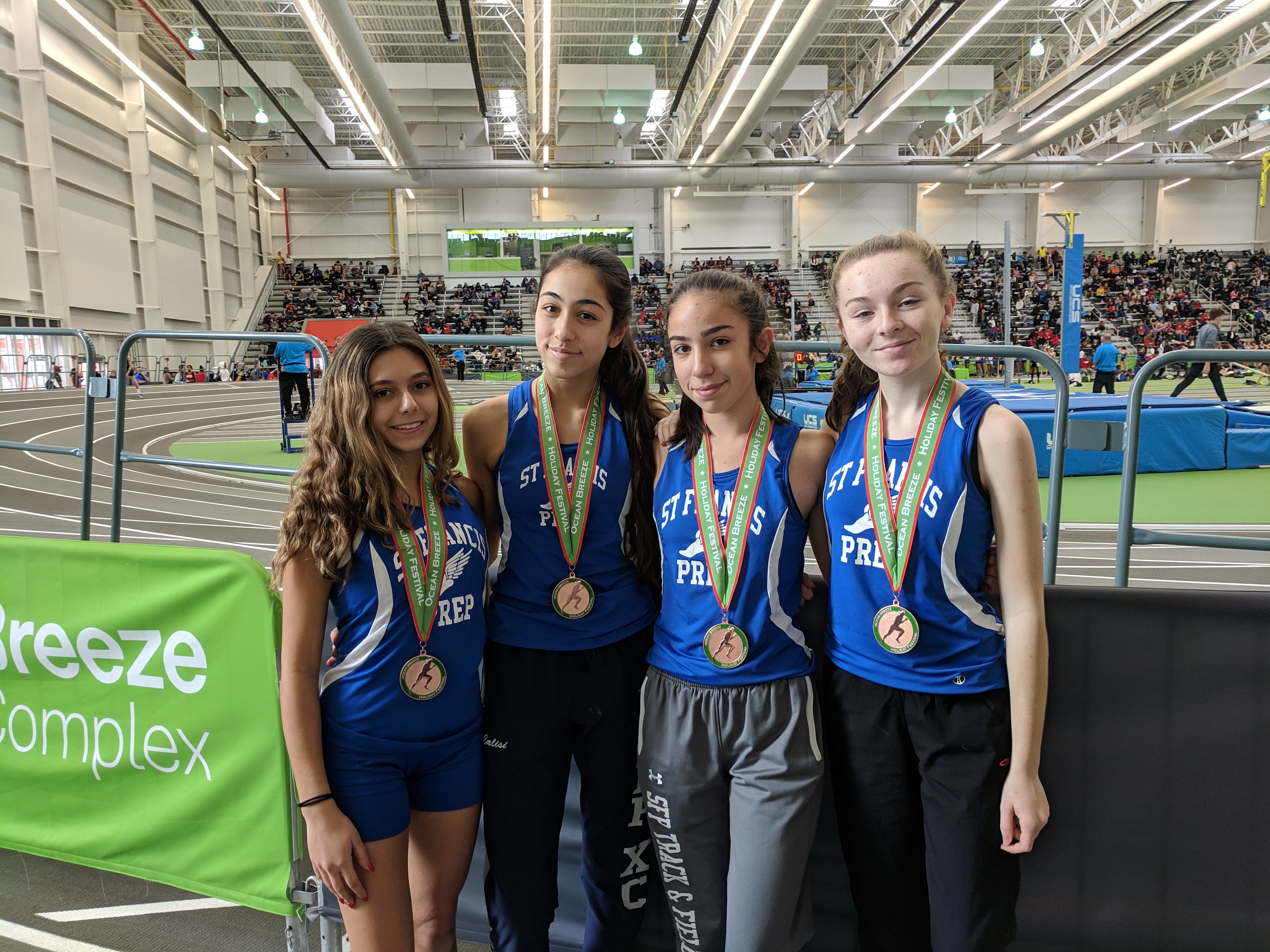 Chiara Cinquemani places 8th in the Invitational 2 Mile running 11:59.44
NORTH SHORE INVITATIONAL Results
Highlights - Chiara Cinquemani 5th Place Medal in the 3000m run,
26 season best & two relay bests.
Highlights
Kiriaki Georgiou breaks her School Record for the weight throw,
Stephanie Zovich throws over 31' in the shot,
Amanda Morris makes the final in freshman Long jump &
Chiara Cinquemani runs to PB's in the Mile and 1000 meter run.
St. Anthony Developmental Results
Congratulations Kiriaki Georgiou
Varsity & Sophomore Weight Throw School Record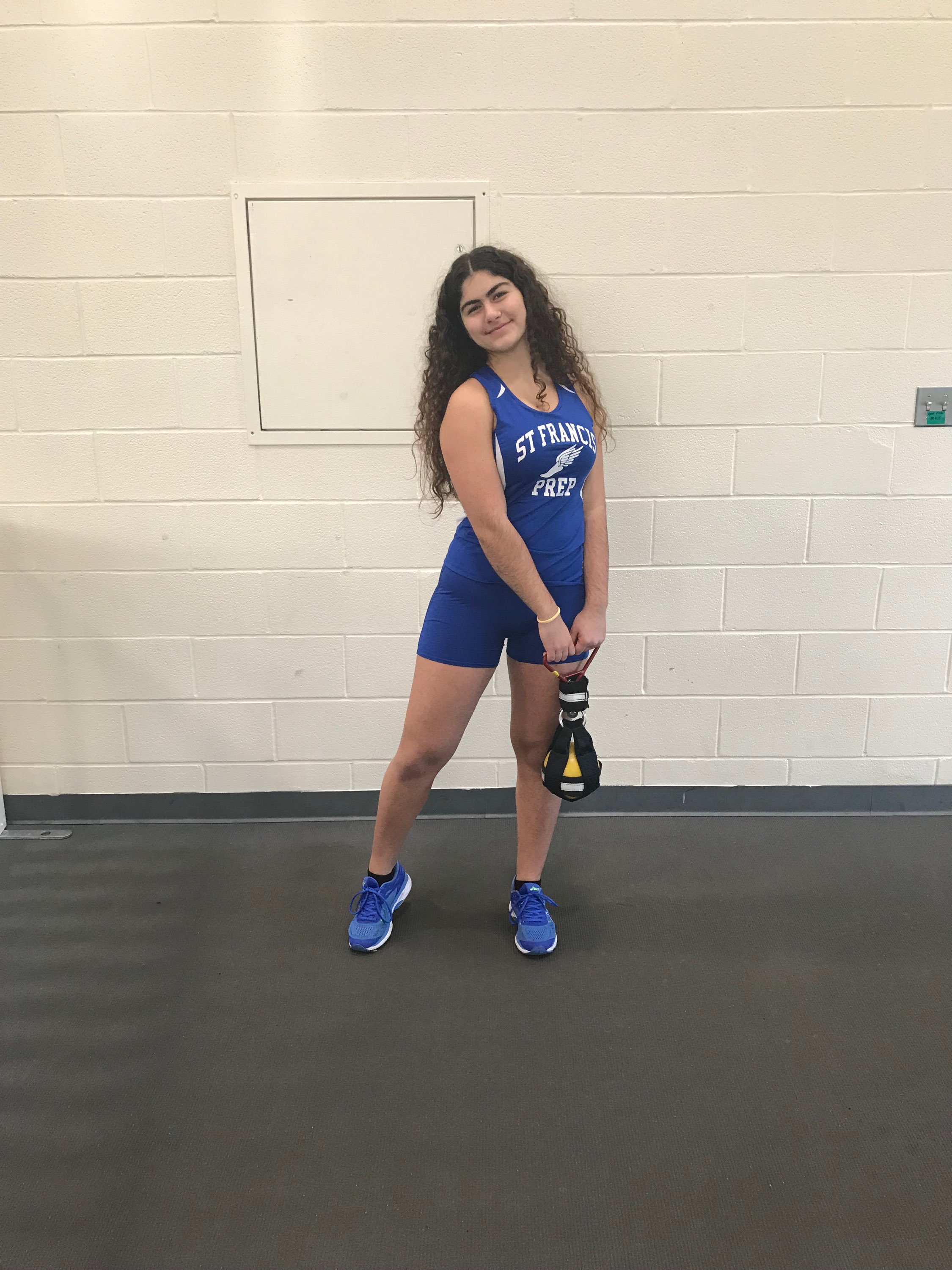 .
North Shore High School Season Results
Medal Winner Chiara Cinquemani placed 8th in the 1500m Run
Practices start 3:00 out by the handball courts near Horace Harding .
Any girl interested in joining the 2018-19 Indoor Track team email Mr. May at
You must have a medical and a permission card handed in to the nurse before you can practice
Moderator and Coaches
Moderator: Mr. May
Assistant Coach: Ms. Sabogal
Head Coach: Mr. May
Assistant Coach: Ms. Jillian May
Indoor Track-Girls
Moderator: Mr. May
Pages