Upcoming Games
There are no Upcoming Games yet...
Full Schedule
Date
Team
Location
Opponent
Result
Score
1/16/2021
Swimming-Boys
Chaminade 3pm
Xavier
Home
No Result
1/20/2021
Swimming-Boys
Chaminade 4pm
Chaminade
Home
No Result
1/23/2021
Swimming-Boys
virtual
Fordham Prep
Home
No Result
1/23/2021
Swimming-Boys
Eisenhower Park Aquatic Center 8am
St Anthony's
Home
No Result
1/31/2021
Swimming-Boys
Eisenhower Park Aquatic Center 12:30
Molloy
Away
No Result
2/14/2021
Swimming-Boys
Eisenhower Park Aquatic Center 11am
Novice Champs
Home
No Result
2/20/2021
Swimming-Boys
Eisenhower Park Aquatic Center 11am
A Champs trials
Home
No Result
2/21/2021
Swimming-Boys
Eisenhower Park Aquatic Center 11am
A Champs Finals
Home
No Result
WELCOME TO ST. FRANCIS PREP VARSITY BOY'S SWIM TEAM: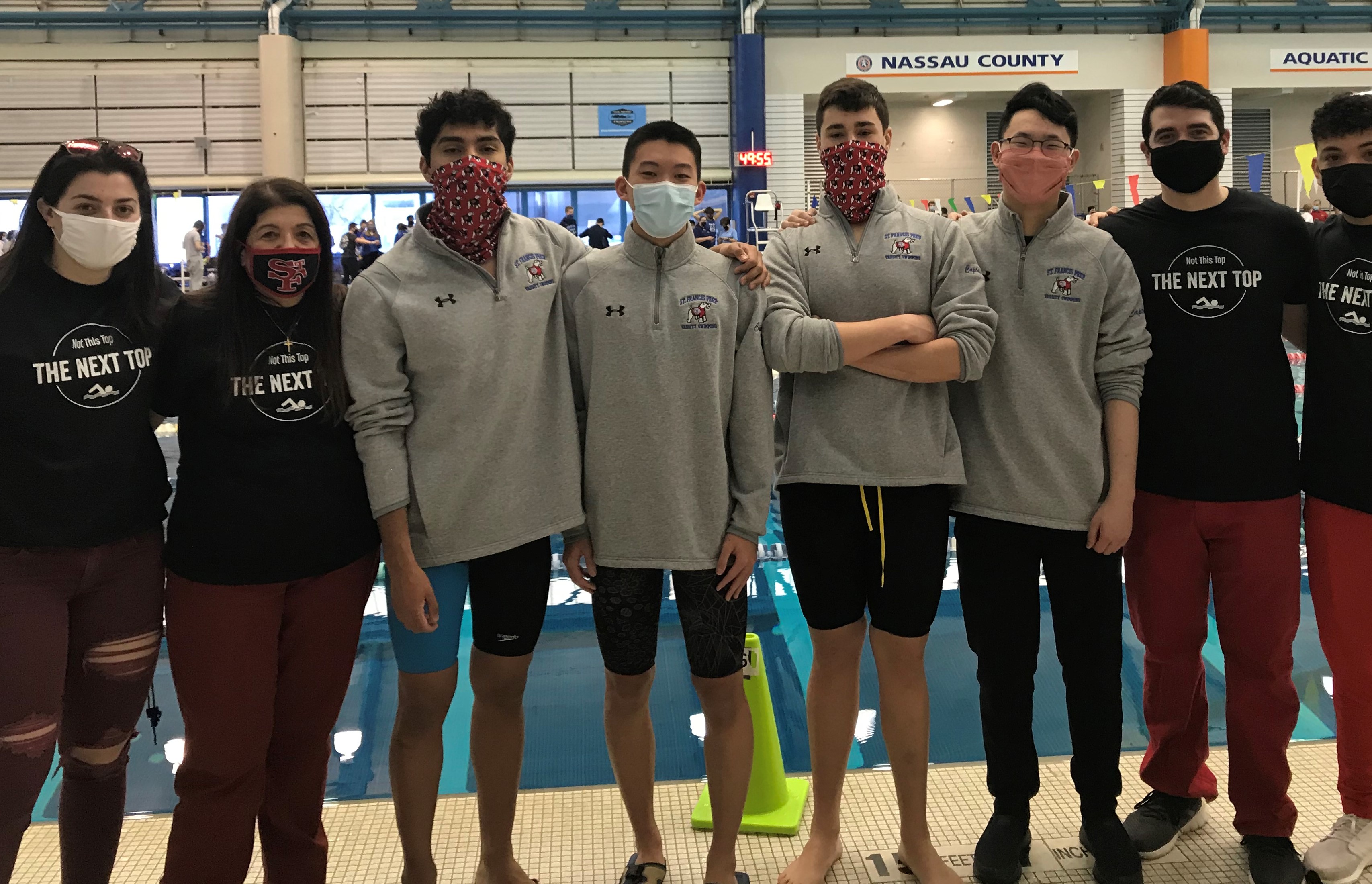 Please keep checking website for updated information.
SWIMMING CHECKLIST:
ATTENTION ATHLETES
MEDICAL FORMS:
SWIMMING CHECKLIST:
PLEASE FOLLOW THESE DIRECTIONS AND TAKE THEM SERIOUSLY!
Every student must bring a medical form filled out properly, signed, and dated after JUNE 1stto the St. Francis Prep medical office in order to be permitted into the pool. https://www.sfponline.org/docs/PHYSICALFORM.pdf
Please circle "swimming" on the medical form. The physical must be dated after June 1st and signed by physician, parent or guardian, and student. Return your completed medical to the nurse as soon as you go to the doctor.
Send completed medical card to school by August 1st to be cleared.
The nurse will clear you and add you to the swimming roster. If your name is not on the list, you will not be permitted to swim. If there is a problem with your medical, you must make the proper changes immediately to avoid delays. Medical cards will not be accepted at the pool. Parents please be sure you sign the parental permission form if you will not be with your child.


NO MEDICAL! NO SWIM! SAFETY FIRST!
Mrs. Gambino
St. Francis Prep Swimming Moderator
*****ONLY CLEARED SWIMMERS CAN TRYOUT/PRACTICE!!
******MEDICAL FORMS WILL NOT BE ACCEPTED BY THE POOL,
Bring the following with you: bathing suit (JAMMER) goggles, towel, and shorts,
T shirt, sneakers and socks for drylands. Bring a lock too!
2020-2021 SFP VARSITY BOYS SWIM TEAM
MATTHEW ALAYOF
MATTHEW AGUILAR
ANTHONY CAFARELLI
JOSEPH CAMPISE
BRENDAN CARROLL
SERGE DOUGE
CHRISTOPHER GERBAVSITS
CHRISTOPHER GIERUCKI
NICHOLAS GRETCHYN
RAEJIN JEONG
MAXIM KULIYEV
THOMAS MANFIELD
NICHOLAS MARZULLA
BRANDON MCELLIGOTT
MATTHEW NEWTON
AARON NG
GABRIEL NIEVES
FERNANDO OLIVEIRA
IAN PARK
GIOVANNI SCARPA
GIANLUCA SOFSKY
KEVIN TENG
KAI WANG
Thank you,
Head Coach Daniel Finn
Assistant Coach Maria Finn
Assistant Coach Domenica Cinquemani
Assistant Coach Zachary Abouelkawaam
email Mrs. Finn if you have any questions
Coach: Mrs. Maria Finn [email protected]tfrancisprep.org
SFP Varsity Boys Swim Team!
Congratulations to last year swim award recipients!
We are sorry you could not be honored at the end of year dinner!
BOYS TEAM AWARDS 2019-2020
ROOKIE OF THE YEAR: CHRISTOPHER GIERUCKI
MOST DEDICATED SWIMMER: ANTHONY CAFARELLI
SPIRIT AWARD: BRENDAN CARROLL
MOST IMPROVED SWIMMER: RAEJIN JEONG
MOST VALUABLE SWIMMER: SANDON KARINSKY
SCHOLAR ATHLETE: MICHAEL MCCLOSKEY
COACH'S AWARD: JOSHUA NIERER
BILLY MAC AWARD: PHILIP TYKA The recipient has a great work ethic and a competitive drive that demonstrates dedication, enthusiasm and a spirit that helps to better the team.
PARTICIPATION AWARDS:
4TH YEAR
MICHAEL GRASSOTTI
SANDON KARINSKY
JACKSON LERNER
MICHAEL MCCLOSKEY
JASON MICHELAKIS
JOSHUA NIERER
CHRISTOPHER PETRAGLIA
NICOLANGELO SOFSKY
PHILIP TYKA
JACK WHELAN
3RD YEAR:
JONATHAN BONADIO
JOSEPH CAMPISE
DANIEL CHO
AARON NG
FERNANDO OLIVEIRA
KEVIN TENG
ANDRE ELIAS
AIDAN ROBB
2ND YEAR:
ANTHONY CAFARELLI
BRENDAN CARROLL
SERGE ERIK DOUGE
MICHAEL ANDREW EDQUILAN
RAEJIN JEONG
NICHOLAS MARZULLA
GIOVANNI SCARPA
MICHAEL AGUILAR
MAX PARKERZA PATEIRO
NICHOLAS ROMANO
please click on our videos!!
https://drive.google.com/file/d/1QkJYcQwZCqfTGUarsaweA8UnvGwutt72/view?ts=5e7650cd
https://www.youtube.com/watch?v=enffTXlV6dI&feature=youtu.be
Daily practice at the Douglaston Immaculate Conception Center
MONDAY TO FRIDAY 3:30-5 PM.

Directions to the DOUGLASTON IMMACULATE CONCEPTIN CENTER pool for practice:

Q30 bus at the corner of Horace Harding and Francis Lewis Blvd (at the flag pole)

Push the button right after you see East Hampton Blvd. (approximately 10 minutes)

Get off the bus and walk up the hill Douglaston Parkway to the pool.

Bring your swim suit, cap, goggles, towel, shorts, T-shirt, socks, & sneakers.
All swim practices Monday to Friday 3:30 to 5 pm. at the Douglaston Immaculate Conception Center.
Make a sincere effort to be at every practice and arrange for timely pick-up!
If you are unable to swim these days, please contact Coach Maria Finn

[email protected]



Mrs. Gambino
Coaches: Mrs. Maria Finn [email protected]tfrancisprep.org
Danny Finn [email protected]
Moderator: Ms. Gambino [email protected]
Moderator and Coaches
Moderator: Mrs. Finn
Assistant Coach: Ms. Domenica Cinquemani
Head Coach: Mr. Danny Finn
Assistant Coach: Mrs. Maria Finn
Assistant Coach: Zachary Abouelkawaam
Swimming-Boys
Moderator: Mrs. Finn
Pages