Campus Ministry Main Site

Moderator: Mr. Sempowich
Midnight Run
SFP maintains a valuable partnership with the organization called Midnight Run. The purpose of the organization is to build positive relationships between those who have homes and those who do not. SFP faculty, staff and student volunteers arrive on campus at 7:00 p.m. to prepare food and coffee, and sort donations of clothing and hygiene supplies that the school community has collected.
Part of the "prep time" is used by the Campus Ministers and adult coordinators to identify stereotypes and begin a discussion about who we might meet on the streets. Then, we load up the SFP buses and head off to the designated meeting areas assigned to us by Midnight Run.
The most powerful part of the experience is distributing the donations directly to people living on the streets in Manhattan. We try to make sure every sandwich bag or cup of coffee is accompanied with a smile and usually we receive a heartfelt thank you.
The buses return at approximately 12:30 a.m.-1:00 a.m. and participants are asked to respond to the reflection questions found below.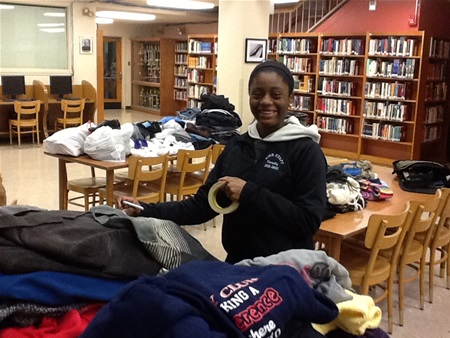 Sponsorship Opportunity
$50 helps buy (25) hygiene kits
$100.00 buys the food to make sandwiches
$300.00 pays for the transportation
Permission forms should be signed and turn in to the Campus Ministry Office to guarantee your spot on the bus.
CLICK HERE TO SIGN UP

CLICK HERE FOR THE M.R. REFLECTION FORM
Powered by Froala Editor