Admissions Blog Post
---
THANKFUL TO ATTEND PREP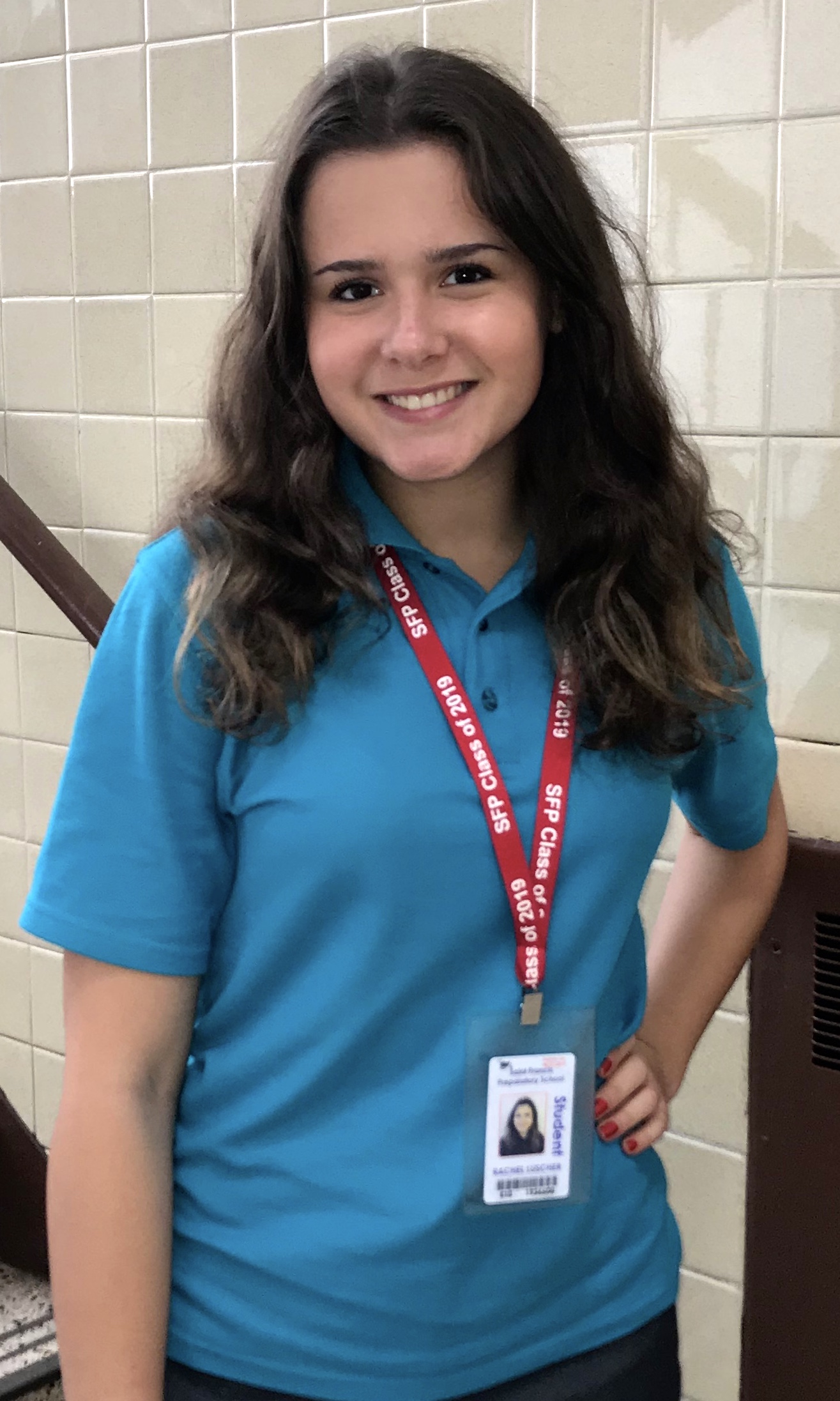 RACHEL LUSCHER
Class of 2019
Among the many reasons I'm thankful to attend St. Francis Prep, the supportive community and the vivacious school spirit have to be two of the most outstanding reasons. From the very beginning of my high school journey, I've felt incorporated into a school I can call home.

I couldn't be more thankful for the friends I've made here. Whether I have been close with them since freshman year or are the friends I've made just last year, they have made such a positive impact on my life and I'll always remember the good times we shared during our time at Prep. I wouldn't be the person I am today without the people I surround myself with: hardworking individuals who inspire me to do my best every single day.

The Franciscan values are ingrained in every aspect in Prep, and they are at the root of everything we do. Teachers prioritize academics but also instill an importance in treating people with respect, and this is reflected no matter what subject they teach. Diversity is a key component at St. Francis Prep, and inclusivity is practiced among the students and faculty. Students come from all different backgrounds, and I'm lucky to be part of a community that is so accepting of people who are unfamiliar to them. I've noticed that at my school these differences are embraced and celebrated every day.

From the extra-curricular actives I'm involved in to cheering on the Terriers at a sporting event, my experience at Prep has been so memorable. It is bitter sweet to graduate this spring. Applying to colleges is a long and sometimes intimidating process, but the guidance department works tirelessly to lead our seniors in the right direction. I couldn't thank them enough for the help they've given me. My parents could've chosen to send me to a public school for free, but they decided not to; I'm endlessly grateful for their support and the sacrifices they made in sending me to this school. With St. Francis Prep, you really do get what you pay for: high quality education and a community you will always be a part of, even after you graduate. High school is four years, but St. Francis Prep is forever!
POSTED:12/3/2018
Blog Archives
6/23/2021
Graduating during COVID
more...
6/3/2019
A Family Legacy
more...
12/3/2018
THANKFUL TO ATTEND PREP
more...
5/1/2018
SFP's Campus Ministry's Urban Challenge
more...
2/28/2018
The Prep Family
more...
1/25/2018
Transferring into St. Francis Prep.
more...
9/15/2017
Our Franciscan Pilgrimage
more...
6/2/2017
The Prep
more...
5/6/2017
Student-Teacher-Parent
more...
2/9/2017
WHY I CHOSE TO COME TO PREP, AND WHY I HAVE NEVER REGRETTED THAT DECISION.
more...
1/23/2017
ST. FRANCIS PREP RECEIVES SPECIAL HONORS FOR GUIDANCE AND ART DEPARTMENTS
more...
12/15/2016
FRESHMAN YEAR: Time to Grow Not Only Physically, but Mentally and Spiritually
more...
10/18/2016
SFP Music Department Admissions Video
more...
10/1/2016
All are Welcome!
more...
9/24/2016
St. Francis Prep Walks to Benefit New Students
more...
7/14/2016
St. Francis Prep Students Immerse Themselves in Service
more...