Admissions Blog Post
---
SFP's Campus Ministry's Urban Challenge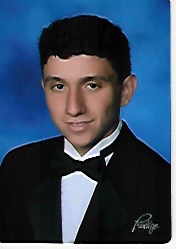 Anthony Marchini
Class of 2018
This service retreat to Camden, NJ, was my second time going; my first was last year during junior year. Last year I was so hesitant about going to Camden and almost didn't go. But thank God I went because it was one of the best experiences I have had in Prep. I liked it so much that I immediately leapt at the chance to go back again this year. It was just as great as last year. This service retreat to Camden isn't just about going to serve a community in need; it is also about building community with classmates, students from other schools, and the people of Camden. It is an experience where we enjoy helping while also enjoying ourselves. Here is a little rundown of how the retreat went.
Day 1 (Wednesday)
This was our first day, right after our trip to Camden. We were welcomed by Teresa, who runs the Romero Center along with Richard and Andrew. After getting settled into our rooms with our luggage, we got the chance to eat before we started the Urban Challenge experience. The Urban Challenge is an urban, service-learning, immersion experience rooted in the Catholic faith tradition. Offering a point of access to the lives and stories of the people of Camden, NJ, and its surrounding communities, the Urban Challenge Program is a unique educational and retreat opportunity that serves mainly suburban high school and college-aged students. We started with the Catholic Social Teaching about the Life and Dignity of the Human Person. We spoke in a group about what all people deserves just because they are human. We spoke about the poverty in America and the way people in poverty are living. Then we looked into the situation that Camden, NJ, is in. We were shown a documentary called Pyne Poynt. This documentary was about the revitalization of a park in Camden and about some of the issues that face the young people that use that park; widespread drug abuse, poverty, and lack of infrastructure, to name a few. After we finished the documentary and reflected about what surprised us the most, we got the chance to meet the other two schools that were also participating in the Urban Challenge. The schools were Boston College High School and St. Joseph's; both were from Massachusetts, and both were all-boys schools. A major part of the Urban Challenge is to build community, so interacting with the other students was an amazing experience with a lot of fun. Both of the other schools were at the Romero Center two days before we got there, but they were very accepting of us and invited us in very quickly. The next day we started service.
Day 2 (Thursday)
Today we learned about the Catholic Social Teaching Preferential Option for the Poor. We always get a nice start to the day with prayer and being able to come together as a community before we go to serve. This day was the day we had to get 3 meals with only $3. We were split into groups of 3-5 students from different schools and were given the task to buy meals for the entire day with only $3. We got the chance to shop for food with certain restrictions and not going over our allotted cash. The food challenge is meant to teach people what it is like to live in poverty. It is meant to have people walk in the shoes of someone else for the day and see what it is like to be hungry after maybe only eating a sandwich for the day. We could not eat anything we didn't buy and couldn't share with other groups either. Our second day was also the start to service. Our school split into two groups so that we could go to two different service sites. I went with the group that went to Abigail's House, a nursing and rehabilitation home. The other group went to Urban Promise, an organization that helps the community with hard labor. At Abigail's House, we started by taking a tour of the facility. We all split up into the different wings; I went to wing A. In wing A, I first helped by giving the residents their coffee, hot chocolate, or water. Then I got the chance to sit down with a group of residents whose names were Debby, Hector, Gmo, and Tracy. They were playing dominoes, and I sat and spoke to them while watching them. They had decided to teach me how to play, and Debby was so kind to give up her seat to allow me to play. After playing for a little while and just chatting with the group, there was a Tai Chi instructor who came in. The instructor helped residents exercise because it is good for them to get up and move around after sitting around all day. After this, I got the chance to watch Debby and another gentleman play chess. Then I got to play chess with them also. A little while later, we helped serve lunch to the residents: it was just a great time. Everyone was just so happy and accepting of us. They were so gracious that we were there, and it was so nice to be able to speak to everyone. After lunch, the workers got ready for Bingo, which is popular among the residents. There were a lot of people who came to play Bingo, and I got the chance to call out the numbers. It was a little bumpy but was all good in the end. After Bingo, it was time to leave and head back to the Romero Center. We still couldn't eat anything unless we had purchased it with our $3 allotments that morning. After a long time of being hungry, we got the chance to eat what we bought for dinner; after, we all joined together to reflect. We spoke about how difficult it was to eat on a very strict budget and how there are people everyday who have to go through this. After, we played a Romero Center edition of Monopoly changed to reflect society. Each player got a different amount of money and property. Basically there were the rich and poor and no one was equal. By the end, the rich had gotten richer and poor had gotten poorer. This game was used to teach us about some of the injustice inherent in our society. It was a fun way to teach about a serious issue. At the end of our reflection, we looked back on our day and remembered those we encountered. We all wrote a name of someone we met who affected our day, and we prayed for them. It was a nice closing to our reflection. After reflection, we got the chance to hang out with all the kids. We just talked and played games for the night until it was time to go to bed. This trip wasn't only about building a community with those in Camden, but also with our peers. It is always fun to be able to hang out with other kids after a long day.
Day 3 (Friday)
Today we got to eat a normal breakfast again that didn't have to be paid for with our $3. After breakfast, we again all sat together and got ready for our day of service. We again split up and the group I was in went to New Visions, a soup kitchen for the homeless. The other group went to an adult day-care facility called Stars. At New Visions, we got right to work. We first sat down with some of the people to talk and hear their story if they were willing to tell us. I learned some new things about people and their outlook on life. Then we started off by serving breakfast, which looked so good. It was French toast and a pork roll. The people preparing the food were from a nearby parish. They had so much food, which was great. There was even a chance to give out seconds to the people. When we were serving the food, everyone was so gracious. We served the food rather than people standing in a line because it feels more personal. Everyone said, "Thank you" and "Please." It really made the work we were doing worth it. After breakfast was over and we were done cleaning, there was a little down time to play some games with the people. We split up and played some games like Trivia Pursuit or Drop In The Bucket. We got the chance to talk with more people and one man even showed us the documentary he was finishing about what it is like to use drugs and the vicious cycle that people get caught in and can't get out of. Then it was time for lunch. Another group came in to prepare lunch and they were serving sloppy joes, fries, and cupcakes. We used the same routine at lunch as we used at breakfast. After serving lunch, we cleaned up a bit and got a chance to reflect on our day with Detroit, who was a gentleman who helped run New Visions. At first, I wasn't looking forward to reflecting because I was really tired, but I was glad I did because Detroit gave us some really valuable insights into life. Detroit spoke about how we should look at life and take one step at a time. One thing that he said that I hope sticks with me was his analogy of a battery. Detroit said that life is like a battery. There is a positive side and a negative side, and in order for a battery to work there needs to be both a negative and positive end working. Detroit said we must look at all the negatives that happen in life as something that will help us in the long run, not something that is going to stop us. I sat there listening to Detroit in amazement because of how cool I thought his analogy was. I literally told everyone about what he said because I thought it was something everyone should know. After our service at New Visions, we took a picture with the staff and headed back to the Romero Center. We had a little time to relax or hang out, so I went outside with some other students to play kickball. We made teams and played a game along with some football and soccer. As I said earlier, there is a lot of time to bond with each other and this retreat is what each person makes of it. People will get out as much as they put into the experience. This night was also our night off, so we got to go to Cracker Barrel for dinner and celebrated a friend's birthday. After Cracker Barrel, we went bowling and to an arcade. The night was so much fun and is always a highlight of the trip. When we got back to the Romero Center, we still had time to hang out with the students from the other schools who had their commissioning reflection because it was their last night at the Romero Center. After we went upstairs to bed, we continued to have so much fun because no one was really tired and we all wanted to have fun before they were leaving.
Day 4 (Saturday)
This was our last day of service, and once again we split into two groups. But before we went to service, we joined together to speak about the day ahead of us. My group went to the home of a woman named Gladys while the other group went to Inglis, a home for people who are in wheelchairs. My day was more about hard labor this time, but I was looking forward to it. When we got to Gladys' home, we got right to work. I started by raking the grass after she had just cut it, while my friends were weeding the garden beds. After this, Mr. Sempowich was given the task of removing a rotting tree stump. The wood chips that we got from the stump we then scattered all over the garden bed. We had a really enjoyable time at Gladys'. Gladys and her husband were so welcoming and warm to us and were really so thankful to have us help them in their yard and keep it clean since it was hard for them because they were an older couple. They were so nice to buy us donuts and constantly offer us food and drinks. We also got the chance to talk to Gladys and learn about her and her husband's life and what they do. She was telling us how she had always given back to the community and now that she needs help she is grateful that the community is able to give back to her. Even until today she is still giving back, because she was telling us that when the holidays come she prepares dinner for four families who aren't able to put food on their table. It felt great to be able to help such wonderful people who have been helping others for such a long time. Before we left from her house, she gave each of us a book, which was such a kind gesture. After leaving, we headed over to the store to buy some cake and decorations for one of our friends whose birthday it was. We baked a cake so that we could celebrate. When everyone was back at the Romero Center, we played some board games before we ate dinner and then went into reflection. Tonight's Catholic Social Theme was Rights and Responsibilities. In a group, we spoke about the difference between justice and charity and how we could change an injustice in our society. We separated into two groups and came up with plans to solve in injustice in our school. We shared and looked at ways to improve the injustices. After this activity, we got the chance to write ourselves letters that will be mailed to us in about 6 months. We wrote to ourselves about our experience in Camden and what we are leaving behind and what were are taking away from the experience. After writing our letters, we had a nice little ceremony when we got the chance to say something that affected us from the experience; we also took a cross. That cross would later be put on one of our friends as we prayed for that person. After our evening reflection was over, we celebrated our friend's birthday and then had to clean up the Romero Center and make sure everything was ready for when we left in the morning. We also got the chance to fill out a survey and got t-shirts from the Romero Center. After cleaning up, we played some more games and then went up bed for the night.
Day 5 (Sunday)
This was our last day in Camden, NJ. We decided to go to Mass at St. Joseph's Parish before we left. Before Mass, we prayed in our group and spoke about how we can continue a life of service and what more we can do. Going to the Mass immersed us into the community of Camden; we got to experience the way the they do things. Mass wasn't too long. After we left, I saw Gladys from the day before, and we spoke for a few minutes before she sent us off with kind words. Leaving was hard because I had such a great time for the second year in a row. I hope to get to come back again.
If there is anyone who is thinking about attending this immersion experience, I highly recommend it. I had a great time serving and building community. This experience has given me a different outlook on life. It changed the way I think about those who need a little help.
POSTED:5/1/2018
Blog Archives
6/23/2021
Graduating during COVID
more...
6/3/2019
A Family Legacy
more...
12/3/2018
THANKFUL TO ATTEND PREP
more...
5/1/2018
SFP's Campus Ministry's Urban Challenge
more...
2/28/2018
The Prep Family
more...
1/25/2018
Transferring into St. Francis Prep.
more...
9/15/2017
Our Franciscan Pilgrimage
more...
6/2/2017
The Prep
more...
5/6/2017
Student-Teacher-Parent
more...
2/9/2017
WHY I CHOSE TO COME TO PREP, AND WHY I HAVE NEVER REGRETTED THAT DECISION.
more...
1/23/2017
ST. FRANCIS PREP RECEIVES SPECIAL HONORS FOR GUIDANCE AND ART DEPARTMENTS
more...
12/15/2016
FRESHMAN YEAR: Time to Grow Not Only Physically, but Mentally and Spiritually
more...
10/18/2016
SFP Music Department Admissions Video
more...
10/1/2016
All are Welcome!
more...
9/24/2016
St. Francis Prep Walks to Benefit New Students
more...
7/14/2016
St. Francis Prep Students Immerse Themselves in Service
more...