Admissions Blog Post
---
ST. FRANCIS PREP RECEIVES SPECIAL HONORS FOR GUIDANCE AND ART DEPARTMENTS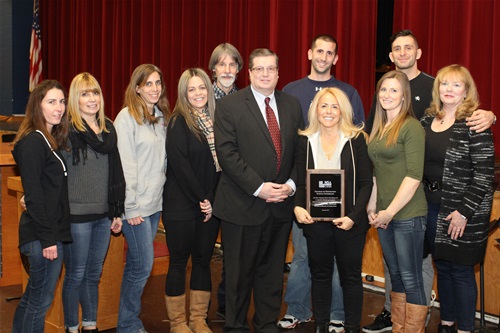 l-r, Prep Guidance Counselors Danielle Forte, Becky Barell, Nancy Williams, Josephine Morrone, Donald Sileo, Glen Mort from the Middle States Association, Prep counselor Nicholas Lombardo, Guidance department Chairperson Robyn Armon, and Prep Counselors Kelly Ramsey, Brian Gill, and Laura Hassett
Fresh Meadows, NY – On January 20th, a representative from the Middle States Association of Colleges and Schools visited St. Francis Prep to present plaques recognizing Prep's standout Guidance and Art departments. Last spring, each department earned Middle States' coveted Program of Distinction. According to Middle States, "…Programs of Distinction provide external validation of a school's accomplishments in specific areas of expertise, enhancing a school's prestige and promoting its reputation as a top-tier institution. Middle States Programs of Distinction serve as models for schools throughout the world."
Prep's Art department has garnered regular and prestigious recognition the last many years. For example, students have earned high praise via the Scholastic Art & Writing Awards. As a result, Prep students have had their work displayed at the Metropolitan Museum of Art. Prep alumni attend as many as 25 different collegiate art programs, pursuing varied Art-related majors. According to the visiting team that validated Prep's application, "Challenging, unique, passion, dedication, affiliation, hardworking, cozy, home, and family were the words the students of St. Francis Prep used to describe the art department." They went on to say, "It was obvious…that the Visual and Performing Arts Program is of exemplary quality. The student work is excellent. There are high expectations for quality in instruction and assessment. There is confidence in the administration that the Visual and Performing Arts Program is meeting the needs of the students served. There is confidence in the parents of St. Francis Preparatory that the Visual and Performing Arts Program is of high quality. There is confidence in the community that St. Francis is teaching the essentials to the cultural fabric of society. There is confidence in the faculty that their expertise and opinions are valued and their needs will be served."
Prep's Art department features over 30 courses, taught by 7 instructors. A recent highlight was a week-long residency by Florence-based, Comedia dell'arte artist and actor, Roberto Andrioli. Prep's Art department is led by Jeanne Buccino.
Prep's Guidance department serves three major, student-centered functions; course counseling, college counseling, and psychological and emotional counseling. Prep counselors care for nearly 2,500 students day-in and day-out. During the two-day validation visit, representatives from Middle States found that, "Saint Francis Preparatory High School's School Counseling Program has been a responsive and progressive program that meets the needs of its student population. Serving an ethnically diverse student body, the counseling staff, under the visionary and untiring leadership of Ms. Robyn Armon, offers a myriad of programs and services to meet the needs of the student body.
As affirmed by evidence seen and heard throughout the visit, the school counselors are an integral part of the total school effort and committed to its vision "to continue to grow and thrive in the three major areas course counseling, college counseling, and personal counseling.""
In a time when college costs can present hurdles for families, Prep's Guidance department not only shepherded last year's 608 seniors through the college application process, but helped them earn over $150 million in merit scholarship. This fall, Prep's class of 2016 headed off to colleges in forty states, and many foreign counties, including Canada, Greece, and Australia. The Ivy League schools were well represented with students attending the University of Pennsylvania, Cornell University, and Brown University. There was also a diversity of schools, whether it be the City University of New York's Macauly Honors College (including one student going to CUNY School of Medicine), or the five students going to Carnegie Mellon University, who only accepted six percent of their applicant pool.
Art Albrizio, who led the validation visit for Prep's Guidance depatment had this to say, "SFP's school counselors are a committed group of professionals who exhibit a genuine passion for the role they play in the educational process at Prep.
The school counseling program is standards based and may be described as progressive and responsive designed to meet the needs of the diverse student population served at Prep.
It was clear to me that under the leadership of visionary department chair, Robyn Armon, the school counselors remain focused on promoting the development of students' spiritual, intellectual, and social/emotional well being."
Plaques were presented by Glen Mort, one of Middle States' Accreditation Officers. Given he has only recently been assigned to oversee Prep's accreditation, he asked his Middle States colleagues about the school. They all had glowing comments, and count Prep among the best.
St. Francis Prep is one of only two schools to have earned three Programs of Distinction. In addition to their Guidance and Art departments, Prep's Music department was the first school ever to earn the Program of Distinction in Music, which according to Middle States, "is aimed at recognizing only those schools with the most sophisticated programs and the highest goals in music education." Prep's Music Department is led by long-time Chairperson, Dr. Robert Corbino.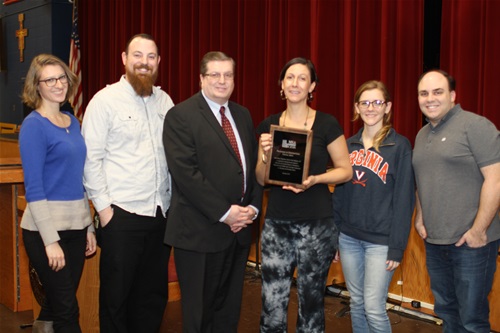 l-r, Art teachers Dianna Shmerykowsky and Jean-Marc Duplessis, Glen Mort from the Middle States Association, Prep's Art department Chairperson, Jeanne Buccino, and Art teachers, Kathleen Schnurr and Anthony Biondolillo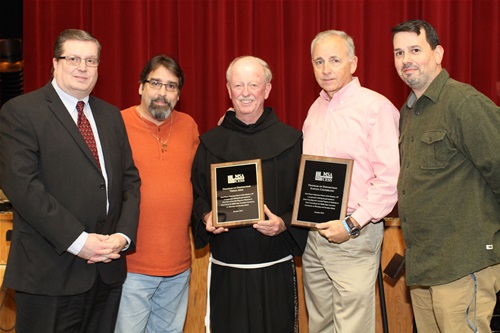 l-r, Glen Mort from the Middle States Association of Colleges and Schools, Robert L. Johnston, Prep's Co-Internal Coordinator for its Middle States accreditation, Brother Leonard Conway, O.S.F. Prep's President, Patrick McLaughlin, Prep's Principal, and Abelardo Leston, Prep's Co-Internal Coordinator for its Middle States accreditation
For more information, please contact:
Or visit www.msa-cess.org
POSTED:1/23/2017
Blog Archives
6/23/2021
Graduating during COVID
more...
6/3/2019
A Family Legacy
more...
12/3/2018
THANKFUL TO ATTEND PREP
more...
5/1/2018
SFP's Campus Ministry's Urban Challenge
more...
2/28/2018
The Prep Family
more...
1/25/2018
Transferring into St. Francis Prep.
more...
9/15/2017
Our Franciscan Pilgrimage
more...
6/2/2017
The Prep
more...
5/6/2017
Student-Teacher-Parent
more...
2/9/2017
WHY I CHOSE TO COME TO PREP, AND WHY I HAVE NEVER REGRETTED THAT DECISION.
more...
1/23/2017
ST. FRANCIS PREP RECEIVES SPECIAL HONORS FOR GUIDANCE AND ART DEPARTMENTS
more...
12/15/2016
FRESHMAN YEAR: Time to Grow Not Only Physically, but Mentally and Spiritually
more...
10/18/2016
SFP Music Department Admissions Video
more...
10/1/2016
All are Welcome!
more...
9/24/2016
St. Francis Prep Walks to Benefit New Students
more...
7/14/2016
St. Francis Prep Students Immerse Themselves in Service
more...