Admissions Blog Post
---
FRESHMAN YEAR: Time to Grow Not Only Physically, but Mentally and Spiritually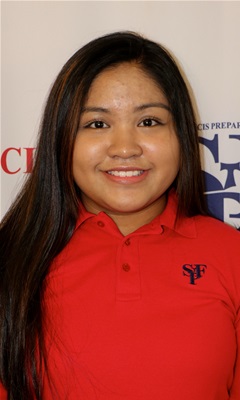 Joanne Gotanco
Class of 2019
I am currently a sophomore at St. Francis Preparatory School. If I had to sum up my freshman year into two words, I would say: growth and self-discovery. High school is very different from middle school; there are lots of new things to learn, not only things that can be taught in a textbook, but things that you'll carry with you for the rest of your life. I was very fortunate to have experienced this at the Prep thus far.
My first distinct memory about the Prep is being introduced to my Cor. Cor is the Latin word for 'heart', and SFP uses that word instead of homeroom. The people in your Cor are the people you'll definitely be with for the next four years during assemblies and activities; these people will be scattered amongst all your classes, so it would be good to get to know them. Things may get a little awkward in any or all of your classes during the first month or so, but eventually you'll see that things get a bit easier as time passes. The hesitance about speaking up and talking to someone new will soon be forgotten. High school is a fresh start, it's your time to be known as who and what you want to be. On my first day, I had a free period and thankfully, found people to talk to that I still talk to now. They became my best friends. St. Francis Prep is a huge school, you'll find someone that you can connect with, but a thing that I've learned is that not everyone will be there to stay. As a sophomore, I now realize that friends can vary depending on your class schedules and how much you talk to them, but they also change within the months. Not only are you developing, growing and changing in personality, but so are the 2,600+ students around you.
One thing I can definitely say is that it's cool to be smart. The types of opportunities that you are given are simply astonishing! My English 9 Honors class went to Broadway to see "Something's Rotten" with our teacher, Dr. Marino, and my AP World History class went to the Metropolitan Museum of Art with Mrs. Haussermann. However, in any class that you are put in, you'll always have the chance to do something great and exciting, and usually, you'll be able to help out the community too. SFP offers Midnight Runs, Presentation Soup Kitchens, and other various activities and events such as International Night for the ethnic clubs, and Fall and Spring plays held by the Alvernian Drama Society. I myself am part of Little Portion (the literary arts journal), Model UN, Campus Ministry, and Franciscan Youth Movement.
Every teacher is different, and one thing that I had to learn last year was that they all had different standards and expectations. I came from a really small Catholic middle school and had almost the same teachers for every subject. In high school, it's possible to have four or five tests a day, in all different subjects. It definitely gets hectic, but I believe it's part of the process of growing up. Here at St. Francis Prep, the teachers are always happy to help you with any questions you have about the curriculum, and the students, no matter what year, are always there to guide you as well! The Peer Tutors in the Libraries will help you with whatever subject, and if you need help on something other than your grades, your guidance counselors are always there to listen to you. Don't be afraid either, the guidance counselors will help you get into colleges in the future. Mrs. Marrone is the sweetest, most genuine person ever, and I'm quite lucky that she was there to guide me through my freshman year and help me choose my sophomore courses as well.
Time management is a really important thing to have as the days go on. Not only for classes at SFP, but it is something you must learn during your freshman year, or else everything starts to go downhill. With quarterly exams, midterms, finals, and regents, you need to organize yourself and stop procrastinating. It may seem boring, but each and every piece of information can be saved and used for the future. Knowing how to pace yourself in the busy hallways, how to write five paragraph essays in 40 minutes, how to recognize the class schedule for the day, among other things, are essential to surviving high school. Thankfully, SFP helps you take it all in stride. I've learned that we as a community, always try to help each other out, and work together as a family, a very Franciscan one at that. The four Franciscan values: to Live Lovingly, Care for Creation, Proclaim Hope and Joy, and Be Living Instruments of Faith, are things the Prep advises you to live by.
Freshman year taught me how to be more independent and responsible. High school is majorly different from anything you've experienced so far, and along with that comes change. There will be changes in your daily schedule, your social life, amount of knowledge, and activities that you'll want to participate in, among other things, but don't be afraid! High school is the time to grow not only physically, but mentally and spiritually as well. If you make the decision of spending the next four years at St. Francis Prep, just know for sure that it will be a change for the better.
POSTED:12/15/2016
Blog Archives
6/23/2021
Graduating during COVID
more...
6/3/2019
A Family Legacy
more...
12/3/2018
THANKFUL TO ATTEND PREP
more...
5/1/2018
SFP's Campus Ministry's Urban Challenge
more...
2/28/2018
The Prep Family
more...
1/25/2018
Transferring into St. Francis Prep.
more...
9/15/2017
Our Franciscan Pilgrimage
more...
6/2/2017
The Prep
more...
5/6/2017
Student-Teacher-Parent
more...
2/9/2017
WHY I CHOSE TO COME TO PREP, AND WHY I HAVE NEVER REGRETTED THAT DECISION.
more...
1/23/2017
ST. FRANCIS PREP RECEIVES SPECIAL HONORS FOR GUIDANCE AND ART DEPARTMENTS
more...
12/15/2016
FRESHMAN YEAR: Time to Grow Not Only Physically, but Mentally and Spiritually
more...
10/18/2016
SFP Music Department Admissions Video
more...
10/1/2016
All are Welcome!
more...
9/24/2016
St. Francis Prep Walks to Benefit New Students
more...
7/14/2016
St. Francis Prep Students Immerse Themselves in Service
more...