Admissions Blog Post
---
All are Welcome!
On Saturday, October 15th, St. Francis Prep will be hosting its annual Open House for prospective students. This year promises to be just as informative and exciting as years past.
One of the most important parts of the Prep community is its extraordinary sense of family and belonging. Over the last few years, we have adopted the saying, "high school is four years, Prep is forever." In addition to an incredibly rigorous, fluid, and vibrant academic program, students have countless clubs and activities which they can join. These include ethnic clubs that celebrate students' heritages to special interest clubs like the Snow Club, or Ultimate Frisbee Club, to Faith Based Clubs, like the Franciscan Youth Movement. All these clubs and activities will be represented at Open House by student participants and faculty moderators.
Prep has a storied Athletics legacy, including traditional sports like football and basketball, as well as unique sports and competitive activities such as Rugby and Dance. One of the "golden links" of a Franciscan education is the Physical, and our inclusive and supportive programs allow students to develop physically, as well as grow in their sense of self-esteem, teamwork, discipline, and respect. Thanks to the support of the Franciscan Brothers of Brooklyn and our Alumni, we opened our unmatched, state-of-the-art Fitness Training Center.
Winston Churchill, when asked about cutting arts funding in favour of the war effort, simply replied "then what are we fighting for?" The Arts at Prep are second to none. Our Art Department, and the creativity of their students have been recognized by having their award winning work displayed at significant venues such as The Metropolitan Museum of Art through the auspices of The Scholastic Art and Writing Awards, and at the White House, through the Congressional Art Competition.
Most recently, our entire Art program was rcommended to recieve the Middle States Association of Colleges and Schools Program of Distinction in Art. This process included a lengthy and collaborative self-study, and an on-site visit by nationally recognized Art educators. There are only a handful of schools in the world who have earned this distinction.
Our Music Department was the first program ever to be recognized by Middle States by earning their Music Credential (now called Program of Distinction), which is aimed at recognizing only those schools with the most sophisticated programs and the highest goals in music education. Our elite ensembles followed up their 2014 tour of London by touring Italy during the summer of 2016, including visits to Rome, and the home of Francis, our patron saint, Assisi.
If that weren't enough, this September, Prep's Music department will be able to enjoy our new facilities which include a small rehearsal space, and a dedicated percussion room, with new equipment including two 5-octave marimbas. There is also a suite of seven Wenger SoundLok Sound Isolation Rooms of various sizes. Four of these rooms are equipped with VAE technology which, according to Wenger, will put Prep's Music program at the forefront with the latest state-of-the-art music practice technology. There is also a dedicated classroom for our more advanced electives. This is only the first of three stages. Over the next few years, Prep student-musicians will be able to utilize a new orchestra room, band room, chorus room, Electronic Music studio, as well as ample storage and office space.
Academically, Prep has an extraordinary array of elective, Honors and Advanced Placement classes in every subject area. This is supported by a firm grounding in a core curriculum that prepare students for college and their lives as stewards of their society. Last year alone, Prep students earned over $150 million in merit scholarships to colleges and universities on over 40 states and many foreign country. The Ivy League schools were well represented with students heading off to the University of Pennsylvania, Cornell University, and Brown University. Prep even hosted fifteen on-site visits by colleges this year, where students earned $17 million in scholarship for their freshman year alone.
Again, Middle States has recognized our Guidance department, who have a significant hand in the college application process, as they are also being recommended for the Association's Program of Distinction in School Counseling Services. That makes Prep one of only a very few schools who currently hold three of these recognitions.
Prep President Brother Leonard Conway, O.S.F., has been committed to ensuring Prep is able to offer state-of-the art facilities and resources for all of our students. This has included a complete upgrade of our infrastructure, including our HVAC and PA systems, an Art Education Center, an Athletic Center, and collegiate quality, unrivaled Science Labs with full Smart technology integration, including Digital Microscopes, and Vernier Lab Quest interface systems.
Faith is at the center of all that we do. Although our student body is 75% Catholic, we witness the charism of St. Francis in that all are welcome. Students from a myriad of faiths and cultures attend Prep, and all our students learn the importance of giving back to society, helping those in need, and as Pope Francis has esposued, caring for creation. Prep is the only high school in the Brooklyn-Queens Diocese to have a full-time chaplain, and we have a well organized and energetic Campus Ministry team that offer service opportunities here in New York and abroad.
St. Francis said, "Start by doing what's necessary; then do what's possible; and suddenly you are doing the impossible." Prep has been doing what's necessary for countless generations of young people for going on 158 years, and as such, has allowed our students and alumni to achieve the impossible.
Please join us on Saturday, October 15th, 2016, beginning at 12 Noon for our Open House.
For more information, please contact:
The Admissions Office at the Prep at (718) 423-8810, x229, or [email protected]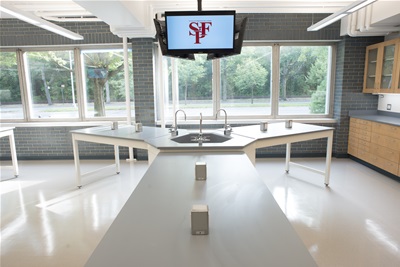 One of our new, state-of-the-art Science Labs at St. Francis Prep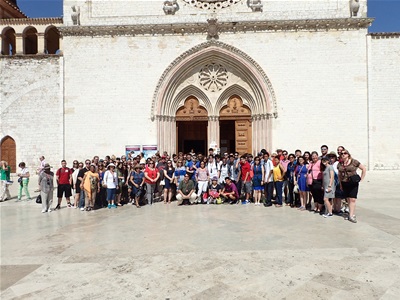 Students, faculty, parents, alumni, and parishioners from American Martyrs Church in Bayside at the Basilica of St. Francis in Assisi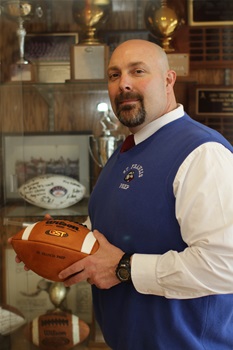 Recently appointed Head Varsity Football Coach, Rich Carroll, SFP'86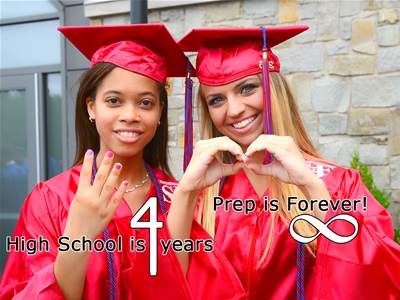 POSTED:10/1/2016
Blog Archives
6/23/2021
Graduating during COVID
more...
6/3/2019
A Family Legacy
more...
12/3/2018
THANKFUL TO ATTEND PREP
more...
5/1/2018
SFP's Campus Ministry's Urban Challenge
more...
2/28/2018
The Prep Family
more...
1/25/2018
Transferring into St. Francis Prep.
more...
9/15/2017
Our Franciscan Pilgrimage
more...
6/2/2017
The Prep
more...
5/6/2017
Student-Teacher-Parent
more...
2/9/2017
WHY I CHOSE TO COME TO PREP, AND WHY I HAVE NEVER REGRETTED THAT DECISION.
more...
1/23/2017
ST. FRANCIS PREP RECEIVES SPECIAL HONORS FOR GUIDANCE AND ART DEPARTMENTS
more...
12/15/2016
FRESHMAN YEAR: Time to Grow Not Only Physically, but Mentally and Spiritually
more...
10/18/2016
SFP Music Department Admissions Video
more...
10/1/2016
All are Welcome!
more...
9/24/2016
St. Francis Prep Walks to Benefit New Students
more...
7/14/2016
St. Francis Prep Students Immerse Themselves in Service
more...