Admissions Blog Post
---
St. Francis Prep Students Immerse Themselves in Service
St. Francis Prep Students Immerse Themselves in Service
In addition to strong academic offerings, and a spectacular arts program, along with an athletic program that has an unparalleled legacy, St. Francis Prep will, this summer, be holding its students true to the beliefs of their school. Students will have opportunities "to treat all with respect and dignity," and "to lead lives of justice, integrity, and compassion."
Prep's Campus Ministry team is overseeing three distinct programs that will provide environments that emulate just how St. Francis lived his life. The first is called Notre Dame Vision, a program offered at the University Notre Dame University in Indiana. Students will be spending five days in a setting that Prep Campus Minister George Anne Kotowicz describes as helping students taker a closer look at their own gifts and talents, and then put them to use to help make the world a better place.
The program draws students from both the United States and Canada and serves 400 students per week for 4 weeks. The is led by students at Notre Dame students who have prepared by taking a special course in Theology and how to work with small groups. They also spend the semester learning, working and praying together. For Kotowicz, a veteran of Catholic Education, this is the best program of this type that she has seen. Each year, she observes students changed and moved to the point that they can't wait to come back and set their experiences in motion.
The ND Vision program is offered to Prep students who are involved in the school's extensive Campus Ministry program. The cost for the program is about $900, and there are some scholarship possibilities from Notre Dame's "Emerging Leader's" program and Prep's Campus Ministry tries to make sure that no student is kept from attending for financial reasons. Students from all four grade levels have been involved, and one student has even attended four times.
Another program is Prep's Franciscan Immersion Experience, or FIE. There are a number of trips each year, to places such as Camden, New Jersey. This summer, 15 students will travel to Peru to serve at the Hogar San Francisco de Asis, or the home of St. Francis. This is a facility outside of Lima that serves Peruvian children with significant needs who can't afford medical care.
The students are able to work side-by-side with Dr. Tony Lazzara, a Florida pediatrician who, like the early Franciscans, sold his belongings and left a successful practice to serve. He didn't even speak Spanish very well. Shawn Sempowich, Prep's Campus Minister for Service Learning describes the experience that Prep students will have as day-to-day ministry of presence. They support and help as they can, oftentimes with some tragic situations. This year's trip will be led by a veteran of the program, Spanish teacher Costancio Soto, along with Spanish teacher and alum, Christopher Kennedy, and staff member Justine Kosinski. Rising juniors and seniors are able to apply for the trip during the school year. The cost for the program is $1600, and again, Prep's Campus Ministry Program is able to offer scholarship and aid.
According to Sempowich, students come back different. They all write about their eperiences, and many use the trip as the basis for their college essays.
St. Francis Prep students and faculty at Hogar San Francisco de Asis in Peru, 2015.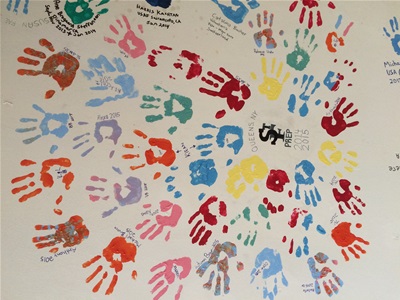 St. Francis Prep students leave an artwork of handprints at Hogar San Francisco de Asis, 2015.
Finally, Prep will be offering a program closer to home, that being Prep's annual Service Academy. In two one-week sessions, students will visit local service sites, such as St. Francis Table in Ridgewood and Presentation Soup Kitchen in Jamaica. Students share in discussions about poverty and social justice, and what they can do to help in the world around them. Students are able to utilize iPads, and keep video diaries. There is an application process for current students. The program is geared towards those students whose academic and extracurricular commitments don't allow time for service during the course of the school year.
St. Francis Prep Students help prepare meals during a session at Prep's Summer Service Academy.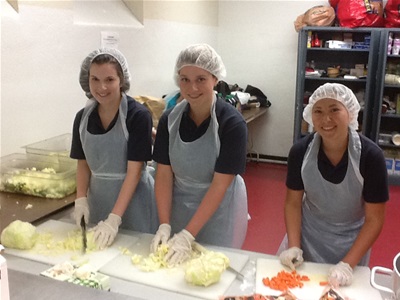 St. Francis Prep Students help prepare meals during a session at Prep's Summer Service Academy.
For More information, please contact Prep's Campus Ministry Team:
Dr. Christian Sullivan, Director, [email protected], (718) 423-8810, x302
Mrs. George Anne Kotowicz, [email protected], (718) 423-8810, x249
Mr. Shawn Sempowich, [email protected], (718) 423-8810, x292
POSTED:7/14/2016
Blog Archives
6/23/2021
Graduating during COVID
more...
6/3/2019
A Family Legacy
more...
12/3/2018
THANKFUL TO ATTEND PREP
more...
5/1/2018
SFP's Campus Ministry's Urban Challenge
more...
2/28/2018
The Prep Family
more...
1/25/2018
Transferring into St. Francis Prep.
more...
9/15/2017
Our Franciscan Pilgrimage
more...
6/2/2017
The Prep
more...
5/6/2017
Student-Teacher-Parent
more...
2/9/2017
WHY I CHOSE TO COME TO PREP, AND WHY I HAVE NEVER REGRETTED THAT DECISION.
more...
1/23/2017
ST. FRANCIS PREP RECEIVES SPECIAL HONORS FOR GUIDANCE AND ART DEPARTMENTS
more...
12/15/2016
FRESHMAN YEAR: Time to Grow Not Only Physically, but Mentally and Spiritually
more...
10/18/2016
SFP Music Department Admissions Video
more...
10/1/2016
All are Welcome!
more...
9/24/2016
St. Francis Prep Walks to Benefit New Students
more...
7/14/2016
St. Francis Prep Students Immerse Themselves in Service
more...