The NYC Catholic HS Chess League was disbanded
at the end of 2006.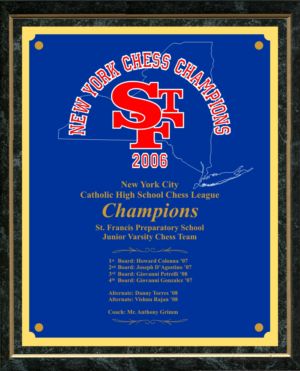 The Junior Varsity division of the
New York City Catholic High School
Chess League
has been in existence
for only five years.
St. Francis' J.V. Team
has won the City Championship each year:
5 straight City Titles!
---
In the first two years of its existence,
Prep's J.V. Team defeated Molloy in the finals.
The following year, the Prep's J.V. Team defeated
the team from Regis H.S. in Manhattan.
During the fourth J.V. Championship in 2004 - 2005,
the Prep's J.V. Team crushed Mt. St. Michael
3.5 - .5 in the finals.
At the 2005 - 2006 Championship on March 12, 2006,
All Hallows, Molloy, and Regis
were "no shows" and forfeited their matches.
---
This year is the 5th consecutive
J.V. City Championship
for the
J.V. Team!