National History Scholars Society

Moderator: Mr. Leston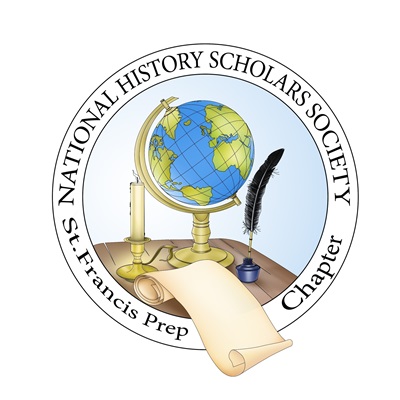 The St. Francis Preparatory School Chapter of the National History Scholars Society was formed in recognition of students who have embraced their role as "student historians." This honor society was formed through a charter granted through the National History Club and the National History Scholars Society. The faculty of the Social Studies department wishes to recognize students who have shown academic success within Social Studies offerings and interest in the field. To be considered for membership students must meet the following requirements:
· Be at least a Junior in good academic standing at the time of their consideration;
· Have completed or are currently completing at least three years of course offerings within the department;
· Demonstrate at least an overall grade point average of at least 90;
· Demonstrate a department specific grade point average of at least:
95% in Standard courses
92% in Honors courses
90% in Advance Placement courses
· Have participated for at least one full year as an active member in a Social Studies related extracurricular activity such as the Duns Scotus Speech Club and Student Congress, Model UN, Political Science Club, Republican Club, Mock Trial Club, The Seraph, History Assistants, Peer Tutoring, Student Government with the moderator's recommendation, or proof of community involvement in the field of Social Studies.
The criteria listed above reflect the minimum requirements for membership. The final criteria to be considered will be a short response to the following question: "What inspires you about the study of history?" The deadline for the response and the application for membership will be posted in the Society's website.
The final decision for membership will be made by a majority decision of a special committee made up of faculty members from the Social Studies department. New members will be welcomed at a ceremony scheduled for Wednesday, March 16th
Applications will be available Monday, February 25th. Please see your Junior level Social Studies teacher,pick one up at the Social Studies office, or print out a copy below.
Applications are due to teachers or to Mr. Leston's mailbox by Wednesday, March 20th, 2019.