New Covid-19 Vaccination Eligibility!
Vol: 81 Issue: 1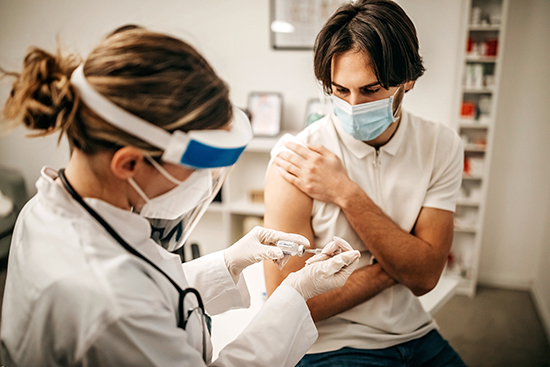 A little over a year into this pandemic and we have learned to manage living life according to a new set of rules and regulations. However, day by day, we take a step closer to ridding the world of this horrific virus. We have approached a major milestone in our Covid-19 journey. As of April 6, 2021, New York City has opened vaccination eligibility to every person over the age of 16. Currently, the 16 and 17 year olds are only eligible to receive the Pfizer vaccine, as it is the only vaccine approved for underage children. As long as you have parental approval, you are permitted to receive your doses of that particular vaccine. If you are 18 or over, you are welcomed to a larger variety when choosing your vaccine. Some options are Pfizer, Moderna, or Johnson & Johnson. Each vaccine requires a follow up either 3 or 4 weeks later for your second dose, excluding the one dose Johnson & Johnson vaccine. Before, the state was going through sections of categorized people for eligibility to keep vaccinations in an organized manner. However, this was not working as efficiently as planned, so opening it up to the general public is much more beneficial to families, companies, schools, and more. If more young adults schedule their appointments, more normalcy will return to our school environments. With the majority of each class being vaccinated, quarantines and exposures will be greatly reduced. As a current junior at SFP, I know that I, along with my fellow classmates, am hoping for the most normal senior year possible. The underclassmen want to be able to experience the full effects of lows and highs of high school and the upperclassmen want to make their final years worthwhile. By receiving the vaccine, we have a greater chance of returning to a more normal state within our school community.
However, do not worry, these companies are working every day to come up with a solution for the younger teenagers and children to get vaccinated as well. The Pfizer company has been conducting trials on children between the ages of 12 and 15 and their results prove to be 100% effective against the Covid-19 virus. Pfizer has now begun their clinical trials on children between the ages of 5 and 11, next will be ages 2 to 5 and then 6 months to 2 years. So, these companies are working hard to protect and keep children's safety prioritized. In addition, soon children will adapt to herd immunity. Herd immunity is when more people become immune to a disease, making it highly unlikely to spread amongst a community. Vaccination is one of the main causes of herd immunity. With more and more people getting vaccinated and trials being conducted, we are working together universally, to take every step to return to normalcy. Upperclassmen, go receive your Pfizer vaccine and encourage family members and friends to do the same! Stay safe and protect one another as we manage to overcome this pandemic and move forward with our lives!
---