John Madri R.I.P.
Vol: 81 Issue: 1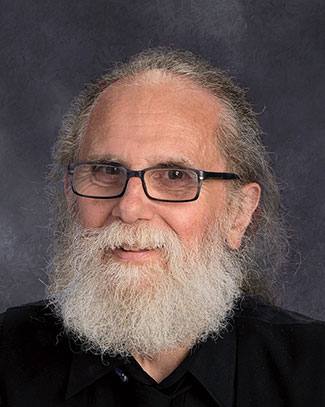 In October 2020, the St. Francis Prep family lost our dear friend and former teacher Mr. John Madri. Mr. Madri died outside his home. We were and are all saddened by this loss. In June 2020, Mr. Madri had retired from St. Francis Prep after 48 years of teaching English and inspiring students. We grieve with his wife Martha and with his former students and colleagues.
To say that John Madri was and remains legendary is an understatement. Generations of students knew and loved Mr. Madri; among the thousands of students he taught were many of the children of his former students and many of the students his wife Martha had taught at Our Lady of Hope. For the last 25 years of his career, John taught 5 sections of English 9. Every year, Mr. Madri introduced scores of new Prep students to the study and love of English.
John Madri loved literature and loved his students; he loved sharing with them his passion and enthusiasm for reading and writing. His classroom was famously covered with the poetry that he encouraged his students to write. Through their senior year, students would always be coming back to visit Mr. Madri. He introduced them to their high school study of English and kept them along the path of being lovers of reading and writing. John was and is an inspiration for all of us.
As much as he was dedicated to the classics -- A Christmas Carol and Romeo and Juliet were staples in his class -- he was also always on the look-out for new books that each successive generation of students would find accessible and exciting. For many years, it was Uglies; then John would be on to a new book. His students were always the beneficiaries of his love of all kinds of literature.
John was a great friend and colleague. He was generous with ideas and enthusiasm. I was blessed to know John for 37 years. He was always quick to offer help in any way he could. During the past 15 years, we shared a classroom. He was always willing to assist me with Cor duties: my last three Cors considered Mr. Madri as our honorary Cor teacher. As he was with his students, with the faculty and staff John was warm, welcoming, and encouraging. We would often talk about what we were reading with our students and what they were writing. He urged on all the members of the English department ideas about new books and new approaches. After so many years of teaching, John remained enthusiastic about his work and his desire to inspire.
John was dedicated to his work, his students, and education. He often worked with the students of his wife Martha. They would write plays together; John then helped the students stage them. John supported reading, writing, and the arts wherever and whenever he could. At St. Francis Prep, he was a major supporter and fan of the Alvernian Drama Society.
We all do miss and will miss John Madri: his care for the students; his dedication; his wry sense of humor. We remember and celebrate him and his good work. John's legacy lives on in the thousands of students he taught during his nearly half century at St. Francis Prep. Thank you, John, for all you did. God bless John Madri.
---