June 2019
"Life is a journey, not a destination."
Ralph Waldo Emerson
From the desk of Mr. McLaughlin:
Just a month ago, we celebrated the graduation of the Class of 2019. On Friday, May 31, we had the Graduation Liturgy in the Br. Ralph Clifford Memorial Auditorium. Fr. Ralph Edel, our chaplain, was the celebrant; Fr. Bill Sweeney, who earlier served as chaplain for this graduating class, concelebrated the Mass. Fr. Ralph gave an inspiring sermon about God's desire for us to become fully ourselves. Our Liturgical Ensemble sang beautifully. At the conclusion of the Mass, we presented a variety of awards from civic, educational, and political organization.
On Saturday, June 1, we had our Graduation ceremony in Lou Carnesecca Arena at St. John's University. All the graduates processed onto the stage, shaking the hand of either Br. Leonard Conway or Mr. Patrick McLaughlin. Lorian Chester delivered the student welcome, and David Murtha delivered the student address. Mr. Christopher Mendolia announced the recipients of the departmental academic awards: in each department, two students received certificates for commendation and one student was given a medal as the top student. In addition, we presented the following special awards:
Franciscan Spirit Award: Faculty – Ms. Maria Finn; Student – John Lynch
Al Powers Student-Athlete Award: Aramis Santiago
Sheila Barrett Knudsen Student-Athlete Award: Chiara Cinquemani.
The General Excellence Medal was presented to David Murtha.
We presented certificates to students who had cumulative averages of at least 99%: Chiara Cinquemani, Lorian Chester, Daniela DeViccaro, Elizabeth Mari, Zoe Mitchel, Samantha Rooney, Vincent Smedile, Alexander Soohoo, Olivia Sudol, Juliana Sultana, andMarianna Zehas.
Both days were spirited, positive, and dignified ceremonies. We congratulate all the graduates and their families on their great achievement. We wish them all the best as they continue their education and pursuit of their goals and dreams. Well done. God bless us all.
Mr. McLaughlin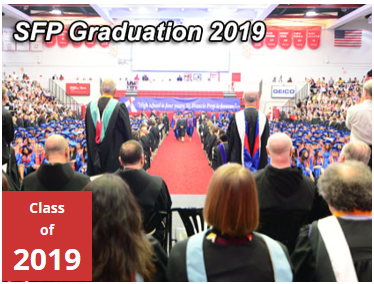 From the desk of Mr. Mendolia
Summer School 2019
Registration for Summer School took place on June 28 from 9:00am -12:00pm in the auditorium. Classes will run from July 8 - August 2. Each course requires a fee of $485.
Any student who needs to take a required NYS Regents Exam or who wishes take an optional exam for an Advanced Regents Diploma may also complete registration at this time. The fee for each exam is $35. The Regents Exam schedule for the Summer is as follows:
Tuesday, August 13 8:30am - Algebra 1, English, Chemistry
Tuesday, August 13 12:00pm - Global History
Wednesday, August 14 8:30am - US History, Earth Science
Wednesday, August 14 12:00pm – Geometry, Living Environment (Biology), Algebra 2
Congratulations
It is with great pleasure that we share with you an honored achievement of Dexter John Reid. Dexter is a sophomore. In October of last year, he completed his Eagle Scout requirements. Dexter is a member of Troop 144 in St. Albans. He held roles as Patrol Leader, Senior Patrol Leader, and Scribe. In July 2016, Dexter received National Youth Leadership training at the National Youth Leadership program at the Alpine Scout Camp in Alpine, NJ.
On March 9th, 2019, Dexter had his Eagle Scout Court of Honor. Dexter's Eagle Project, "A Reading Circle," focused on collecting children's books from families with grown children and donating them to his church for use by children in his community. He collected and donated over 300 books. He realized that children's books sometimes sit in the homes of adults unused and could be a benefit others. We are very proud of your accomplishment. Well done!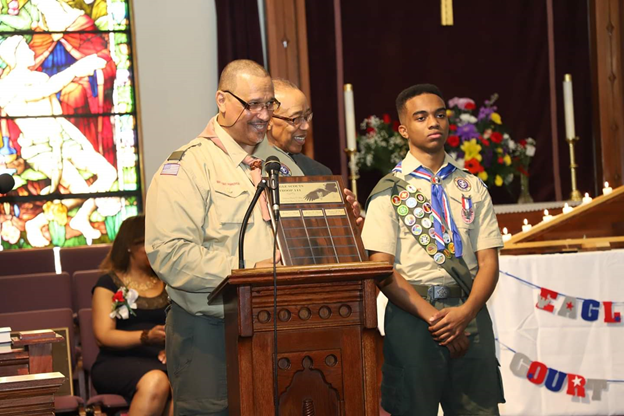 Music Department
The 2018-2019 school year was a wildly successful one for Prep's Music department. In addition to nearly 80 performances by Prep ensembles, the year saw recognition for students and the department.
This was the first year Prep sponsored a Tri-M society. According to their website, "A Tri-M Music Honor Society chapter opens up a world of opportunities for students who have already shown themselves to be academically capable and musically gifted. Through performance and community service, they'll develop confidence, creativity, critical thinking, compassion, and a host of other leadership skills sure to serve them well in school and beyond." In all, 119 students were inducted in this inaugural year. We also had an All-State 'cellist, Hyelim Jo, who traveled to Rochester to perform with the New York State School Music Association All-State String Orchestra.
Prep's Music department was also recognized on the national level, by both the National Association of Music Merchants Foundation (NAMM) and Music for All's Advocacy in Action. NAMM describes its recognition as FOLLOWS: "A Support Music Merit Award is an opportunity for an individual school (public, private, parochial, or charter) to be acknowledged for its commitment to music education. It is a "school-only" distinction awarded as part of the Best Communities for Music Education program. Music for All states, "The Advocacy in Action Awards Program is designed to collect and share local music education advocacy ideas across America." Further, "In the inaugural year of the Advocacy in Action Awards, we received an unprecedented number of applications representing music programs, schools, and communities across the United States. We are extremely grateful for all that took the time to showcase their advocacy efforts on a national stage by applying for this program."
More locally, Prep's Music department earned a Proclamation from the Assembly of the State of New York "on the occasion of earning the Middle States Association Program of Distinction in Music, and as an institution deserving of the esteem of both its community and the great State of New York." Prep was the first institution ever to be recognized by the Middle States Association of Colleges and Schools for Music in 2011. In turn, we were the first to be re-accredited for this special honor last spring.
Finally, we have been recognized by the Long Island Music Hall of Fame and their High School Recognition Program. According to the LIMHoF, "The Long Island Music Hall of Fame High School Recognition Program is designed to identify Long Island High School music programs that are creating valuable music experiences for their students and that are incorporating the National and New York State's Standards for the arts in creative and meaningful ways."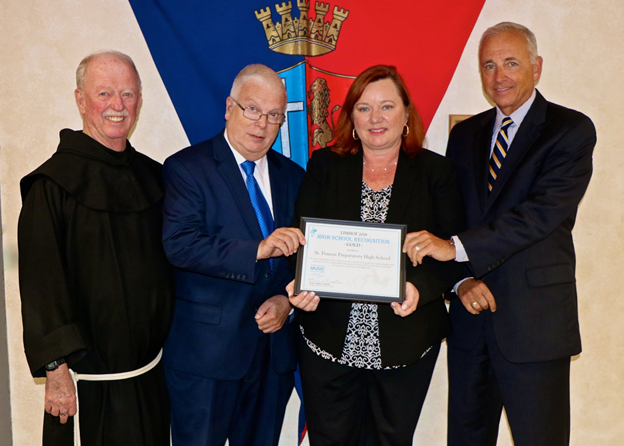 In all, Prep teaches Music to over 60% of its student body, providing enriching and unique opportunities to students, ranging from playing in a student's first ever concert to performing for Popes and Presidents here in New York and across the world. We're looking forward to great things to come in 2019!!!
Art Department
Art Students Art Work Chosen for 2018-2019 Envision Learning in Our Interactive World Crayola Art Exhibition!
The Art Department is pleased to announce that many of our wonderful artists had their artwork selected for the 2018-2019 Envision Learning in Our Interactive World Crayola Art Exhibition! Their artwork showed a true connection to the theme, had stunning visual appeal, presented age-appropriate critical thinking, and responded to the theme with originality. Our finalists are Isabella Agate, Jomarie Almeus, Joshua Balina, Joey Brigante, Kayla Conelli, Yejin Kim, Allison Lau, Jessica Lee, Gina LiCalizi, Zhamia Simon-Nunez, Victoria Reshetnikov, Charlize Ruiz, Shulin Song, Dian Wang, and Dongtianyi Zhao. All winners received amazing art supplies from Crayola as a gift for their talents and hard work. We are very proud of their accomplishments and endless creativity.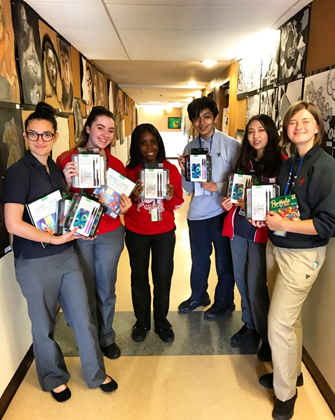 Trial of the Century 2019
People of St. Francis Prep v. Mrs. Kathleen Schnurr-Lynch
This case involves the 3D printing production and sale of a firearm by Kathleen Schurr and sold to a Bacchus Stabba. The drop or exchange of money and the weapon was videotaped by the SFP PD surveillance team; Stabba was immediately arrested. Arrest and Search warrants were obtained for Schnurr, who was tracked on-line by an undercover Police Officer who was solicited by Schurr to obtain instructions on how to print a 3D gun. Evidence used against her was obtained in her classroom following the execution of the warrants. Bacchus Stabba agreed to cooperate and testify against her.
Charges:
Criminal possession of a weapon in the second degree. S 265.03.03 (Guilty)
Criminal Sale of a Firearm in the 3rd degree. 265.11.02 (Guilty)
Conspiracy to Produce a Firearm 105.05.01 (Guilty)
Criminal possession of a weapon on school grounds. S 265.01-a (Not-Guilty)

The Prosecution Team
Jazmin Jedrzejczyk 307
Sebastian Escobar 206
Olivia Fratangelo 207
Erin Seidman 216
Sebastian Jeudy 107
Raphael Montan 112

The Defense Team
Isabella Lovasz 309
Steven Boehm 202
Alexandra Barrins 201
Olivia Tyka 117
Athena Kalavanos 209
Alexander Kalavanos 209
Brandon Carroll 102
Valerie Frandatti 105
The Jurors
Juliana Acierno 301
Patrice Charlemagne 303
Lisa Jones
Ralph Barbieri 302
Leslie Cozzi
Nicholas Cordero 304
Nicole Kardum 310
Fran Jimenez
Maria Finn
Testifying Witnesses
Cooperating co-conspirator Bacchus Stabba
Anthony Biondolilo
SFP PD Computer Analyst - Christina Demeo '19
SFP PD Lead Investigator - Samantha Rooney '19
The Defendant - Kathleen Schnurr-Lynch
Shady character Joe Bagodonuts - Vincent Smedile '19
SFP PD Firearms Expert - Matthew Van Praagh '19
Prep Alumni Consultants
Special Agent of the Office of the Inspector General Tim Schmidt
Retired Detective from NYPD 1st Pct Anthony Cozzi
Queens ADA John Kosinski
NYS Special Investigator Jessica Silver-Cohen
1st Law Student James Schnurr-Lynch
NYS Supreme Court Justice William Viscovich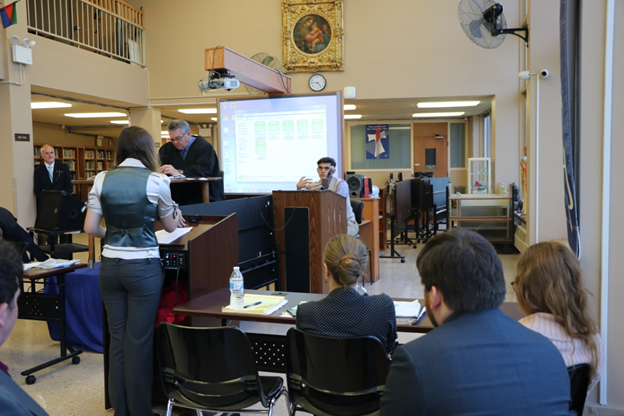 Guest Speakers
Camille Glotzbecker, SFP Class of 2003, was the guest speaker in our AP Biology class. Camille is Administrator Director, Surgical Services, Department of Surgery, at NYU Winthrop Hospital.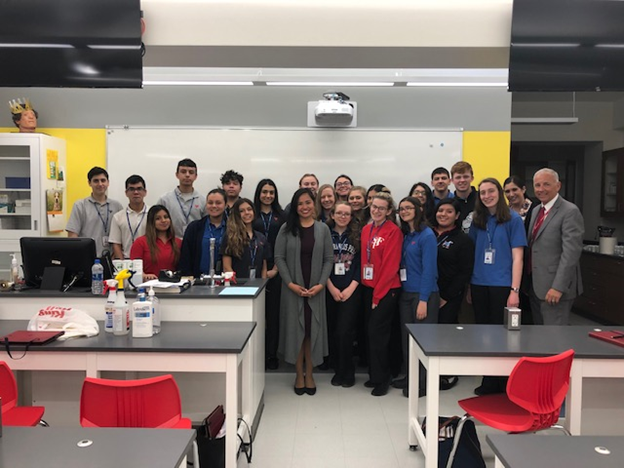 Nily Rozic, Assemblywoman, 25th District, gave a presentation to our AP Government and Politics classes. Meagan Molina, pictured center, SFP graduate, is the Administrative Assistant to Assemblywoman Rozic.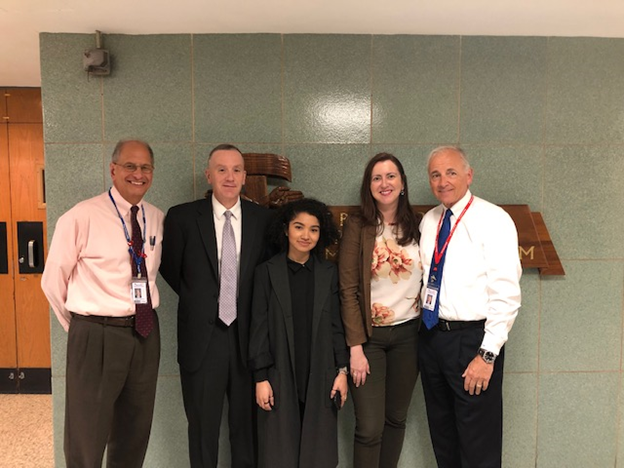 Have a Great Summer!
♦ ♦ ♦ ♦