May 2019
"Take risks. Ask the dumb questions. Fail if you have to, and then get up and do it again."
Jacqueline Novogratz
May is a transition time at SFP!
The last class day for our seniors was May 17th, incoming 9th grade orientation was held on May 23rd, on the 24th we celebrated Junior Day, and the senior prom was May 29th. Our beautiful Graduation Liturgy was held in our auditorium on May 31st, and the Graduation ceremony at St. John's University was on June 1st. For our seniors, it is the transition from what is known to the unexpected; for the rest of our students, it has been another year of development in high school. Change is always filled with a degree of anxiety, but anxiety turned inside out is excitement. At SFP, we believe our students are always ready for the next step and constantly growing as they are assisted by our Catholic Franciscan Mission.
Mr. McLaughlin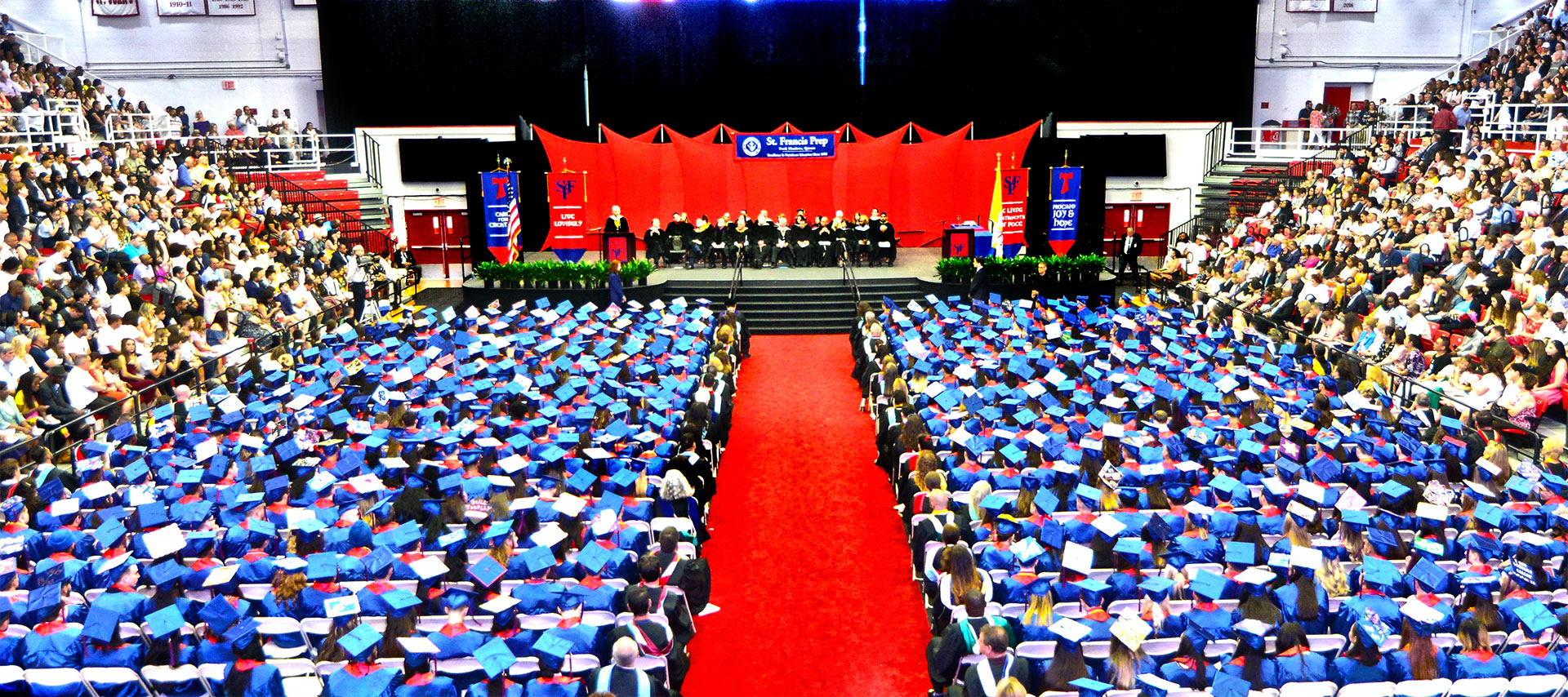 From the desk of Mr. Castellano
COURSES and CHANGES FOR 2019-2020 SCHOOL YEAR
We will e-mail students and parents their course verification forms in early June. The form lists all the classes for which the students are scheduled for next year. Please review your child's course selections carefully. We will have days to request course changes throughout June. Changes cost $50 and are based on space availability and qualification for the course. Students must receive approval from a departmental chairperson to add or change a course. The last day to request course changes is Friday, 28 June, from 9:00 to 11:00 a.m. There are no course changes in the Summer or September. Please direct questions about your child's program to his or her guidance counselor. You may also call Mr. Castellano at ext. 209 with questions about procedure and courses.
FINAL and REGENTS EXAMS
School final exams will take place on Friday, 14 June. Regents exams run from Tuesday, 18 June, through Tuesday, 25 June. The schedule is posted on the school web site. Morning Regents exams begin at 8:30 a.m.; afternoon Regents exams begin at 12:30 p.m. Teachers will inform students of the room for each of their exams. Please encourage your child to start now to prepare well for all of his or her exams. Please remind your child that final and Regents exam scores are part of the final grade for all courses; Regents exam scores appear on the transcripts of students. Our teachers are very generous in holding many review sessions in advance of the exams: please make sure your child goes to these sessions. We wish the students all the best in ending the year well.
SFP at Citi Field
Our Terrier pride and tradition was on full display once again as alumni, family, and friends gathered at CitiField on May 22, 2019, when The New York Mets hosted The Washington Nationals. The SFP Chamber Choir (under the direction of Mr. David Kobayashi, SFP Class of 1993), performed The National Anthem on the field!!
The ceremonial first pitch was thrown out by Class of 1992 alumnus and English Department Chairperson Mr. Rob Williams with Father Ralph Edel, the Prep's Chaplain, at home plate! This is the third year in a row that St. Francis Prep has held this event, and the number of participants keeps growing!
Thank you to everyone for supporting the Prep and showing your Terrier Pride and Spirit!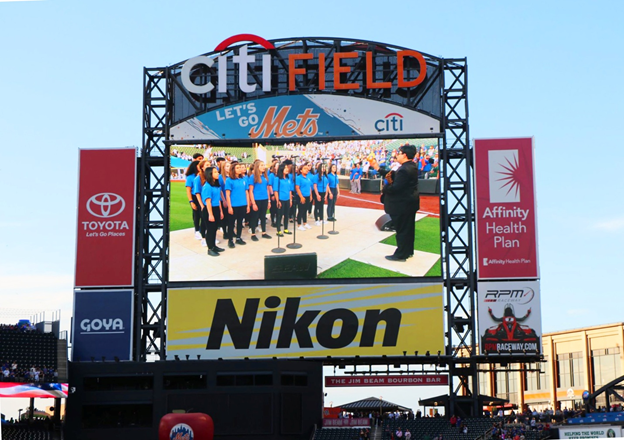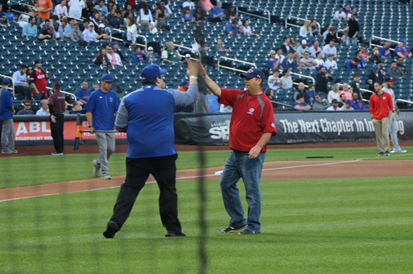 Faculty -Senior Softball Game
Faculty wins 17-4!!!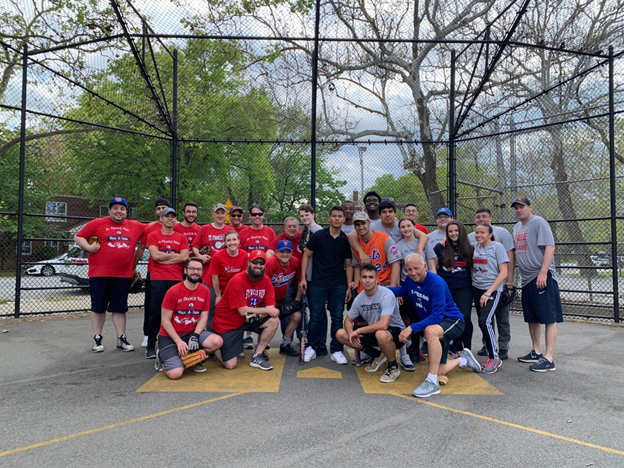 ENGLISH
National English Honor Society
Congratulations to the following students who were inducted into the "Red and Blue Chapter" of the English National Honor Society at the Induction Ceremony on Wednesday, May 1st.
Juniors:
Nevin Altan
Christopher Bhola
Carine DeBenedittis
Krista DiMaggio
Antonio DiVanna
Victoria Reshetnikov
Sierra Santiago
Bohbin Shim
Ivy Tang

Seniors:
Christina DeMeo
Andrew Goetz
Alysandra Kassienauth
Rachel Luscher
Elizabeth Mari
Janeen Rico
Samantha Rooney
Vincent Smedile
Matthew Van Praagh
The National English Honor Society (NEHS) is the only national organization exclusively for high school students who, in the field of English, merit special note for past and current accomplishments. At St. Francis, the chapter is composed of superior students who have distinguished themselves in the discipline during their time at the Prep. They are nominated by the English faculty.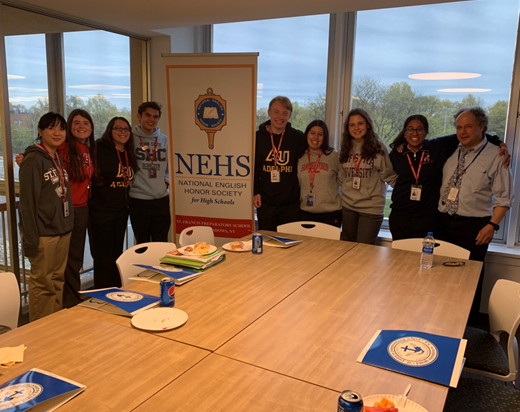 The Little Portion
On Tuesday, May 14th, Prep's literary arts journal, The Little Portion celebrated the release of its new 2019 edition with a special reading featuring the student writers who had their poem(s) published in the current issue. About 50 friends and family members attended the event in the SFP library to hear our talented students share their very personal, very moving, and well crafted voices. Moderator, Mr. Eric Hafker, thanked the guests, the administration, the English Dept., the Art Dept., his Editor-in-Chief Mac McAree, and his editorial staff for their support. This year's Canticle of the Sun Prize went to juniors Kris DiMaggio and Lauren Lodico for the exceptional quality of their poem submissions.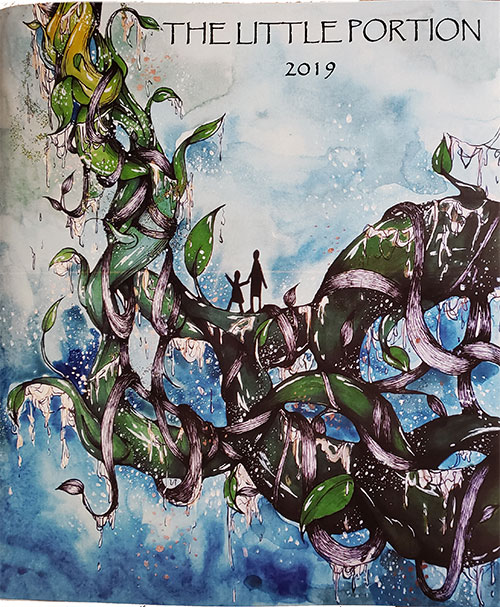 Note: Since 1957, this die-hard magazine has been a genuine outlet and sanctuary for Prep students who need to wear their hearts on their sleeves and on the page (or canvas) to help uplift themselves and their peers--so many of them eager and receptive to the sharing of teenage ponderings, dreams, ambitions, fears, and perseverance through language and images.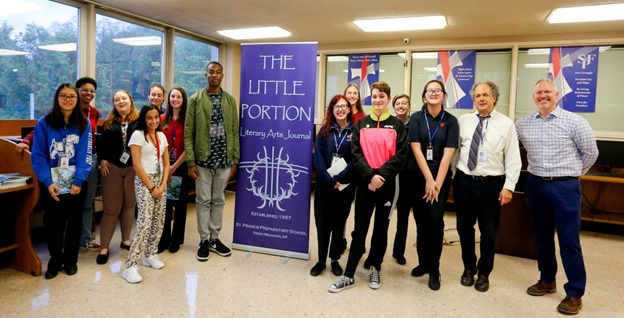 On May 29th, The Little Portion editors handed out a thousand celebratory pencils to commemorate the 200th Anniversary of Walt Whitman's birth (courtesy of the English Dept.). Posters also went out to all of the Cors, and English teachers read his poetry to their classes. The actual date of his birth is May 31, 1819. He was born in Huntington, Long Island, and is considered to be America's most important and influential poet.
Earlier this month, Mr. Hafker took his 3 English 11 Honors classes to Central Park to walk in the footsteps of Holden Caulfield, the main character in The Catcher in the Rye, experiencing places and moments dear to him in NYC. After exploring the zoo (and loving the penguins and sea lions), Mr. Hafker asked James Spader for directions to the famous Central Park carousel (where the final scene of the novel takes place). Some students even rode up to 3 times. They then walked up to the lake to look for ducks and have lunch at the Loeb Boathouse Café.
Fellow chaperones Ms. Iannicelli, Ms. Armon, Father Ralph, and Ms. Ruotolo all felt like kids again and agreed the day and especially the students were awesome!
Foreign Language
On behalf of the Foreign Language Department, I would like to commend the excellence of our 2019 National Italian and Spanish Exam Gold, Silver, and Bronze Award Winners and congratulate all the students who obtained a certificate.
The outstanding performance of these Italian and Spanish learners in the national competition brings honor to our school and their Italian and Spanish program. The AATI and AATSP highly value the tremendous work of these students and their dedicated teachers.
Sincerely,
Mrs. Ruggieri-Marletta
Chairman of Foreign Language Department

MEDALS AND CERTIFICATES

Medals and certificates are distributed according to the following cut-scores:

Gold Medal: 90-100 percentile
Silver Medal: 80-89 percentile
Bronze Medal: 70-79 percentile
| | | | | |
| --- | --- | --- | --- | --- |
| Last Name | First Name | Level | Grade | Placement |
| Picone | Giovanni | 2 | 9 | Gold (Italian) |
| Moretto | Anthony | 3 | 11 | Gold (Italian) |
| Lugo | Grace Angeles | 4 | 12 | Gold (Italian) |
| Campoverde | Alexa | 3 | 10 | Gold (Spanish) |
| Gonzalez | Melissa | 3 | 10 | Gold (Spanish) |
| Giammarino | Francesca | 2 | 10 | Silver (Italian) |
| Begonja | Ivan | 4 | 12 | Silver (Italian) |
| Palma | Bryan | 2 | 10 | Silver (Spanish) |
| Rodriguez | Yesenia | 3 | 11 | Silver (Spanish) |
| Genao-Faria | Vanessa | 3 | 11 | Silver (Spanish) |
| Gomez | Kevin | 3 | 11 | Bronze (Italian) |
| Leone | Ninabianca | 3 | 11 | Bronze (Italian) |
| Peros | Nina Grace | 3 | 11 | Bronze (Italian) |
| Sipavicius | Melanie | 3 | 11 | Bronze (Spanish) |
I would also like to give thanks to ORO PURO II located in Franklin Square, NY, for engraving all of the students' medals.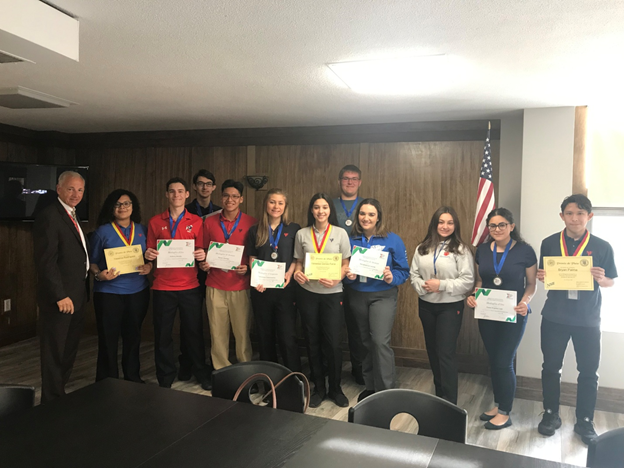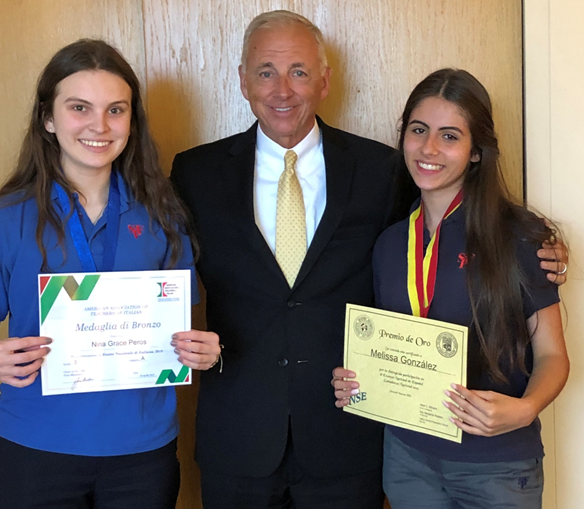 2nd Annual SFP Computer Science Honor Society
The Franciscan Chapter of the Computer Science Honor Society Class of 2019: Laura Armellino, Alex Baraian, Kasper Bielecki, Aleya Boatwright, Jacqueline Fogarile, Angelo Galanis, Andrew Goetz, Tiffany Hatzidimitriu, Marcella Hurtado, Giovani Laurent, Raymond Lavarello, Leonard Livreri, Joel Perry, Elizabeth Oser, Ryan Persaud, Jeremy Rakotonirina, Anmol Singh, Victoria Sorrentino, Michael Valenzuela, and Chencheng Yang

Xerox Award for Innovation and Information Technology
Class of 2019: Alex Baraian, Marcella Hurtado
Class of 2020: William Andrade, Eleni Garuffi, Ansel Johnson, Anastasia Micich, Kimberly Tsang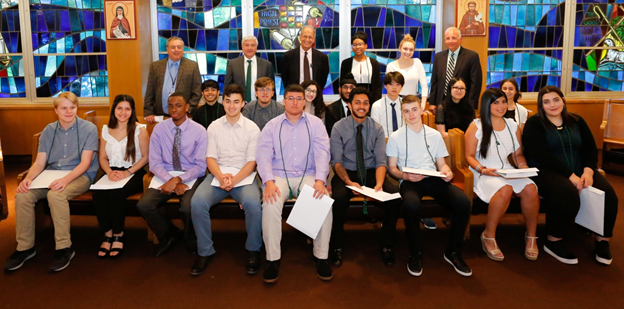 Key Club
This year the SFP Key Club participated in UNICEF. The students asked for spare change from their peers for a few months and raised $348.00. For years, UNICEF has been making a difference in children's lives. UNICEF uses these donations to deliver life saving vaccines to disadvantaged women and children.
Art
Saint Francis Prep Art Department Experiences Virtual reality at Saint John's University!
On Tuesday, April 30th, 2019, Gina Licalzi, Anna Sakalis, Joey Brigante, Kayla Conelli, and Thomas Blanc visited the Saint John's University Art Department. SJU Art Chairperson Belanna Lauto welcomed us with gracious arms. Students had the opportunity to speak with the accomplished photographer about careers in art. They toured the SJU art department, meeting students and looking at art work. Current SJU student and SFP Alumni Greg Tombolo gave students a demonstration on virtual reality gaming equipment. Students participated in the workshop and had the opportunity to try out the virtual reality realm. They also viewed the 3D printing facilities and learned how a 3D print is created. They had the option for portfolio reviews with direct feedback. A wonderful experience was had by all!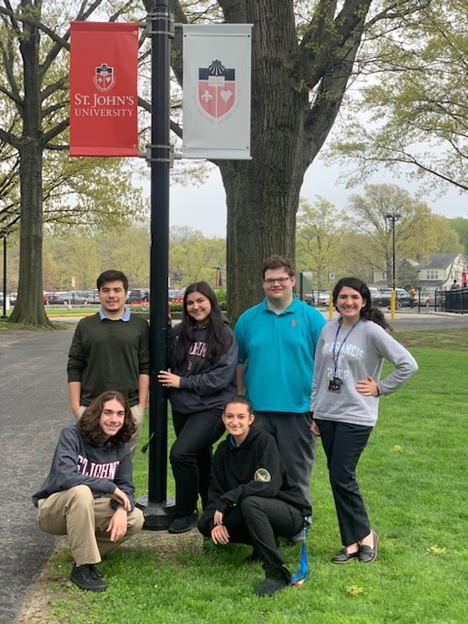 The Spring Arts Festival!
On Saturday, May 18th, St. Francis Prep's Art Department presented its annual Spring Arts Festival. This event showcased SFP's blooming artists. The theme of this year's show was "Legends, Myths, and Folk'Lore." The show began with premieres of student films in Prep's auditorium. The student gallery opened in the school's state-of-the-art Art Education Facility. Prep's performing Arts program took the stage in the school's auditorium. Other highlights included tables of student art, photo booths, and face painting. Music was provided by Prep music students. The evening concluded with a runway fashion show, art awards, and the induction of approximately 90 students into Prep's chapter of the National Art Honor Society.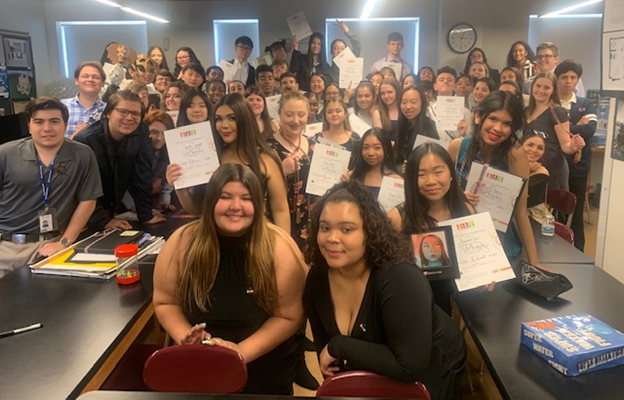 2019 Christ is Risen Art Contest
Over the past few years, students from our school have participated in the Christ is Risen Art Contest. The organizers of the contest, through the Tablet newspaper, received more than 500 entries from schools, parishes, and homes from throughout Brooklyn and Queens. This year, our Art Department is proud to announce sophomores Cristina Fernandez and Jeselle Cunningham won second and third place in this year's contest! We also have three Honorable Mentions: Angelina Valentino, George Stanciu, and Stephanie Geborde. Their artwork will be displayed in the May edition of the Tablet newspaper. Cristina and Jeselle will also receive a certificate and prize. They were awarded these items on Wednesday, May 15th, 2019, during a ceremony held at the Knights of Columbus in Brooklyn. We are very proud of all their accomplishments!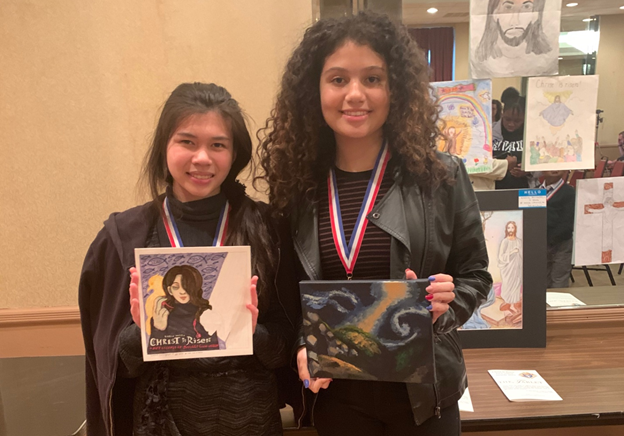 Cold Glass Fusion at SFP!
National Art honor Society and Ceramic Design Class
Mrs. Buccino
SFP Art department students experimented with the art of fused glass. They learned about various types of glass, Coefficient of Expansion (COE), and firing techniques. Students learned about glass safety and studio set up. Each student had a complete set up of tools and materials. Dichroic Glass was used. Students practice scoring and cutting the glass. They learned how to "cold fuse" and eventually fire the creations. Dichroic glass can be expensive, but it can also add a lot of color and creativity to fused glass forjewelry making. Dichroic glass is different from regular glass in that it may contain multiple colors or even appear opalescent. It changes color with the light and the angle at which it is held.
Note About the Glass -
The glass used for this project is specifically designed for fusing, so you cannot substitute glass used for stained glass or other types of glass hobbies. Fused glass is considerably thinner than other types of glass and has a particular Coefficient of Expansion (COE) that makes it perfect for fusing to other glass. Be sure that all glass used in a project has the same COE number. If you want to get fancier designs on your pendants, try layering dichroic glass or putting pieces together to cover the black piece as if you were putting together a puzzle. These look great if you want to just add them to a chain or create a whole necklace design around them.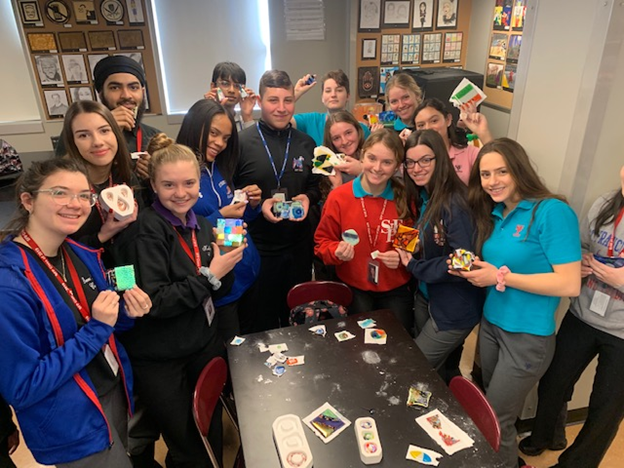 Congratulations to Jinghong Chen, who received a National Silver Medal for her art work titled Apt 2C. The Alliance for Young Artists and Writers, the nonprofit organization that presents Scholastic Art and Writing Awards, chose her work for its excellence in originality, technical skill, and the emergence of a personal voice or vision. Receiving a National Medal places her within the top 1% of all submissions! Since 1923, the Awards have celebrated teen artists and writers from across the country. Now she is part of that legacy, joining the ranks of celebrated alumni artists like Andy Warhol. As a National Medalist, her work will be published in their online galleries at artandwriting.org in June, and her name will be listed in the 2019 Yearbook, a companion publication to The Best Teen Art and The Best Teen Writing anthologies. We are greatly proud of her accomplishments!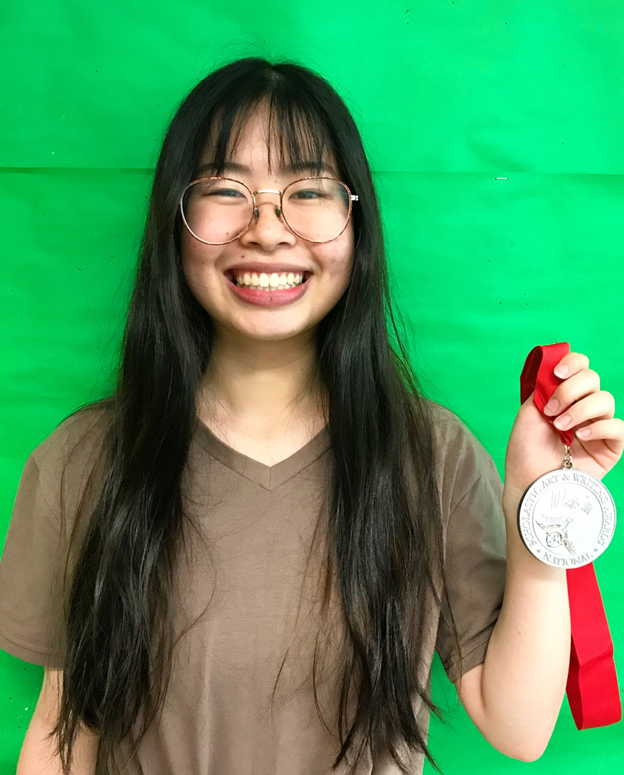 On May 22nd, 2019, the students of Advanced Drawing and Painting ventured out to the East Village in Manhattan to participate in La Salle Academy's 30th Annual Art Competition. The following students either placed or received honorable mentions for their amazing art work. In the Black and White Drawing Category, First Place went to Junior Joshua Balina and Second Place to Junior Isabella Agate. An Honorable Mention was awarded to Senior Krystal Tan. In the Color Drawing and Painting category, Senior Jessica Lee won Second Place. Honorable Mentions were awarded to Senior Yejin Kim and Junior Keying Lai. In the Mixed Media category, Second Place was awarded to Junior Victoria Reshetnikov. In the Illustration Color Marker category, Senior Jinghong Chen was awarded First Place while Junior Jomarie Almeus was awarded Third Place. A wonderful surprise was to see that our very talented junior Joshua Balina received the Best in Show award for his exceptional work. It was a gratifying experience to have our students visit another school, learn from other art students, and see their work appreciated from others in the Art community. We are very proud of our artists and greatly thank Ms. Mollie O'Mara, Chairperson for the Art Department of La Salle Academy, for inviting us to participate!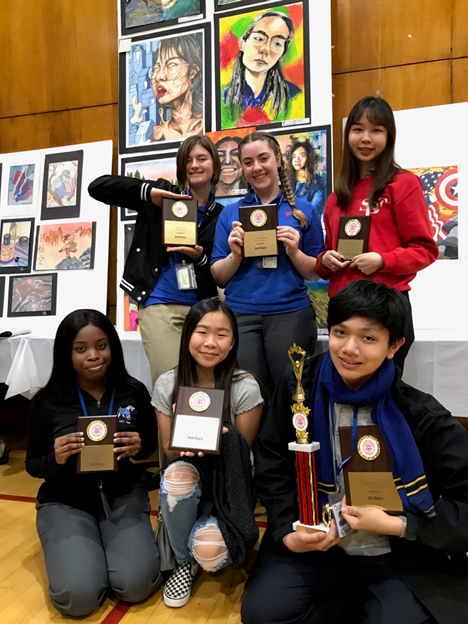 JHS Art Competition
On Tuesday, May 28th, 2019, the Saint Francis Prep Art Department hosted its annual Junior High School Art Competition. Over twenty local junior high schools participated. Over fifty works of art were exhibited. The Art department hosted a gallery show in a café setting, surrounded by both the entered work and some of the finest work completed by SFP students this school year. There were bistro tables and chairs, refreshments, and tours of the art department. The large turnout included many of the winning students, their parents and their teachers, and the guests enjoyed jazz music from our music students and alumni. The show concluded with awards granted to top artists in the show. As always, it was a special afternoon enjoyed by all!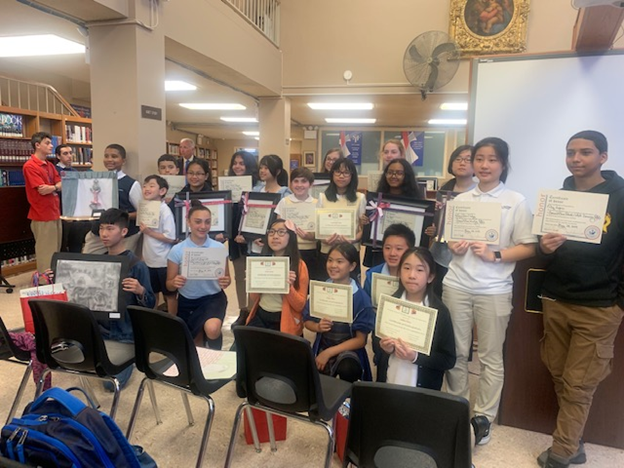 The Alvernian Drama Society cast members Zoe Mitchel , Antonio Avvisati, and Alumni Johnny Sullivan under the Direction of Donna Mejia were invited to perform in Manhattan at Theater for the New City's annual LES Children's Festival of the Arts over the Memorial Day weekend. They were joined by other artists in the theater industry. Alvernians on tour began in 2015 with performances in Disney Land, Disney World, and the Macy's Day Parade.
Model UN
May 15th was the Model UN finale, celebrated by the membership with a debate and then farewells to our esteemed administration, Abigail Bossa '19, Joanne Gotanco '19, Josh Mathew '19, and coach Kayla Keenan '18. This school year, we attended 4 high school conferences and 1 college conference, earning about 25 awards. We hosted our own conference for about 300 delegates. We wish the students all the best in college and beyond. We also look forward to the next administration with have big shoes to fill.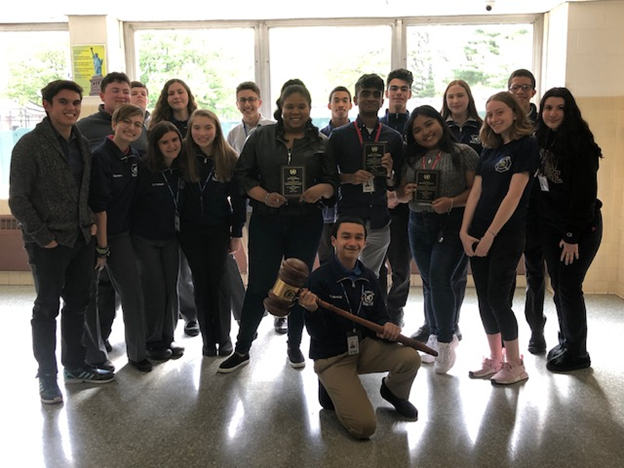 Social Studies
Every year, we send two students to the Queens DA's office for the annual High School Student Council. Students are exposed to many aspects of the criminal justice system.
This year we sent Janeen Rico '19 and Samantha Rooney '19
Janeen wanted to share this:
It was an amazing opportunity to be part of the District Attorney's Student Advisory Program because not only did I learn so much about our laws; I was also able to meet other students who had wonderful ideas and opinions on controversial topics. I was able to share my own thoughts, which I don't always do, and think outside the box. My favorite part of this program was experiencing the different parts of our justice system: the courthouse was just like another classroom for us. My close friend and fellow classmate, Samantha Rooney, was also with me during this program, and it made the experience even better. We never missed a meeting, and we were always so eager to attend. During my last year at St. Francis Prep, I was so lucky to have been in the program . To anyone interested in law or criminal justice, this would be something you would enjoy because I did!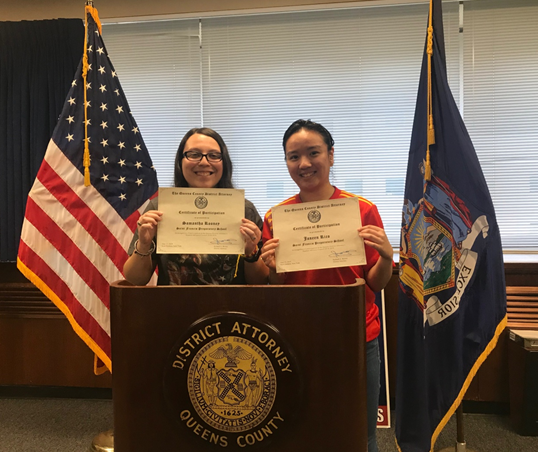 Broadway Terriers
On Sunday, May 12, the Broadway Terrier Club attended the afternoon show of Wicked. The Broadway Terriers is a group of SFP students who have a love of everything Broadway. At least two times a year, they attend shows together and celebrate what NYC has to offer.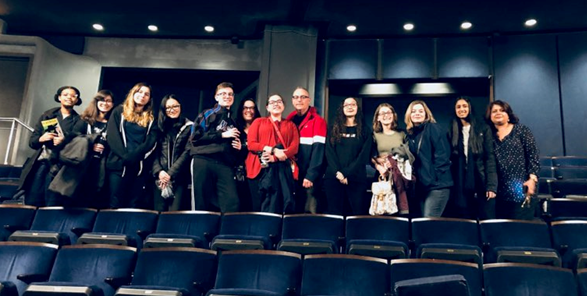 Science Research
Senior Abigail Bossa completed in the NAACP Afro-American Cultural, Technological, and Scientific Olympics and was the gold medal winner in the medicine and health category. Abby has been invited to compete at the National competition this summer taking place in Michigan. She will be flying out, all expenses paid, in July. We wish her all the best as she continues to go for the gold!
Girls Track
The girls team won the Brooklyn-Queens Championship led by these champions: Stephanie Zovich - Shot Put; Chiara Cinquemani - 3000 meter, and 4 x 800 relay team of Melissa Gonzalez, Mikayla Barnave, Elena Duffy, and Tara Mansfield. Stephanie and the relay team are also City Champions.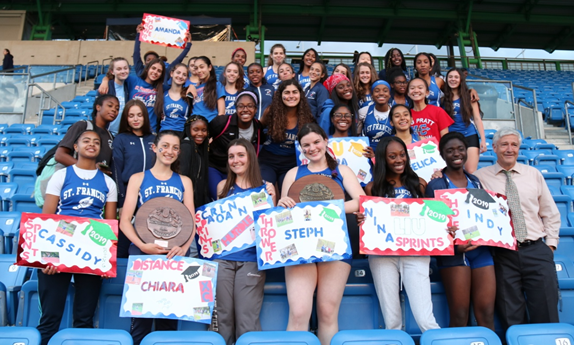 Joseph Sciame '78 Recognized as STANYS Fellow
On Saturday, May 4, 2019, the Science Teachers Association of New York State (STANYS)Board of Directors elected Joseph Sciame of the Westchester Section as Fellow for 2019.
Joe is a Prep alumnus (SFP Class of 1978) and is currently serving at the Chairperson of the Business Department at St. Francis Prep. He will be honored at the Annual Convention this November.
The Science Teachers Association of New York State (STANYS) is New York's oldest and most highly respected professional organization of science educators. This award is the highest honor that is bestowed upon a member. Fellows are chosen on the basis of their effective teaching and active participation in professional scientific organizations. Their leadership and scholarly endeavors in science education are noteworthy. The organization inaugurated the STANYS Fellows Award Program in 1949 to honor teachers who have served with distinction as science educators in New York State.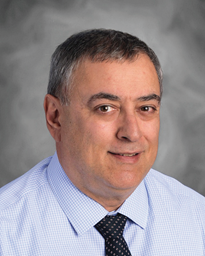 The Business Department at St. Francis Prep offers students the preparation needed for living, working, and succeeding in the business world. The department fosters learning by providing students with equitable access through up-to-date, fully supported techniques, equipping students to participate fully in their business education. Our goal is to provide basic courses to develop the knowledge, skills, habits, attitudes, and ideas necessary for a successful start into, and advancement throughout, a business career. We prepare our students to become global citizens ready to meet and exceed standard expectations and ultimately become leaders of future generations.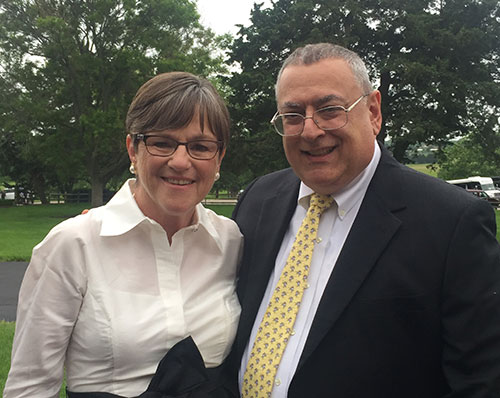 Mr. Sciame with Governor Kelly of Kansas.
♦ ♦ ♦ ♦