June 15, 2020
September 13, 2021
Dear SFP Families,
As the President of St. Francis Prep, I'm delighted to welcome you to the 2021-2022 school year In this role, much of my work centers on fostering our mission, working with alumni and benefactors, fundraising, admissions, finances, and other business components Our Principal, Mr. Patrick McLaughlin, handles the day-to-day operations and academics of the school Together we work to provide you with the best Catholic education in our Franciscan tradition. Last year, I continued conversations with many alumni to seek financial support for St. Francis Prep programs and plans I am enjoying sharing the good news about the Prep, including your successes, with our graduates.
Thanks to the generosity of our alumni and benefactors, our major renovations continue here at Prep. As students your participation in our annual walkathon is your contribution to these efforts. It is my sincere hope that when you become a successful Prep graduate, you will continue to help the Prep and its students just as so many of our alumni have done for years.
As you begin this school year
Base all that you do on our mission and Franciscan heritage, beliefs & values
Model yourself after our patron St. Francis and help others in need by volunteering for our numerous Franciscan and Christian service opportunities.
Grow spiritually by actively participating in religious services and your religious education classes
;Have a great school year and I encourage you to stop by and see me whenever you have a question or comment.
May the Blessings of St. Francis always be with you.
Sincerely,
Brother Leonard Conway, O.S.F.
President
September 15, 2020
June 15, 2020
TerrierSTAR Program Update from St. Francis Preparatory School
---
May 7, 2020
An Amazing Message From Julie Chen Moonves '87 from St. Francis Preparatory School.
Here is the direct link to Alumni Terrier Star Giving: Terrier Star Giving Link
---
May 5, 2020
An Important Message from Bro. Leonard Conway from St. Francis Preparatory School on Vimeo.
Here is the direct link to Alumni Terrier Star Giving: Terrier Star Giving Link
---
May 1, 2020
Dear Parents and Guardians,
I am writing to you at this time in order to address the concerns and the questions that surround the economic and financial realities that many of you now face as a result of the coronavirus pandemic. There is no doubt that the ability of many families to pay tuition has been impacted greatly, so let me address this issue.
As you know, I have allowed for deferred payments by turning-off the automatic payment feature of the FACTS tuition payment system. Some families that are not using FACTS have also asked for and received deferrals. I know that this has been helpful.  Some have continued to make payments in various amounts and at different times, and I thank you for this.
Many families now find themselves in difficult financial positions (as a result of the pandemic) and they need financial assistance or an extended payment plan for this 2019-20 school year. Therefore, if you find yourself in this position and can explain to me your situation, I pledge to you that I will do everything I can to provide some assistance. This includes making a special appeal to our alumni and benefactors for their support at this time of need.
If you are in need of assistance, please write to me personally at the school address via regular first-class mail. Indicate why you need this assistance in paying the balance of your child's tuition for this current 2019-20 school year. You will need to be specific because you will be contacted about providing further information so that we can come up with the appropriate tuition assistance plan for the remainder of this school year.
In the near future you will be hearing about the process of applying for financial assistance for our next school year 2020-21.
So please continue your prayers, stay well, and know that we are going to work with you. As I've said before, and as our Franciscan Mission mandates, I will continue to do everything in my power to make sure that no student is deprived of a St. Francis Prep education because of this coronavirus pandemic.
May the blessings of our patron, St. Francis, be with you and your entire family as we work together to get through these challenging times. And we WILL get through this. God bless!
Yours in St. Francis,
Brother Leonard Conway, O.S.F., President
---
A Message from Prep's President, Bro. Leonard Conway from St. Francis Preparatory School on Vimeo.
---
Dear SFP Community,
I am writing to you today simply because I feel the need to reach out to you—to connect with you as a member of my own extended family and to let you know that you and your family members remain in my prayers and in the prayers of all the Franciscan Brothers.
As you probably know even better than I do at this point, isolation and social distancing are not normal states of affairs for the human spirit, and this becomes even more pronounced when those you know so well have succumbed to this terrible, insidious virus.
As I started to write this letter earlier this afternoon, I was informed that a member of our security staff, Eric Jackson, a wonderful man who was also a Prep Parent, passed away after suffering complications associated with COVID-19.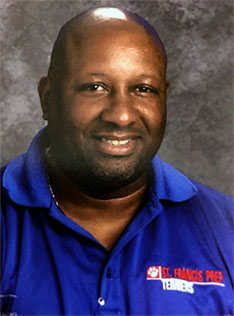 This is on the heels of the passing of Joe Lewinger, the Assistant Principal at our neighboring school The Mary Louis Academy. Of course, there are many others as well. And so many more who have been sick, out of work, or out-of-business. So our prayers need to continue and we cannot lose faith. There WILL be a light at the end of the tunnel, and that light will be the Holy Spirit guiding us and leading us toward our new way of life.
In the meantime, we continue in our important mission to take care of our nearly 2500 students, their ongoing education, and their day-to-day trials and tribulations. God bless our extraordinarily dedicated faculty members who have settled-in to a brand-new way of remote teaching and staying in touch with their classes. And kudos to our wonderful students who have discovered that distance learning is not so bad—and that staying focused and completing their assignments are the order of the day. Thankfully, the vast majority seem to be doing this and are performing quite nicely under the circumstances.
And as you may know by now, to help alleviate the stress on these students and their families, I recently authorized the shut-down of our automatic tuition payment system, thereby deferring the final two-months of tuition until such time that our nation and our world are in a better place. It was the very least I could do. I wanted to assure our parents that we are remaining true to our Franciscan mission and that NO student will be denied the opportunity to complete their St. Francis Prep education because of financial problems caused by the Coronavirus. Many of our families are in tremendous need right now and this provides a little relief. Once we return to our offices, I will share with you some information about the many requests we have had for assistance from our families who are currently suffering financially, and I will be asking for some help from many of you, our loyal and generous alumni.
As far as the school's "inner workings" are concerned, I want to thank my fellow members of the school administration for doing such a great job to keep the ship afloat and moving toward safe harbor. As a result, we will come out of this a much stronger institution. Our maintenance staff and our finance and admissions offices deserve a tremendous amount of credit as well. They have been working tirelessly to make sure we are "open for business" for all those who may need us--for whatever reason--even while the building itself remains closed for the time being. And our Development and Alumni Office Staff is staying in touch with you through regular e-mail messages and the Alumni website: https://alumni.sfponline.org/and our Facebook page: https://www.facebook.com/st.francispreparatoryschool/
In addition, we are looking around us as well—outside of our immediate Prep family—trying to do our share, whatever we can, to help our friends and neighbors in need, and using YOU, our faithful alumni, as our conduits to the community-at-large. With this in mind, if you happen to be aware of a situation where we might be of assistance, please let us know. For example, just the other night, Lauren Scibilia, SFP Class of 1998, informed Pat McLaughlin of a desperate need for protective goggles and masks at the Nursing and Rehabilitation Center where she works in Nassau County. We immediately scrambled, and through our Science Department Chair, Kimberly Istrico, we were able to come up with a donation of several hundred of the needed items.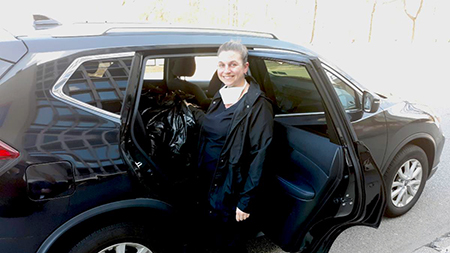 Healthcare worker Lauren Scibilia, a 1998 graduate of St. Francis Prep, pictured here outside the school loading a large bundle of protective goggles, face masks and gloves which were donated by St. Francis Prep's Science Department. The items will be used by healthcare professionals to protect themselves and their patients at Cold Spring Hills Nursing and Rehabilitation in Woodbury on Long Island where Lauren is employed. Lauren reached out to Prep and expressed the extraordinary and desperate need for these items to prevent the spread of COVID-19 pandemic.
In the process, we discovered that our Science Department has more of these items, and we will be happy to donate them to any health care institution or agency that reaches out to us. Pass the word!
As part of our outreach and in an effort to keep us together as we navigate these uncharted waters, we are also planning to direct you to a of Holy Week Prayer Services and possibly Sunday Mass celebrated by our chaplain, Father Ralph Edel. Please click on the following link to view Pat McLaughlin's letter regarding Holy Week Resources
Online group prayer and the Holy Sacrifice of the Mass can remain a safe-haven for all of us—now more than ever perhaps—even as our churches and sacraments are unavailable to most of us.
And this leads to my closing comment, which is to ask that we all continue to pray for one another, for our students and their families, for our faculty and staff, and for all those in need at this time. Please stay safe and stay as healthy as possible. And even with our shelter-in-place and social distancing procedures as a backdrop, I hope and pray that you will have a very Blessed Easter! God bless you!
May the Blessing of our Patron, St. Francis, be with all of you and your families. On for Ol' St. Francis!
Yours in St. Francis,
Brother Leonard Conway, O.S.F., President
---
March 22, 2020
Dear Parents and Guardians:
Our prayers continue for all members of the St. Francis Prep community during this Coronavirus crisis.  Unfortunately, in addition to health issues, this situation is affecting all of our finances.  We have heard from parents who have lost their jobs, been laid off, or have had their work hours drastically reduced.
Approximately 82% of the school's budget is received from tuition.  Our faculty members are now teaching using distance learning, and we continue to educate your children, our students.  We continue to pay our faculty and staff.  We recognize that some families will benefit from some financial relief at this time; this letter affirms our commitment to those who need assistance in making tuition payments at this time.  Therefore, effective yesterday, March 21, we turned off the AUTO DEDUCT feature on the FACTS tuition system; it will remain off until the school building re-opens. During this time, if you want you to make a tuition payment of any amount, you can do so through the FACTS system or mail a check to the Finance Office at the Prep.
Please know that we are here for you: we are all family.  Over the years, we have raised significant dollars for financial aid and building improvements. When school re-opens, we will give you instructions about how to apply for additional financial aid based on need.
I want you to know, throughout this crisis and beyond, we will remain true to our Franciscan Mission.  I assure you that NO student will be deprived of continuing and completing his or Franciscan Catholic education at St. Francis Prep because of the financial ramifications of this crisis.
Since I reside in the Brothers' residence here at the Prep, if you have any questions or concerns regarding this or any other school matter, feel free to call me at 718-423-8810 ext. 232 or email me at [email protected] . I will reply  in a timely fashion.
Together, we will make it through this crisis.  Stay safe and healthy.  Please pray for all those affected by the corona virus.
May the blessings of our patron St. Francis be with you.
Sincerely,
Bro. Leonard Conway, OSF
President
♦ ♦ ♦ ♦