College Office
Scholarships
---
SCHOLARSHIP APPLICATIONS PLEASE BE ADVISED THAT THE PROPER PROCEDURE FOR APPLYING FOR SCHOLARSHIPS IS TO SUBMIT YOUR PAPERWORK TO THE COLLEGE OFFICE ONE MONTH PRIOR TO THE DUE DATE OF THE SCHOLARSHIP APPLICATION. IT IS SCHOOL POLICY NOT TO GIVE TRANSCRIPTS TO STUDENTS. PLEASE COMPLY WITH THESE PROCEDURES. YOU MUST SPEAK WITH MS. ARMON IF EXTRAORDINARY CIRCUMSTANCES OCCUR. THANK YOU.
Patrick McNeill Memorial Scholarship
"Without Pat McNeill, there would be no credit union." - Joseph Garay, Sr., Credit Union Founder
As a volunteer during the early years of the credit union, Pat McNeill dedicated his time and energy to serve others. Pat was responsible for making loans and for many of those years, the credit union had no office; Pat's briefcase was the credit union. He worked in Oceanside as the co-owner of Vernon Press and was able to make loans at members' kitchen tables, place of work or at his own workplace. Pat was an original director of the credit union in 1969 and served on the Board of Directors for 12 years, three as the President. Mr. McNeill will forever be remembered for fulfilling the credit union's mission of "People Helping People."
The Award Ocean Financial Federal Credit Union's Patrick McNeill Memorial Scholarship provides four $1,500 scholarships that are paid directly to each recipient's college.
Eligibility To qualify as an eligible applicant, you must be a member in good standing at Ocean Financial Federal Credit Union and meet the following criteria: 1. You must be a college-bound high school senior when your application is submitted. 2. You must be a first-time college student who in the fall of 2019 is officially matriculated at an accredited two- or four-year institution of higher education. 3. You must agree to use all scholarship funds awarded for tuition only.
Application Process Eligible members must complete the attached application. Please type or print clearly. Eligible member and a parent/guardian must sign the Certification and Release Authorization at the end of the application.
Download the application at: www.oceanfinancial.org
Application Deadline The application and essay must be returned to the credit union by Monday, April 15, 2019. If any portion of this application is incomplete, the application will not be considered.
How to Submit Your Application We will accept applications that are submitted by USPS mail and postmarked by April 15, 2019 to Ocean Financial, Attn: Patrick McNeill Scholarship, 45 Atlantic Avenue, Oceanside, NY 11572 or email scholarship@oceanfinancial.org. Please make sure to include Patrick McNeill Scholarship in the subject line.
If you have additional questions, please contact scholarship@oceanfinancial.org. In order to have your application considered, you must provide all information requested. Recipients will be awarded in June, 2019
Catholic Scholarships for College Students
Visit the following website to see a Guide to Catholic Scholarships
www.accreditedschoolsonline.org/resources/catholic-college-scholarships/
---
St. Johns University
Catholic Scholarships
You know what a powerful intellectual and social resource our Catholic schools are — for America and the world.
Catholic and Vincentian, St. John's University exemplifies this tradition, offering students an acclaimed education that builds the knowledge, skills and confidence to become ethical leaders for our global society. To further develop our commitment to preparing Catholic students for ethical leadership, St. John's offers Catholic scholarship opportunities.
Catholic School Scholarship
Created in response to a recommendation from the Advisory Board of the University's Institute for Catholic Schools (ICS), this scholarship provides an annual award of $2,500, for a maximum award of $10,000 over four years of undergraduate study and is automatically awarded to incoming freshmen who will be graduating from a Catholic high school and entering St. John's in the fall of 2019.
Catholic Scholars Program
Catholic Scholars take part in a four-year developmental program that translates faith into action. Prospective freshmen apply for this scholarship, and if chosen will receive a grant of $5,000 per year which will be awarded for four years of study. Students will commit themselves to faith-based leadership training, service and prayer, and formation of a deeper understanding of what it means to be a leader inspired by the Catholic tradition. Catholic Scholars assume important leadership roles within the community of faith and service at St. John's University in preparation for becoming faith-inspired Catholic leaders for life. PLEASE NOTE THE FOLLOWING EXCLUSIONS: Students entering a house of discernment sponsored by a diocese or religious community, or a college seminary or religious community formation program are ineligible to participate in the Catholic Scholars Program at St. John's University. The deadline for this scholarship is January 15, 2019.
With our application deadline approaching January 15, 2019 learn more about the program and access the application here: https://www.stjohns.edu/faith-service/leadership-and-development/catholic-scholars-program
Catholic School Educator Grant
As part of our mission as a Catholic university, St. John's awards a 40-percent tuition reduction to full-time teachers and administrators in Catholic schools for one master's degree, one advanced certificate or one doctoral degree.
_____________________________________________________________________________________________________________________
The Recovery Village Health Care Scholarship
We are offering a $1,000 award to students pursuing a health-related degree program who have been personally affected by addiction. We'd love if you could assist us in spreading the word!

Recovery Village Health Care Scholarship:
Visit the website:
https://www.therecoveryvillage.com/scholarships/
_____________________________________________________________________________________________________________________
The Big Sun Organization Scholarship
The Big Sun Organization is proud to be able to continue to help young athletes succeed in their academic pursuits. We are offering an annual scholarship to a deserving student. All student athletes are eligible for this award, regardless of which sport they are participating in. Their participation may be in any capacity, whether as a player, coach or official.
Amount of Award - $500.00
The successful applicant will be a high school senior or be attending a post secondary institute and currently involved in some sport at that institution or in the community.
Please visit website at http://www.bigsunathletics.com to learn how to apply.
____________________________________________________________________________________________________________________________
ALZHEIMER'S
FOUNDATION OF AMERICA Scholarship
WRITE AN ESSAY ON
THE IMPACT THAT ALZHEIMERS DISEASE HAS HAD IN YOUR LIF GO TO www.youngleadersofafa.org
AWARDS
WINNING
ESSAY $5000.00
SECOND PLACE $2,500.00
THIRD PLACE $1,500.00
HONORABLE MENTION $500.00

New Scholarship Program:
We're excited to announce the launch of our 2018 scholarship program. This year, entrants have a chance to win $10,000 to help pay for college! High school seniors, current college students and parents are eligible to enter. No essay is required.
Go to https://scholarship.collegecovered.com
___________________________________________________________________________________________
_____________________________________________________________________________________________________________________
The Excelsior Scholarship application for the 2018-2019 academic year is available NOW through Monday, July 23, 2018.
Students must first complete the 2018-2019 FAFSA and 2018-2019 TAP applications before completing the 2018-2019
Excelsior web application.
 
The 2018-2019 Excelsior application is open to students seeking to receive the award for the first time. Students who are already Excelsior 


recipients in the 2017-2018 academic year do not need to complete another Excelsior application. You are considered a recipient if you 




previously signed and submitted the Excelsior Scholarship contract, even if you did not receive a payment in the prior year. The full list of




 eligibility requirements can be found here:
An applicant must:




be a resident of NYS and have resided in NYS for 12 continuous months




         prior to the beginning of the term;




        * be a U.S. citizen or eligible non-citizen;




        * have either graduated from high school in the United States, 




        *earned a high school equivalency diploma, or passed a federally approved "Ability to Benefit" test, as defined by the 




           Commissioner of the State Education Department




        * have a combined federal adjusted gross income of $110,000 or less;




        * be pursuing an undergraduate degree at a SUNY or CUNY college,  including community colleges and the
         statutory colleges at Cornell University and Alfred University;




        * be enrolled in at least 12 credits per term and complete at least 30 credits

 

each year (successively), applicable to award his or her degree 




          program  if attended college prior to the 2018-19 academic year




        * have earned at least 30 credits each year (successively),applicable toward his

 

or her degree program prior to applying 




           for an Excelsior Scholarship 




        * be in a non-default status on a student loan made under any NYS or federal education loan program or on the  repayment of any 




           NYS award




        * be in compliance with the terms of the service condition(s) imposed by a NYS award that you have previously received; and 

execute a




           Contract agreeing to reside in NYS for the length of time the award was received, and, if employed  during such time, 


           be employed in NYS.
       Students must first complete the 2018-2019 FAFSA and 2018-2019 TAP  
       applications before completing the 2018-2019 Excelsior web application.
       Please contact the HESC Scholarship Unit at scholarships@hesc.ny.gov or
       888-697-4372 if you have any questions
OTHER USEFUL SCHOLARSHIP SITES
CollegeNet.com
CollegeNet.com, one of the best scholarship sites, is a service that not only works to develop applications and web-based events, but it also provides an entire search for students who are interested in seeking out updates and newly-promoted scholarships nationwide making it one of the best scholarship websites. The database is updated monthly at CollegeNet.com, giving students new scholarships.
FastWeb
FastWeb was originally founded and launched more than 15 years ago, and currently, boasts more than 1.5 million scholarships and $3.4 billion in their database altogether over the years of providing scholarships to students nationwide. The site itself claims to have helped and assisted more than 50 students altogether with finding scholarships and applying for them.
FinAid.com
FinAid.com is one of the most well-known online resources for finding out more information regarding scholarships and financial aid you are qualified to receive based on your income, age as well as your previous education schooling you have completed.
Scholarship-Positions.com
Scholarship-Positions.com was started in 2007 by Oxford University graduates for helping international students in finding suitable scholarships to study abroad. Their objective is to help international students in finding matching scholarships – just in time
Zinch
Zinch is one of the most recent resources available online to help with comparing different scholarships available in all fields and industries today. Using Zinch is free and easy, as the service has provided more than 5000 different scholarships worth more than $1 billion altogether.
Cappex
ParentsCountDowntoCollegeCoach.com recommends Cappex as one of the top 7 scholarship sites available. They have millions of dollars in scholarships, and in a variety of categories like private and foundation scholarships, "Just Because We Love You" scholarships and merit aid. In fact, Cappex is the leading site for the number of merit scholarships online.
Scholarships.com
Scholarships.com is a wonderful resource for college students who aspire to kill two birds with one stone—the site finds both scholarships and colleges that are perfect for you! If you're looking to transfer to a school that is dying to recruit you and offers you scholarships, this is the site to visit.
ScholarshipPoints.com
You know how you always seem to receive a new, complimentary gift after so many purchases at that favorite beauty counter of yours? ScholarshipPoints works the same way! Well, kind of. The site's users rack up points through a rewards system, making them eligible for different scholarships according to how many points they have earned.
CollegeScholarships
According to degreecentral.com, this site is made from "a database that is one of the largest and up to date databases consisting of private sector awards provided by corporations, non-profit agencies and associations". There are 50 different scholarship categories
FinAid
FinAid is a little different because it shares a number of types of financing available to students. The four major types of monetary means they suggest are:
· Scholarships
· Loans
· Savings
· Military Aid
"B. Davis Scholarship"
The creators of the "Student Award Search Aid" website are offering a scholarship for 2019.
Please visit our website at http://www.studentawardsearch.com/scholarships.htm to read about us and to apply for our scholarship. While you're there, please browse through the rest of the site to learn more about applying for scholarships.
Our website was developed solely for the purpose of helping students locate and apply for scholarships. We are trying to improve the students' chances for success. The site is free and we charge nothing for the information or the application.
The deadline for applications is May 24, 2019
Amount of Scholarship: $1,000
If you have any questions, please feel free to contact us at awards@studentawardsearch.com
Bill of Rights Institute Scholarship
2018-2019 We the Students Essay Contest. Winners of this year's contest will receive a total of $20,000 in scholarship funds including a $5,000 award and a scholarship to 2019 Constitutional Academy to the grand prize winner.

This year they are asking students to personalize their essays while encouraging them to expand their understanding of citizenship beyond an abstract concept, envisioning it as knowledge and actions inspired by America's founding principles.

The specific essay prompt this year is: "What are essential qualities of a citizen in your community in 21st century America?"

Students can find information on their website: billofrightsinstitute.org
****************************************************************************************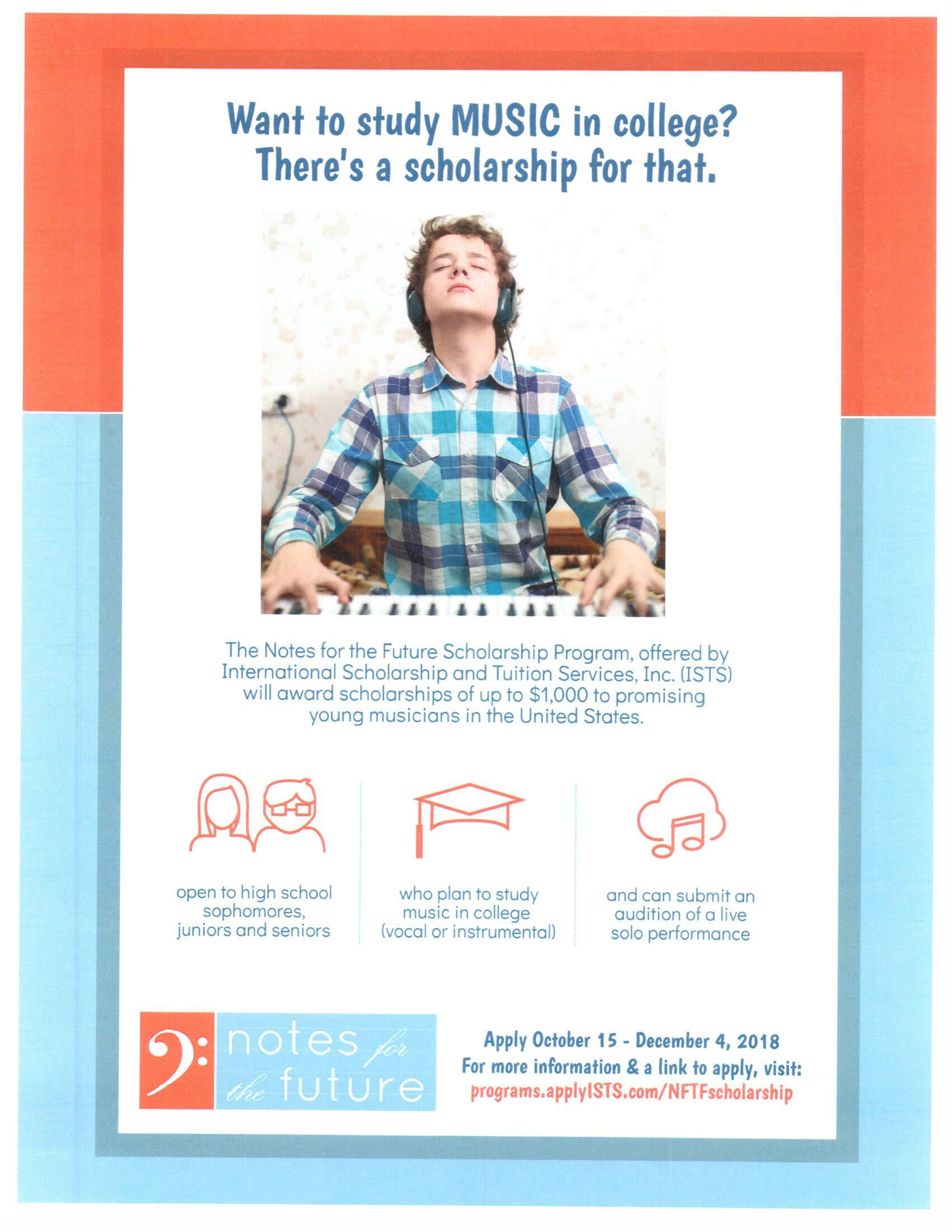 The Gates Scholarship. Awarded to 300 minority high school seniors every year who exhibit strong leadership skills and academic records and who demonstrate great financial need. Funds cover the remaining cost of attendance after expected family contribution and other awards.
National Merit Scholarship Program. Approximately 7,500 high school seniors a year receive some level of an award based on PSAT/NMSQT scores and other criteria.
Coca-Cola Scholars Program. Each year, scholarships of $20,000 per person are awarded to 150 students based on their academic merits, leadership skills and service. Smaller awards are also available.
Other major corporations with scholarship options include Microsoft, Burger King and Dunkin' Donuts.
Society of Women Engineers Scholarships. A range of awards are given to support women interested in careers in engineering, computer science and engineering technology.
Google Scholarships. Google offers a variety of specific scholarships for women, underrepresented minority students and those with disabilities looking to study computer science.
Dell Scholars Program. Recipients get $20,000, a laptop and credits for textbooks. The award is directed toward low-income students who have overcome challenges and "are better than their numbers indicate," according to the scholarship foundation's website.
UNCF Scholarships. More than 10,000 African-American students receive some form of aid each year through several scholarship options, such as those for people pursuing the STEM fields – science, technology, engineering and math – or aspiring entrepreneurs.
Elks National Foundation Most Valuable Student Scholarship. Four-year scholarships are awarded to 500 high school seniors based on academics, leadership and financial need. Most receive $4,000 each, while 20 finalists receive between $20,000 and $50,000 total.
Boren Scholarships. Students planning to pursue a job in national security and study what the National Security Education Program refers to as a "less commonly taught" language, such as Arabic, Swahili or Hebrew, are awarded $8,000 to $20,000 to study abroad for a summer, semester or six- to 12-month stint.
Cooke College Scholarship Program. Scholarships of up to $40,000 per year are awarded to high-achieving high school students with financial need as selected by the education-focused Jack Kent Cooke Foundation.
James Beard Foundation National Scholars Program. Ten candidates receive $20,000 apiece to pursue a variety of food-related subjects, such as culinary arts, agriculture and sustainability. Other smaller awards are also available.
***********************************************************************************************
Have your parents speak to their employer and/or union delegate about possible scholarships they may offer
*********************************************************************************************
Scholarships for Trade Schools in New York: State Directory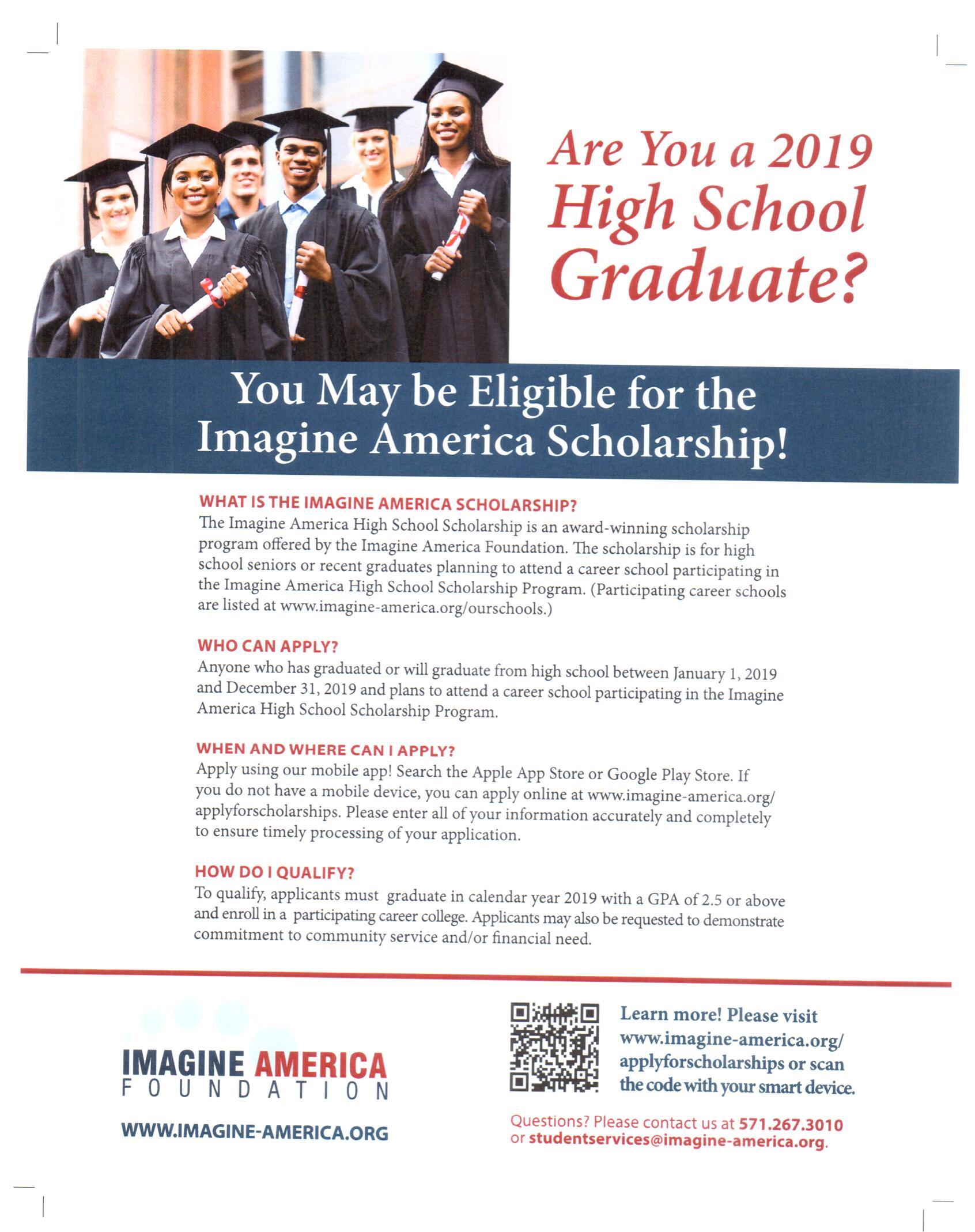 ****************************************************************************************
BE SPARKLING. BE SMART. BE THE FUTURE.

Do you know a student who is not afraid to be themselves? We are looking for fun and unique candidates for our Flavorful Futures Scholarship. Sparkling Ice® is awarding FIVE $5,000 scholarships to eligible high school seniors who are planning their bright and colorful futures.
The application deadline is February 15, 2019 and winners will be announced in Spring 2019. Apply now at flavorfulfutures.com.

General Requirements
Visit flavorfulfutures.com for full list of requirements.
Must be a U.S. citizen or permanent legal resident of the United States.
Must be a high school senior graduating between August 1, 2018 and July 31, 2019.
Must have a cumulative high school grade point average (GPA) of at least 2.5 on a 4-point scale (high school/home school seniors).
We support applicants in a vocational/trade, 2-year, or 4-year program.
*********************************************************************************************
Scholarship Name: OppU Achievers Scholarship
Award Amount: $2,500
Eligibility: High school seniors, college students, graduate students; cumulative GPA of at least 3.0/4.0; U.S. citizen or resident
Deadlines: December 31, March 31, June 30, September 30
To Apply: Students submit a short response to the question "What makes you an achiever?"
Visit the website: OPPloans.com/Scholarship
***********************************************************************************************
Bucknell University
The first is the Physical Sciences Scholarship. Funded through a National Science Foundation grant, the award will provide up to $10,000 annually to students with financial need to help reduce loan and work-study obligations. Students will also receive additional funding to pursue a 10-week summer research experience. To qualify, students must major in biophysics, chemistry, geology, environmental geosciences or physics & astronomy and have financial need. Any student who applies to Bucknell will be automatically considered for the scholarship.

The second is the Civic Engagement Scholarship. This is a $20,000 annual scholarship awarded to incoming first-year students whose school and community involvement demonstrates a significant and sustained commitment to helping others. Recipients of the award will also be provided with an annual stipend for paid working activities in support of community service at Bucknell and in the Lewisburg community. Students will be required to participate in training for community/civic engagement, inclusivity and leadership development. They will also work with community partner organizations for a minimum 6 hours/week paid across all semesters on campus and meet regularly with staff of the Office of Civic Engagement. Any student who applies to Bucknell will be automatically considered for the scholarship.

Also, I am happy to announce that Bucknell will accept self-reported test scores this year. We will only require official scores if a student is admitted and chooses to enroll.
Abbott and Fenner Scholarship Program


 
Abbott & Fenner Business Consultants are pleased to be able to continue with their
scholarship program for the 12th year. 
 
They will be awarding up to $1,000 to the winner(s) each year.
 
Scholarship Deadline-  June 14, 2019.
 
Application Process
 
Students will submit an essay on the topic that appears on the scholarship page of


their web site:


http://www.abbottandfenner.com/scholarships.htm

SeniorAdvice.com
SeniorAdvice.com has just announced a new $2,000 scholarship for SFP students who have acted as a caregiver. I would greatly appreciate your help in getting the word out to your students by having the award listed under your external scholarships section on the SFP website. This award has an application deadline of July 15, 2019 and we are encouraging students to apply early.
Senior Advice Caregiver Scholarship - $2,000 Award
For students who have acted as caregiver to an adult friend or relative in any capacity:
https://www.senioradvice.com/senior-caregiver-scholarship-fall-2019
https://www.senioradvice.com/news-room/senioradvice-announces-fall-2019-scholarship-award
Information on Previous Scholarship Winners (can be kept confidential at the student's discretion):
https://www.senioradvice.com/news-room/senioradvice-announces-spring-2019-scholarship-winner
https://www.senioradvice.com/blog/general/senioradvice-com-spring-2019-senior-caregiver-scholarship-winner
Scholarship Name: Car Loans of America Scholarship – $1,000 Award
Deadline: 1st June, 2019
Link to Apply: https://www.carloansofamerica.com/scholarship/
How to Apply: First, you'll need to write us an open letter with no fewer than 1000 words on why you deserve to win this scholarship. You can write your life story along with your educational goals, dreams, and aspirations. Develop an answer that is meaningful, eye-catching and compelling! Let us know what motivates you and makes you unique. We are looking for someone who has a great track record and who excels in the above
Eligibility: To qualify for the Car Loans of America Scholarship, you must be enrolled in an accredited undergraduate credible university/college.
Application details:
Along with your essay we also ask that you include:
1. Your university name
2. Class year3. Contact information4. Major5. A copy of your transcripts (official or unofficial).Send all materials to scholarships@carloansofamerica.com
Huggable Supermom Scholarship: Cash & Baby Formula Award
Designed to make things a little easier for single mothers and those supported by single mothers who are striving to achieve great things for themselves and their loved ones. To apply, students must be the child of a single mother or be directly supported by a single mother in some other way (or be a single mother themselves). All fields of study and GPAs will be considered.
We are incredibly proud to support single mothers and their loved ones, and we would be thrilled to receive applications from St Francis seniors.
Huggable awards $1,000 in scholarships to high-achieving high school students who are supported by single mothers. We also donate a year's worth of baby formula ($2,000 value) to a recipient chosen by the winner.
You can find more information about our scholarship award here: https://huggable.com/pages/scholarships
Petroske Riezenman & Meyers Divorce Scholarship
This scholarship is available to all high school seniors and current college students, but special consideration will be given to those with divorced parents, or have gone through a divorce themselves. We understand how difficult it can be to pay for college after being involved in a divorce and want to help someone afford a better education
Here are some brief notes on this scholarship:
$1,000 (One-time award)
Due December 31, 2019
Must be attending a 4-yr college/university or 2-yr community college for Spring 2020
Incomplete or Late Applications will not be accepted
https://www.petroskelaw.com/long-island-divorce-attorney/#scholarship-application