College Office
College Office Bulletin Board
---
Congratulations Graduates!
Class of 2019
THE COLLEGE OFFICE HOURS ARE 7:30 AM TO 3:00 PM
Room N-201
PLEASE DO NOT COME TO THE COLLEGE OFFICE DURING CLASS TIME
THANK YOU
*********************************
COLLEGE REPRESENTATIVES--
MAY NOW SCHEDULE CAFETERIA VISITS THROUGH NAVIANCE
(OR EMAIL bmagenheim@sfponline.org)
SENIORS 12:45 PM - 1:15 PM
JUNIORS 11:45 AM - 12:15 PM
**********************
KAPLAN TEST PREP CLASSES CAN NOW BE FOUND ON SAT/ACT SECTION OF
COLLEGE OFFICE WEBSITE
****************************************************
School Information:
6100 Francis Lewis Blvd. Fresh Meadows, NY 11365
CEEB Code: 330835
Class of 2018 Data: Graduates: 585
Class of 2018 entered high school: 09/2015
Graduation Date: 6/2019
Ranking: None
Grading: 100 Scale
Weighted
COUNSELOR INFORMATION
TITLE: Guidance Counselor
Guidance Office: 718-423-8810 x212
College Office: 718-423-8810 x244
EMAILS
Ms. Robyn Armon: rarmon@sfponline.org
Ms. Adriana Mannino: amannino@sfponline.org
Mr. Peter Bosco: pbosco@sfponline.org
Ms. Becky Barell: bbarell@sfponline.org
Mrs. Danielle Forte: dforte@sfponline.org
Mrs. Laura Hassett: lhassett@sfponline.org
Mr. Michael Hernandez: mhernandez@sfponline.org
Mr. Nicholas Lombardo: nlombardo@sfponline.org
Mrs. Josephine Morrone: jmorrone@sfponline.org
Mrs. Nancy Williams: nwilliams@sfponline.org
Administrative Assistants
W101-Ms. Patricia Fagan: pfagan@sfponline.org
College Office:
Mrs. Jennifer Kuz: jkuz@sfponline.org
Mr. Brandon Magenheim: bmagenheim@sfponline.org
Procedures for Submitting Applications to the College Office 2018-2019
1.ONLINE APPLICATIONS USING www.commonapp.org
Once you have completed and submitted your online application you must submit one BLUE Transcript Request Form for each college to the College Office in N-201
Include $5 for your official transcript to be sent electronically to each college you applied to
2.CUNY APPLICATION USING www.cuny.edu
a.Once you have completed and submitted your online application, PRINT a copy of the High School Transcript Request Form (from your CUNY application summary packet)
b.Include one BLUE Transcript Request Form for all CUNY schools and $5 for an official transcript
c.CUNY options: CHOOSE ONLY ONE: General admissions/Macaulay Admissions
3.www.suny.edu – ONLY IF THE SPECIFIC SUNY SCHOOL DOES NOT ACCEPT THE COMMON APP.
Bring a 9x12 manila envelope addressed to each individual SUNY college Undergraduate Admissions office to which you are applying with 4 stamps.
Include the SUNY School Counselor Form (which will be copied by your counselor for each SUNY campus you apply).
BLUE Transcript Request Form – one for all SUNY schools.
$5 for an official transcript for each school.
4.OTHER ONLINE APPLICATIONS EDOCS/ SEND EDU
One BLUE Transcript Request Form for each school $5 for an official transcript for each school.
5.ONSITE ADMISSIONS
St. Francis Prep will host several Onsite Admission opportunities for our students. Notices will be posted outside the college office making them aware of date of Onsite and specific directions for each Onsite. College admissions representatives will come to Prep where they will hold a personal interview with students, review their applications and in most cases, render a decision at that time. Each student will receive an appointment card in their Cor box the day before the Onsite.
Completed application (follow College Office directions on how to obtain application).
Students must meet individual college requirements.
Completed BLUE Transcript Request Form.
$5 transcript fee.
Copies of official SAT or ACT scores.
College essay (if required).
********************************************************
Below are some of the highlights regarding COLLEGE DECISION MAKING:
* Make a list of the colleges in which you are interested.
* Log onto these college websites to gather some important information: majors offered, programs available, location, cost, a general profile of GPA and SAT scores of admitted students, application deadlines, if SAT II tests are required, etc.
* Most college applications require an essay. Check websites to see if topics are given. If not, a personal statement is accepted by many schools. This can include a personal experience that has been an influence in your life. The summer is a perfect time to begin to write rough drafts so that you have a head start on the process. Seniors: When you return to school in September, you can ask an English teacher to review the essay, or visit the writing center for help(appointments available through the English Department). Do this early, as they will get many requests, and you need to be respectful of their time.
* Visit Colleges. Fall and Spring are good times to attend "open house" at colleges. Most colleges will give tours during the summer, and even speak with students and parents. It will give you some idea of the campus and facilities, traveling time, surrounding environment, etc.
* SAT: JUNIOR STUDENTS TAKE the SAT in the spring. Once you receive those scores we suggest spending time over the summer preparing for the fall SAT. Focus on the area(s) where your performance was weak. SENIOR STUDENTS WILL TAKE THE SAT (again) IN THE FALL.
*SENIORS: It is very strongly suggested that you register on-line for the October or November SAT exam during the summer approaching senior year.
2019-2020 Common Application Essay Prompts
1. Some students have a background, identity, interest, or talent that is so meaningful they believe their application would be incomplete without it. If this sounds like you, then please share your story.
2. The lessons we take from obstacles we encounter can be fundamental to later success. Recount a time when you faced a challenge, setback, or failure. How did it affect you, and what did you learn from the experience?
3. Reflect on a time when you questioned or challenged a belief or idea. What prompted your thinking? What was the outcome?
4. Describe a problem you've solved or a problem you'd like to solve. It can be an intellectual challenge, a research query, an ethical dilemma - anything that is of personal importance, no matter the scale. Explain its significance to you and what steps you took or could be taken to identify a solution.
5. Discuss an accomplishment, event, or realization that sparked a period of personal growth and a new understanding of yourself or others.
6. Describe a topic, idea, or concept you find so engaging that it makes you lose all track of time. Why does it captivate you? What or who do you turn to when you want to learn more?
7. Share an essay on any topic of your choice. It can be one you've already written, one that responds to a different prompt, or one of your own design.
---
---
______________________________________________________________________________________________________
ATTENTION JUNIORS:
College Application Process Symposium
Summer 2019 Dates Coming Soon!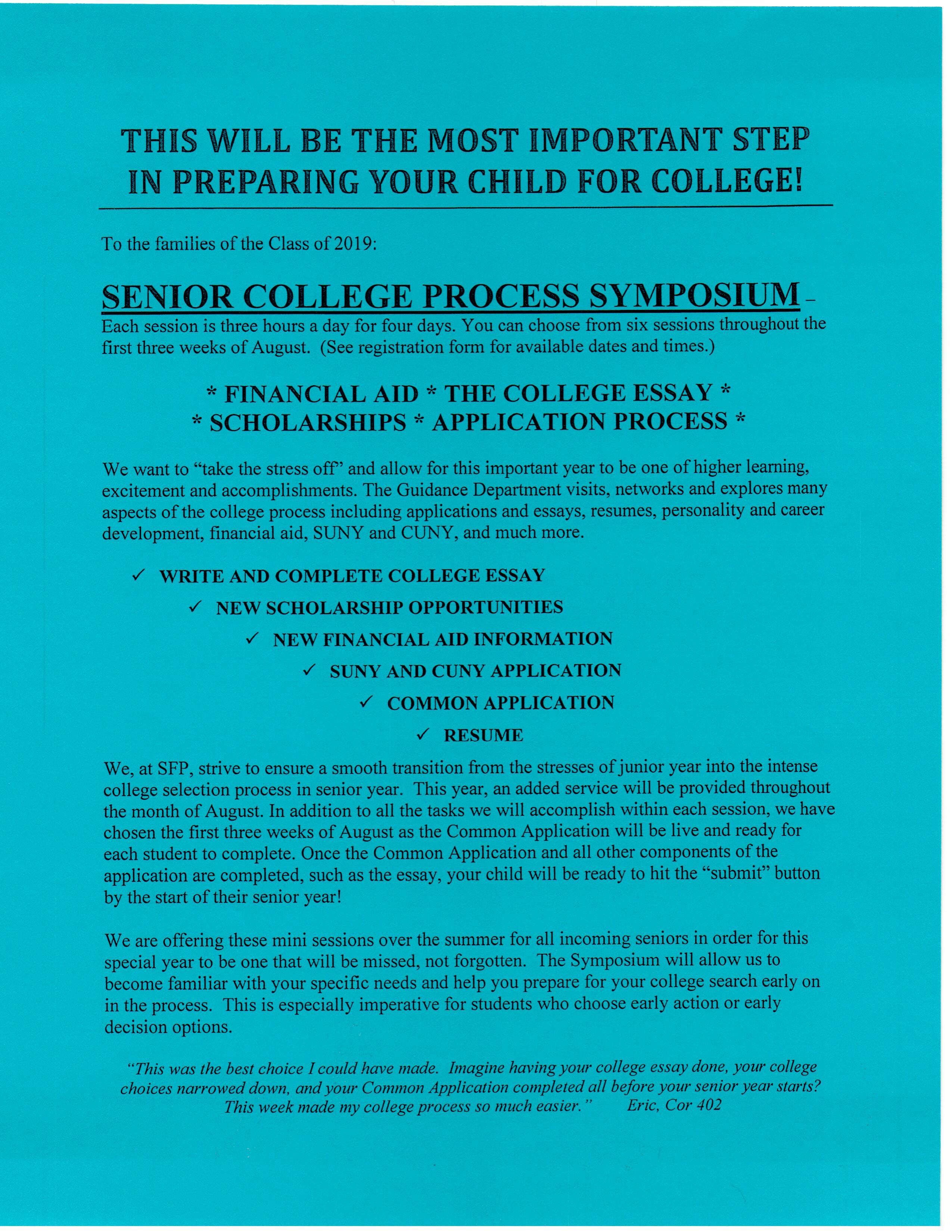 **************************************************************************
Financial Aid
Complete the Free Application for Federal Student Aid
"FAFSA"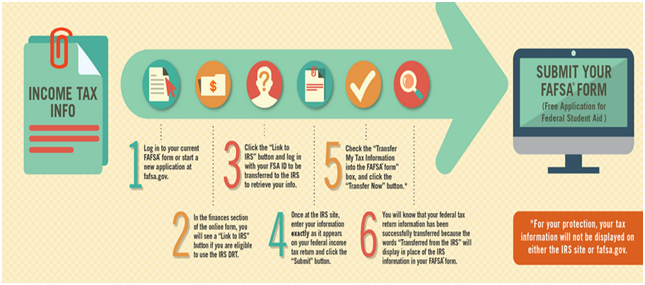 5 Things To Do After Filing Your FAFSA
Congratulations! You finished filling out the 2014-2015 Free Application for Federal Student Aid (FAFSA)! Now what?
1. Look Out For Your Student Aid Report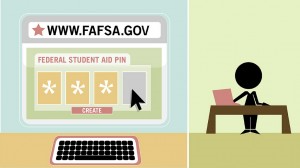 After you submit your FAFSA, you'll get a Student Aid Report (SAR). Your SAR is a paper or electronic document that gives you some basic information about your eligibility for federal student aid as well as listing your answers to the questions on your FAFSA.
Any student with a Federal Student Aid PIN can view and print his or her SAR by logging in to www.fafsa.gov and clicking on the appropriate school year. This is also where you can check the status of your application if you have not received your SAR yet. Once you get your SAR, you should review it carefully to make sure it's correct and complete. If you made a mistake, make sure you go in and correct or update your FAFSA.
2. Locate Your EFC
Found your SAR? Awesome! You may want to start by looking for your Expected Family Contribution (EFC). Your EFC can be found in the box at the top of the first page of your SAR, under your social security number.
Your EFC is a measure of your family's financial strength and is calculated according to a formula established by law. Its formula considers your family's taxed and untaxed income, assets, and benefits (such as unemployment or Social Security) as well as your family size and the number of family members who will attend college during the year.
Schools use your EFC to determine your federal student aid eligibility and your financial aid award. However, it's important to remember that your EFC is not the amount of money your family will have to pay for college nor is it the amount of federal student aid you will receive. It is a number used by your school to calculate how much financial aid you are eligible to receive. Contact your school's financial aid office if you have any questions about how they calculate financial aid.
3. Make Corrections If You Need To
It's important to make sure that everything on your FAFSA is correct and complete, as your school may ask you to verify some of the information.
Did you fill out FAFSA before your 2013 tax information was complete? Do you need to update any information? Did you find a mistake? Don't worry! It's easy to make corrections online at www.fafsa.gov. Log in and click "Make FAFSA Corrections." You'll need to enter your Federal Student Aid PIN to make any corrections. Corrections should be processed in 3-5 days and you should receive a revised SAR.
4. Review Your Financial Aid History Information
The last page of your SAR includes information about your financial aid history, specifically the loans you have taken out. It can be complicated and confusing to keep track of all of your loans and interest rates, but it is very important. Reviewing the financial aid history in your SAR will help you be aware of how much you are borrowing and how much you'll owe later.
Remember: You can access your financial aid history information anytime by logging into www.nslds.ed.gov with your Federal Student Aid PIN.
5. Double-Check With Your Schools
Lastly, make sure that you double-check with the financial aid offices at the schools you applied to. Sometimes schools need additional paperwork or have other deadlines. You never want to leave money on the table!
**********************************************************************************************
ATTENTION SENIORS - SEE SFP COLLEGE HANDBOOK TO LEARN ABOUT PROCESS FOR APPLYING TO COLLEGE-CLICK ON LINK BELOW:
***************************************************************************************

UNITED STATES MILITARY ACADEMY
WEST POINT
OUTSTANDING JUNIORS MAY START THEIR APPLICATIONS NOW BY VISITING www.apply.usma.edu
FRESHMAN AND SOPHMORES MAY REQUEST THE E-BROCHURE "YOUR GUIDE TO SUCCESSFULL ADMISSIONS" AND VISIT www.discover.usma.edu/guide
FOR INFORMATION REGARDING THE NAVAL ACADEMY
FOR MORE INFORMATION ON USNA FALL FORUMS
********************************************************************************
Military Academy Nominations - FAQ (From the office of Congressman Thomas R. Suozzi)
Frequently asked questions for those seeking a Military Academy nomination. You may also fill out a Military Academy Nominations Form.
What is a nomination?
Members of Congress may nominate applicants who meet the eligibility requirements established by law. A candidate may seek a nomination from the following:
A member of the U.S. House of Representatives who represents the congressional district in which the candidate resides
Both U.S. Senators from his or her state
Apply directly to the Vice-President of the United States
What are the basic eligibility requirements?
Each applicant for a nomination must meet the following eligibility requirements as of July 1st of the year of admission to an academy:
Age: Be at least 17 years old, but not have passed the 23rd birthday
Citizenship: Must be a U.S. citizen
Marital Status: Must be unmarried, not pregnant, and without legal obligation to support children or other dependents
Residence: Must reside within the boundaries of the 3rd Congressional District of New York.
Skill / Fitness: Must meet the medical, physical, and academic requirements of the Academy
When do I apply for a nomination?
The nomination application period opens May 15th of each year for those candidates who are high school juniors and will be seniors the following school year, or who have already graduated.
What is the deadline for completing a nomination file?
What must be included in my nomination file?
A complete nomination file consists of the following items:
Current photo
High school transcript
American College Testing Program (ACT) results and/or College Board Scholastic Assessment Test (SAT) results
Resume of extracurricular activities
An essay stating why you want to attend a service academy (300 words or less)
Minimum of three letters of recommendation from (a) an academic teacher; (b) a supervisor-coach, employer, guidance counselor, scout leader, etc.; and (c) an acquaintance-someone who knows the applicant but is not a member of the applicant's family.
What happens after I have completed my nomination file?
What criteria is used in selecting candidates?
Nominations are based on a "whole person" evaluation. Factors such as academic achievements, extra-curricular activities, leadership skills, physical aptitude, character and motivation are taken into consideration and compared with other applicants.
How many academies are there?
There are five service academies.
Are the requirements the same for all of the service academies?
No. Although many of the qualifications are similar, each academy operates under its own admissions guidelines. Visit the academy of your choice via the websites noted for each academy's particular admissions qualifications. It is not necessary to seek a nomination to the Coast Guard Academy, as the U.S.C.G.A. accepts candidates based on their own testing criteria.
Who should I ask to write a letter of recommendation on my behalf?
Some of the people applicants typically seek recommendations from include:
Teachers
Counselors
Employers
Coaches
Clergy
Scout Leaders
A specific recommendation form is not required. A letter of recommendation is sufficient.
Will I automatically be selected by the academy after I receive a nomination?
No. You will be placed among a select group of nominees, and the academy of your choice will make the final decision. If selected, you will receive an offer of admission (an appointment) directly from the academy.
What if I choose more than one academy? Will I be limited to a single nomination?
No. You can be nominated to multiple academies depending on how well you have competed among this year's pool of candidates. It is also possible to win multiple appointments.
Who do I contact for more information?
Please contact Edward G. Aulman, Veterans Caseworker, at the Huntington Office, (631) 923-4104.
HOFSTRA
"Struggling to Decide Test Optional or Not"
· "My test scores are above average, but I didn't do as well on the SAT/ACT as I personally would have liked. "This student should submit his/her test scores.
· "Standardized testing has always been a weakness of mine. My grades and curriculum are rigorous and competitive, but my SAT/ACT scores are below the schools mid-range." This student should not submit his/her test scores.
· "I don't want to pay or can't afford to send my test scores." Scores can be sent using a ton of free options. This student should submit his/her test scores.
· "Sending my test scores is an obstacle and will take way too long." This student should submit his/her test scores.
· "My best scores are way below Hofstra's published average and mid-range scores. " (SAT scores 1140 to 1330, with an average ACT equivalent of 24 to 31.) This student should not submit his/her test scores.
Binghamton University
The Office of Undergraduate Admissions at Binghamton University now permits applicants to self-report their SAT and ACT test scores. This decision reflects our commitment as a public university to remove barriers to the college application process.

Students should have their full score report with them, including all section scores, when self-reporting their test scores. They will require official reports sent by the testing agency if the student chooses to enroll.

Visit the test policy webpage for complete details and answers to frequently asked questions. Note: The option to self-report scores is not available for international or athlete applicants.
Hispanic Serving Institutions-
https://www.affordablecollegesonline.org/college-resource-center/hispanic-serving-institutions/
The guide covers all aspects of HSI's from what the designation means, to how it gets implemented at colleges.