What's New on
Day 6
Z-COR-H-A-D-C-F-E-B-G-X
---
Tomorrow: 9/29/2021-Day 7
---
As we begin the 2021-2022 school year, we express our commitment to providing in school instruction for all students and we are confident that the learning environment will be safe for students, faculty and staff, as we follow the protocols and guidelines for the CDC, NYSED, NYSDOH, and the Dioceses of Brooklyn.
Here is a link to our school Re-Opening Plan for review:
This reopening plan will be reviewed and updated throughout the 2021-2022 school year as guidances and conditions change.
---
Games for 9/28/2021
Soccer JV Boys
73rd ave and Francis Lewis blvd 4:30 pm
Regis
Soccer Varsity-Boys
Kissena Corridor 4:30pm
Regis
Swimming Varsity-Girls
@St. Joseph's College 4pm
St. John the Baptist
Tennis Girls
School Courts 4:00 pm postponned
St. John Baptist AA
All Schedules HERE
Principal's Message
---

May 2021
FRANCISCAN SERVICE SCHOLARSHIP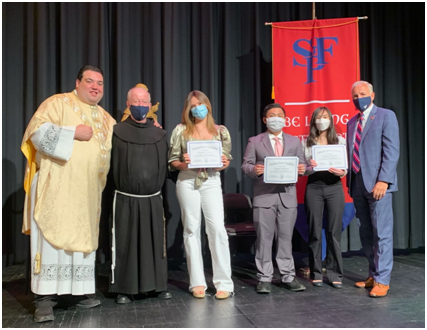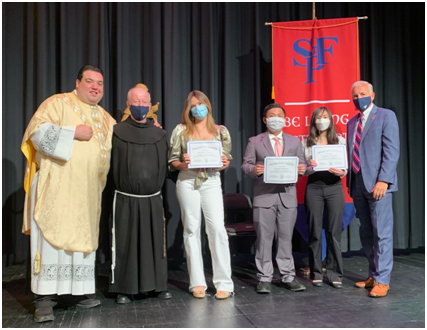 It is time again to award the Franciscan Service Scholarship. Our selection process for the recipients of the Franciscan Service Scholarship has concluded. This year's service recognition committee included M. Aguilo, P. Bosco, K. Gonzalez, M. Robertson, Fr. Ralph Edel, and S. Sempowich. The committee has chosen four standout applications. The service recognition committee has chosen the following four students to receive the award:
Gabriel DelaSerna
Giuliana Frisina
Stephanie Mecir
Emma Pereira
STUDENTS WHO MAY BE LEAVING ST. FRANCIS
Students who decide to leave St. Francis should notify the Registrar's Office when that decision is made. Parents must complete a "Withdrawal Card" to facilitate the release of all academic and medical records to the new school.
All financial obligations must be met before records are released.
All exiting students must return the iPad and charger given them along with the passwords.
The iPad must be in working order.
Any school equipment (athletic. textbooks, musical, etc.) must be returned.
COURSES and CHANGES FOR 2021-2022 SCHOOL YEAR
We will e-mail students and parents their course verification forms by early June. The form lists all the classes for which the students are scheduled for next year. Please review your child's course selections carefully. Once students receive the verification form, they will be able to request course changes. Changes cost $25 and are based on space availability and qualification for the course. Students must receive approval from a departmental chairperson to add or change a course. The last day to request course changes is Friday, 18 June, at 11:00 a.m. There are no course changes in the Summer or September. Please direct questions about your child's program to his or her guidance counselor. You may also call Mr. Castellano at ext. 209 with questions about procedure and courses. Students will receive their actual schedule in early September.
ALUMNI ATHLETICS NEWS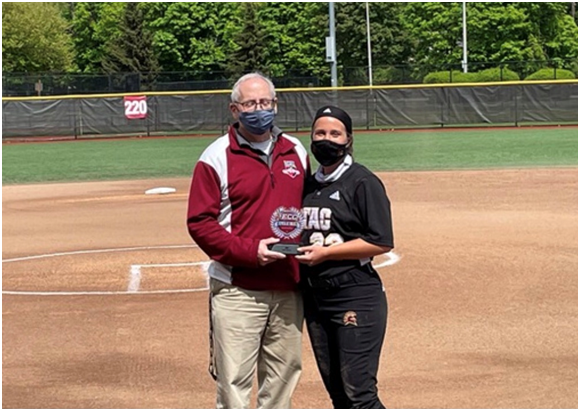 Sarah Williams, SFP Class of 2018, was the recipient of the ECC Elite 19 Award for Softball. The ECC (East Coast Conference) Elite 19 honor is awarded to the student-athlete with the highest cumulative grade point average competing in each of the ECC's 19 championships. Sarah is currently a junior at St. Thomas Aquinas College where she is majoring in Childhood Education with a concentration in Mathematics.
Boys Track and Field Team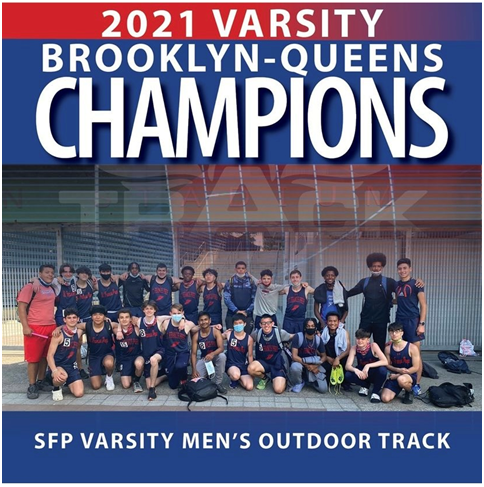 On May 15th, the Boys' Track and Field team won the Outdoor Varsity Brooklyn-Queens Championship. Despite the limitations placed on our athletes this year, they trained hard all season and showed the rest of the league what we are capable of as a team.
Three seniors, Peter Athanailos, John Kim, and Khalil Johnson, will be attending the Catholic State Championship on May 29.
Special Congratulations to:
John Kim, our champion in both the 100 and 200.
Peter Athanailos, our champion in the Discus.
Charles Meghan, our champion in the 3200.
Robert Deck, our champion in the 300m Steeplechase.
The 4x100 team of Spiro Kaloudis, Nick Pandis, George Kammas, and Lucas Dibartolomeau for taking first place.
The 4x800 team of Brandon Donaldson, Charles Meghan, Jack Cote, and Matthew Vene for taking first place.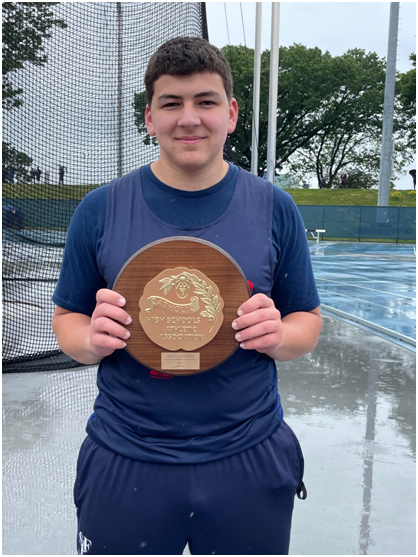 On Saturday, May 29th. Peter Athanailos won the Catholic State championship in the Discus. He will finish his high school career with 2 State titles and 4 Brooklyn-Queens titles in both the Shot put and Discus. Next year, he will attend and compete for Manhattan College. Manhattan has a long-standing tradition as one the top college throwing programs in the Northeast.
TERRIER BASEBALL SENIOR DAY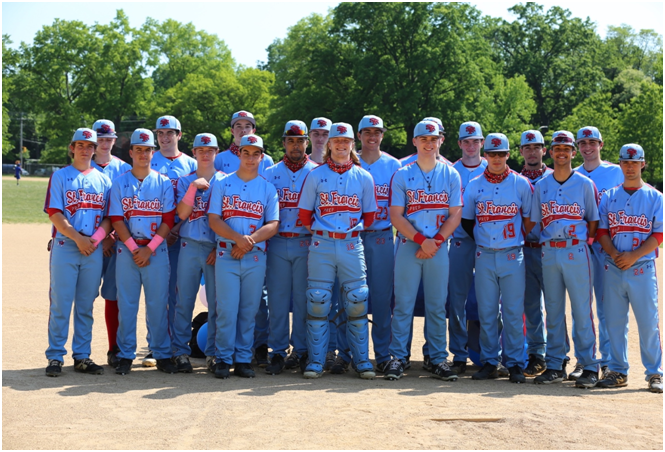 GIRLS' TRACK
Sophomore Girls' Track Team won the CHSAA Intersectional Championship. Our Intersectional Champions were:
Grace Hughes 3000 meters
Sophia Leslie 100m Hurdles
Sophia Tomala, Sydney Morgan, Theresa O'Connor, and Cristina Stanescu 4 x 400 team
UNITED NATIONS ASSOCIATION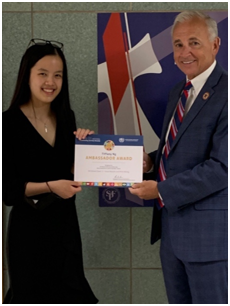 Tiffany Ng, SFP Class of 2022, has been recognized for her community service by the United Nations Association.
JULIA AND THE FRANCISCAN YOUTH MOVEMENT GROUP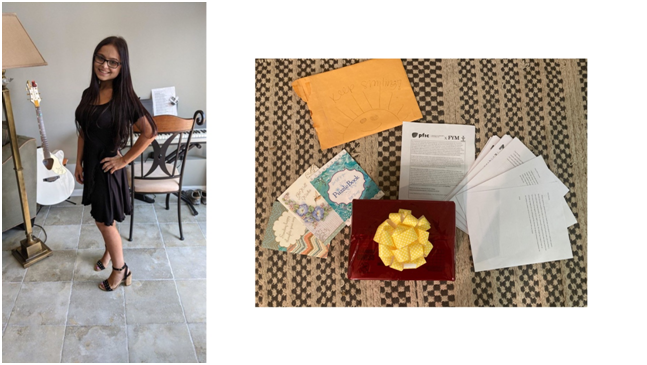 Article from PFIC Network Monthly Update Newsletter
Julia is a young lady who just celebrated her 17th birthday. She is an extremely dedicated and gifted student. She is a member of the National Honor Society and has been on the Principal's List during every quarter of high school. She just started driving, which she loves, is an experienced trapeze flyer, and hopes to someday be a Forensic Anthropologist.
I met Julia about 6 months ago when her mother reached out to me for advice. Julia had been struggling with intense itching on and off for the last few years. She was in and out of dermatologists's offices; doctors continued to prescribe lotions and medications for her itching without relief. Finally, she was referred to a specialist who, through blood work, realized that there was something going on with her liver. Since then, Julia has been in and out of the doctor's office receiving multiple tests, biopsies, and sometimes weekly blood draws to try to find an answer. Early on, specialists believed that she may have a form of PFIC, which is how she found pfic.org. Her mother connected with me while waiting for genetic testing results to confirm a diagnosis. We talked through the horrors of itching and fears of liver disease while waiting for Julia's diagnosis, sharing stories of our journeys. In sharing my experiences with pruritus and liver disease and seeing the stories that others have shared on our website, Julia and her mother didn't feel so alone: they felt validated. This is not "just an itch"; the discomfort that she felt was real.
In the brief time that we have been connected, Julia got to know our small community. Even though she was going through her own struggle, she couldn't help but think of what our children and families go through struggling with PFIC and the awful itching. Julia decided to write a letter to her teacher saying that she would like to find a way to help our rare community. She was then connected with the Franciscan Youth Movement group in her school. Upon joining this group, Julia shared with her peers her recent and ongoing medical journey and about our PFIC community. She urged the group to find a way to support the children and families who are suffering with PFIC.
Julia's will to help has inspired a movement within the school. Now, thanks to Julia and the Franciscan Youth Movement, we have more than 30 letters of support that were written by a group of teens. These letters are intended for patients or family members who are struggling with PFIC. These letters will be sent out to our community with our personalized care packages throughout the year.
Julia has not been able to receive a diagnosis yet, but after further testing her doctors do not believe that she has PFIC. She continues to bounce from doctor to doctor and go through test after test in hopes of finding an answer. Even though she is not believed to have PFIC, she has said that she is invested in helping our community in the future. Similarly, we are invested in supporting her with guidance, mentorship, and friendship as she moves through her journey. Please keep Julia in your thoughts as she searches to find her answers.
♦ ♦ ♦ ♦