---
Cheerleading Varsity
Coaches:
---
Ally DeFalco: Assistant Coach
---
Kara Kelly: Head Coach
---
Maureen O'Neill: Assistant Coach
---
Jenn DiVanna: Assistant Coach
---
Ken McCarthy: Head Coach
Update for: Cheerleading Varsity
Thank you to everyone who came to the tryout yesterday. We know it is not easy to learn and perform in the same day. We are proud of your hard work this summer. Congratulations to the following individuals who made the Freshman, Junior Varsity, and Varsity teams.
As a reminder, there will be team meeting/practice today and Thursday, August 25th for both the Junior Varsity and Varsity teams from 6:00 – 8:00. In addition, there is still tumbling both today (5:00 – 6:00) and Thursday (5:00 – 6:00 and 6:00 – 7:00) for those who have been attending this summer.
For those who made the Freshman team, an email will be sent in the next couple of days to let you know when the 1st team meeting/practice will be.
VARSITY

Alexandra Muro

Kaitlyn Han

Alexandra Scala

Katherine Giaramita

Angelica Pallas

Katrina Bodh

Cassandra Henry

Kelly Lee

Dana Guerra

Kimberly Monahan

Daniella DeBlasi

Lena Vella

Dayanne Gomez

Mallony Cardona

Dyavian McDowell

Michaela Turck

Eden Thomas-Lutchmedial

Michelle Doherty

Gina Yacavone

Oliva Perez-Fung

Giselle Diaz

Samanatha Mack

Hannah O'Connell

Samantha Reinhardt

Jacqueline DeFalco

Sofia Linardos

Jasmine McLean

Taylor Anderson

Jennifer Ekwebelem

Vanessa Blando

Julia Lipari

Zoe Kaouris

JUNIOR VARSITY

Alexis Chrisohoidis

Jennifer Chen

Anastasia Hernandez

Kalissa LaFoucade

Aryee McGirt

Kathryn Healy

Ava Occhipinti

Kayla Terry

Britney Schpak

Megan Monaghan

Caroline Duggan

Melanie Curto

Cristina Leone

Monica Shimm

Danyel Christopher

Nina Cyrus

Eileen McLaughlin

Raven Ottley

Eleni Garuffi

Ronide Gelin

Erin McGuirk

Sabrina Halaka

Imani Johnson

Sally Lee

Irene Samaras

Savannah Holsey

Jada Feliciano

Stefanie Sarac

Jenna Fiocca

Valentina Gioe

Jenna Muro

Victoria Zhang

FRESHMAN

Anna Sifneos

Raquel Patterson

Caitlin Begley

Ryan Hobson

Despina Sgourous

Sophia Salcedo

Juliana Izzo

Stella Zoitas

Mikayla Fiocca
Following is information regarding tryouts on Monday, August 22nd:

We will begin at 4:00 PM in the gym with the learning of the cheer and dance. All those trying out will be split into 2 groups. 1/2 will learn the dance and the remainder will learn the cheer. At 5:00 PM, you will switch groups and learn the opposite material. It will take approximately 30 minutes to teach the cheer and dance. This will allow a 30 minute open workshop for questions and practice.
During the above time, we will be asking you to create groups of 4. All returning Varsity members must sign up for the 1st groups, followed by returning Junior Varsity, returning Freshman, and the last groups will be for those who are new to the program.
Learning of the material/open workshops will end at 6:00 PM and judging will begin promptly at 6:30 PM. After your group is judged you are free to leave.

Judging will consist of the following:
Appearance - Please make sure you are dressed appropriately with no jewelry and hair tied back. Nails may not be longer than finger length
Cheer

Dance
Sideline
2 Jumps - All returning members must perform a double toe-touch and a pike. All others, must perform a single or a double toe-touch and a pike

Overall Impression
Results will be sent via email and be posted on the school cheer website by noon on Tuesday, August 23rd.
If you make the JV or Varsity teams, there will be practice from 6 - 8 on Tuesday, August 23rd and Thursday, August 25th.
As previously stated at previous workshops, during the parent meeting, and via e-mail, ALL Varsity and JV members are expected to attend camp. The camp dates are Sunday, August 28th through Wednesday, August 31st. We will depart at 7:00 AM on Sunday and return approximately 4:00 PM on Wednesday. Additional information (i.e. what to bring, waiver, etc....) will be sent regarding camp after tryouts.
INCOMING FREESHMEN WHO DID NOT ATTEND SUMMER WORKSHOPS ARE ENCOURAGED TO WAIT & TRYOUT IN SEPTEMBER***THIS WILL ONLY BE A TRYOUT FOR INCOMING FRESHMEN***
Thank you,
CHEERLEADING WORKSHOP CANCELLED TONIGHT AUGUST 4
FOR ALL RETURNING CHEERLEADERS AND INCOMING FRESHMEN INTERESTED IN CHEERLEADING
*Open Workshops will be every Tuesday and Thursday from 6-8pm beginning July 5th, 2016 through Thursday, August 18th, 2016*
These workshops are not mandatory; however, you are encouraged to attend.In addition to improving current skills, we will be working on new skills which will be incorporated into your routine. If you are unable to attend a workshop please email Kara atTecheer0404@gmail.com
**TRYOUTS WILL BE HELD ON MONDAY, AUGUST 22nd, 2016 AT 4pm**
PHYSICALS-
Incoming Freshmen must submit their medical and a signed BLUE card to the nurse in order to be cleared
SOPH/JUNIORS/SENIORS-An email was sent to your parents regarding sports medicals. All returning members must have a physical completed in order to participate in a fall sport. Once your physical is complete and a YELLOW card is turned into the nurse's office, please contact Kara so we may follow up regarding your clearance. Physicals should be completed and cards submitted by Friday, August 12th
***************************************************************************************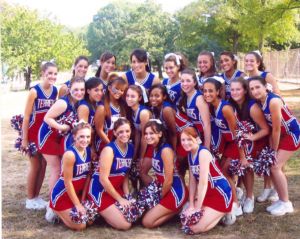 *JACLYN ARFANIS* *DANIELLE BALBONE*