---
Cheerleading Varsity
Coaches:
---
Ally DeFalco: Assistant Coach
---
Rosemarie Tombolo: Head Coach
---
Maureen O'Neill: Assistant Coach
---
Jenn DiVanna: Assistant Coach
---
Caitlin Fung: Assistant Coach
Update for: Cheerleading Varsity
The 2017 Summer Workshops for SFP Cheerleading will begin July 18th and take place every Tuesday and Thursday with times ranging from 4-8pm.
All returning members as well as new prospective members are encouraged to attend to brush up on skills while also learning new skills. These workshops are NOT mandatory, however we consider them to be extremely beneficial to any cheerleader who is interested in trying out for the 2017-2018 school year. Incoming freshman are encouraged to attend these workshops as well so that they can tryout before the school year begins. These workshops will take place both behind the school by the handball and softball courts as well as in the gym depending on gym availability.
Tryouts will be held on Monday August 21st at 4:30pm. Please make sure that you have handed in a completed medical form with clearance from a doctor and our school nurse BEFORE this date. You will be unable to try out without medical clearance.
If you are unable to make the August 21st tryout due to vacation or another circumstance, we are holding an alternate tryout on Monday August 28th at 4:30pm. Please be aware that this alternate tryout is solely for cheerleaders who are unable to attend the first tryout and have ALREADY notified Rosie and myself of this. If you haven't already notified us, please do so ASAP. This tryout will not be an attempt for girls who make the decision to try out last minute.
Please notify us of any planned vacations ASAP.
If you have any questions or concerns please feel free to contact us.
Thank you!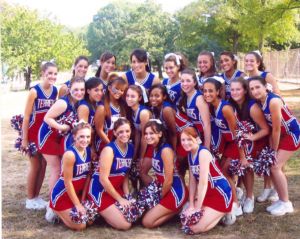 *JACLYN ARFANIS* *DANIELLE BALBONE*