---
Tennis Girls B
Coaches:
---
Ted Rohrs: Coach
---
Kim Gonzalez: Coach
---
Bill Cohane: Coach
Update for: Tennis Girls B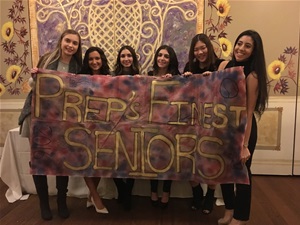 ---------------------------------------------------------------------------------------------------------------------------------

The coaches would like to congratulate all the players for a terrific 2015 tennis season. All the players worked very hard and competed at the highest level. This year the team came in second place with a 6-4 record. Both , Kellenberg and St. Anthonys where tied for first at 9-1. The team played Kellenberg in the semi-finals and lost 4-3, in a hotly contested match in which the last four determining matches went to tie breakers. What a Great Year!!!!
An Article by Erica Cooper, '16 , Captain, 1st Doubles, Team Scholar Athlete (2012-2016, 98 Avg ) depicted her time with SFP Girls Varsity B as the following:

For the past four years, I have been an active member of the St. Francis Preparatory School Girls Varsity B Tennis team. I became involved in tennis for a few reasons, one being that I wanted to do something fun while benefitting my health. Also, I have always been interested in this particular sport as it is not only competitive,but it is also very strategic. Angle shots, volleys, and a mixture of short and long shots must all be taken into consideration when playing in a match as there is more to a match than merely returning the ball over the net. I was not on the lineup during my freshman year on the team. I spent practice working on my groundstrokes and serves in hopes of possibly getting the opportunity to compete, no matter what position. Although I did not get to start in freshman year, being a member of the team was all that mattered at that time. I was happy whether I was running around on the courts or simply cheering on my teammates.
When my first year ended, I decided that although I enjoyed watching my teammates play, I wanted to get involved in the success as well. I took more tennis lessons, improved my technique, and prepared for the following season. I didn't know what to expect from my coaches going into my second season. But, it seemed as if my practicing paid off because I was quickly offered a spot in the lineup. In my sophomore year, I played the difficult position of third singles. Moving into junior and senior year, I played first doubles with my partner, Ariana Winter '16. I was grateful for being placed in the lineup because now, instead of cheering my teammates on from the sidelines, I was able to support them while playing on the court next to them.
Being a member of the tennis team over the last four years has provided me with valuable experiences and friendships. Many people play sports, but do all of these athletes understand what it means to be on a team? Carrying your own weight and supporting your teammates are two key elements in playing efficiently on a sports team as well as in other situations where you are required to work alongside others. I have learned to apply these experiences in how I interact in a group project setting, and I hope this follows me when I go to college and when I perform in the workplace. I have also gained a better understanding of how to manage my time by balancing work and tennis. It was never easy, but it was worth the expected late nights during the season. The long hours of lessons, team practice, bus rides, and matches have not only made me fall in love with the sport, but have also made me comfortable with working on a team. I love my team, and they have made my final year on the team memorable. Published 12/15, SFP school paper, the Seraph
Coaches: Ted Rohrs, Bill Cohane, Kim Gammello
American Heart Association Walk September 20th 2015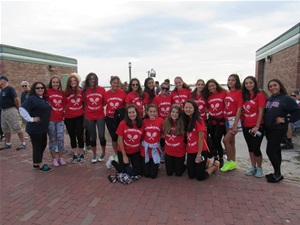 ----------------------------------------------------------------------------------------------------------------------------------------
Varsity B News: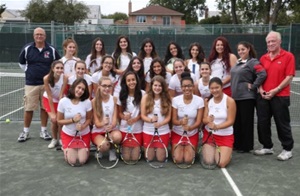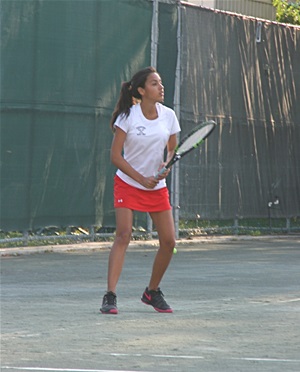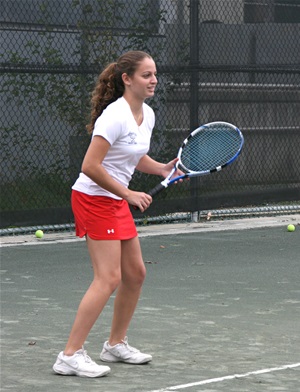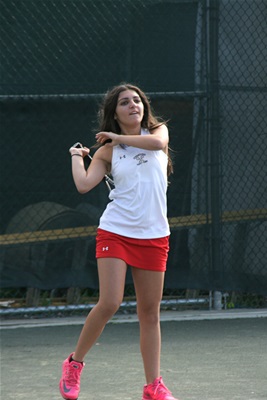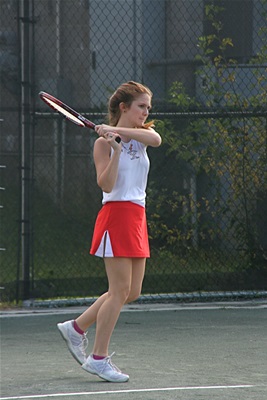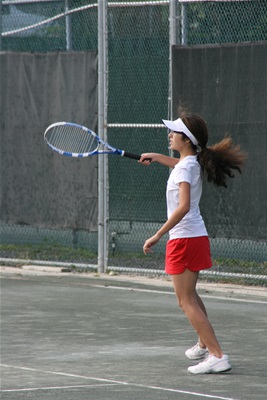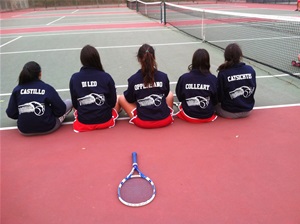 The 2014 Girl's Varsity Tennis season comes to a close with St. Francis Prep Girls Varsity "B" completing a winning season(6-5), for the first time since 2010. The team finished third in the NSCHSGAA Girls Varsity Tennis, Conference A.


Led by Seniors, Tanina DiLeo & Kaitlyn Colleary,(2nd Doubles, 7-4 in dual play), Amanda Oppedisano & Taylor Castillo, (4th Doubles, 6-4 dual Play) and Junior, Erica Cooper (1st Doubles, 3rd Singles, 3-3 dual play), Varsity "B" met the second seed St. Anthony's "B" in the Semi-Finals. The team lost a tough fought match, (5-2), in which three of the seven matches went to 3rd set tie-breakers.
This year Varsity "B" added six new starters to the line up. Zoe Tsicalos (Sophomore, 1st Singles), Gianna Medici (Sophomore, 2nd Singles), Jenna Murphy, (Freshman, 3rd Singles), Ariana Winter (Junior, 1st Doubles), Gianna Scarpa (Sophomore, 3rd Doubles), Tara Veresmortean (Freshman, 3rd Doubles). Freshman Jenna Murphy stood out with best record on the team, 7-3 in dual play.
Beginning in August, each member of the team (21 total), worked very hard to be in the starting line-up. Keeping this in mind, as injuries, illnesses and absences effected the team, the coaches were able to substitute the following players with relative ease: Marie McNamara (Senior), Angelica Catsichtis (Senior), Sasha Stopanjac (Junior), and Claudia Villagra (Sophomore).
Thank you for a great season and looking forward to another great year in 2015!


Team Coaches: Ted Rohrs, Bill Cohane, Kim Gammello