---
Tennis Girls A
Coaches:
---
Mr. John Brennan: Head Coach
Update for: Tennis Girls A
They did it again! 18 Consecutive Years the girls are Undefeated League Champions!
2015 VARSITY GIRLS TENNIS TEAM SEASON OF PERFECTION.
The 2015 Varsity Girls Tennis season was one of the most memorable in our storied history. During the regular season our girls ran through the schedule beating Sacred Heart, St. Anthony's and John the Baptist 7-0 twice. No one lost a single set or match the entire regular season!!!
In singles play #1 Amalia Parrish, #2 Olivia Morris and #3 Mia Parrish all played lights out winning their matches with relative ease. In doubles play #! Camille Uy/ Sara Williams, #2 Donna Episcopio/ Lindsey Sayour, #3 Micaela Prisco/ Lejla Redzematovic and # 4 Mary O'Byrne- Alexix Sakatis- Giana Medici-Alexa Poulas- Andrea Stopanjac- Marianna Zehas all dispatched their opponents and displayed the incredible depth of accomplished players on this team.
In the championship finals Prep. met Sacred Heart for the third consecutive year and our superior depth of talent prevailed in a 6-1 triumph winning the league championship for 18TH CONSECUTIVE YEAR with an 18TH CONSECUTIVE UNDEFEATED SEASON. No that is not a MISPRINT, as remarkable as it may seem St. Francis Prep. girls varsity A team has not lost to anyone in our league for 18YEARS.
Now came a real challenge as the Terriers had to beat Mary Louis to reclaim the State Championship title. Mary Louis was undefeated and expected that their senior laden team would prevail. Prep. had other ideas. In one of the best matches Prep. has played in the last 18 years, our girls upset Mary Louis with a thrilling 4-1 victory as the Prep. supporters cheered our girls throughout the tense match. In the first match decided, sophomore Sara Williams playing in her first singles match for Prep. decisively beat Victoria Zezula at #3 singles 6-1,6-3. Next off were juniors Micaela Prisco and Lejla Redzematovic playing #2 doubles as they won a closely contested match 7-5, 6-3. Now Prep. had two points and only needed one more win as the top two singles matches were being closely contested and #1 doubles was drawing to a close.
Soon enough #1 doubles team of juniors Camille Uy and Lindsey Sayour celebrated match point in a 6-1, 6-3 decisive victory over Julia Scapp and Abigail Raphael. Prep. was State Champions for the 17th time in the last 18 years. Although Prep. had a decisive 3-0 lead in the match, sophomore Olivia Morris completed her match at #2 singles with an amazing victory over a highly ranked 18 year old senior Lisa Marchelska. 2-6, 6-4 (11-9) The only match still going was #1 singles where Amalia Parrish gave the #1 singles player in the Catholic league senior Yuka Lin all she could handle before Yuka prevailed 7-6, 6-3.
In our league we play three singles and four doubles, however in the state championships only three singles and two doubles are played. As a result players who had so much to do with our success rooted their teammates on against Mary Louis. Captains Donna Episcopio and Mary O'Byrne will graduate with four league championship and three state championships. Donna was the epitome of a leader both on and off the court. Although an accomplished doubles player all four years Donna always was first and foremost concerned with what was best for the team. Junior Gianna Medici joined the A team from the B team and made a valuable contribution at doubles playing and winning in all the crucial matches. Sophomore Alexa Poulas continued to develop her power game and teamed with numerous partners for an undefeated season. Freshman Andrea Stopanjac and Marianna Zehas also made valuable contributions and promise to play a big role in the 2016 season.
The future of Prep. tennis continues to look good as we attract players who seek excellence and flourish in a program that has consistently produced teams that have proved to be UNBEATABLE.
---------------------------------------------------------------------------------

Congratulations to the A-Team for Beating Sacred Heart to become the undefeated league champions!

17 Consecutve Years Undefeated League Champions!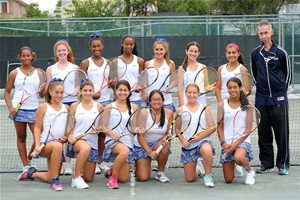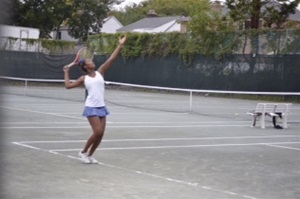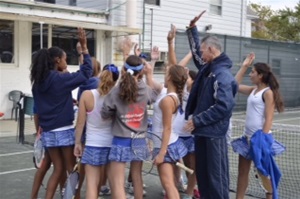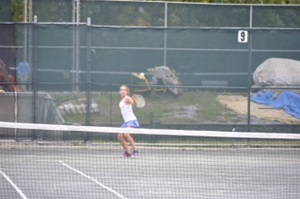 Varsity A News:

Hall of Fame college football coach Joe Paterno speaking about fans expectations said that the greater the success the longer the measuring stick by which you are judged. Given that formula, after 16 consecutive state championships, the girls tennis team at Prep. must judge a successful season by a measuring stick of epic proportions.
The season began with a considerable challenge as the roster was filled with freshmen and sophomores and only one senior, Lisa Elie. Our line-up consistently had nine freshmen and sophomores playing significant roles. Sophomores Camille Uy (#2 singles) Lindsey Sayour (#2 doubles), Lejla Redzematovic and Micaela Prisco (#3 doubles) and Alexis Sakatis (#4 doubles) all made major contributions to our season. Freshman Olivia Morris (#3 singles), Amalia Parrish (#1 doubles), Mia Parrish (#2 doubles), Sara Williams (#4 doubles) and Alexa Poulas (#4 doubles) all played a big part in our success. With these ten underclassmen the future continues to look very bright. Junior captain Donna Episcopio (#1 doubles) and Mary OE?Byrne (#4 doubles) provided experience and leadership.
I cannot remember a team that had only one senior but if that has to be the case you could not ask for a better senior captain then Lisa Elie.(#1 singles) For the 17th consecutive time our girls won the NSCHSAA league with an undefeated 8-0 record. Six matches were 7-0 shutouts with two matches won 6-1. Unfortunately, playing for the state championships Prep. lost a close 3-2 match to Mary Lewis.
The bench mark for a successful season for Prep. girls tennis is indeed a high mark, but our girls accept that challenge. Winning the league championship with an undefeated season was a major accomplishment with this young team. Next year we expect to continue our tradition of excellence and also have a great deal of fun.
Coach John Brennan
-----------------------------------------------------------------------------------------------------

2013-2014 Girls Varsity A Tennis Team
Wins Their 16th Consecutive
CHSAA State Championship!
crack

Prep girls in the most exciting fashion won the league and state championships on Oct. 17th and 23rd.
In the league championship on Thursday Oct. 17th at the Northshore Tennis Club in Bayside. Prep battled Sacred Heart to a 4-3 finals win.
Lauren Munari and Lisa Elie won 1st and 2nd single and Nicole Holloran/Donna Episcopio won at #1 doubles. Sacred Heart secured wins at #3 singles, and #2 and #3 doubles so the outcome would be decided by #4 doubles.
Freshman Leila Redzematovic and Micaela Prisco showed remarkable composure as they secured the championship with a 6-4, 6-3 triumph in a raucous match with both teams rooting loudly for their players.
The following week the state championships were decided. On Tuesday in the semi-finals Prep easily defeated Staten Island Champs, St. Joseph by the Sea 5-0. Now it would come down to two undefeated teams, Mary Louis and Prep, with Mary Louis believing it was their time to end Prep dominance.
Indoors at Alley Pond Park on Wednesday, Oct. 23rd the finals were played out with some exceptional tennis.
Senior Paula Faltynowicz finished first with a convincing win at #3 singles 6-1, 6-2. Mary Louis tied the score at 1-1 with Yuka Lin defeating our super freshman Lauren Munari. Prep went ahead 2-1 as Camille Uy and Lindsey Sayour secured a 6-2, 6-3 win at #2 doubles. Lisa Elie battled to a second set at #2 singles but lost a great match, as the attention all turned to #1 doubles where the championships would be determined.
Nicole Holloran and Donna Episcopio came back from a first set loss to push the second set to a tie-breaker which they won 7-0. Now agin their match and the title would be decided with a nail biting 10 pt. tiebreaker. Once again Prep girls displayed composure and determination as they secured Prep's 16th straight state title 3-6, 7-6 (10-7). The team and fans erupted with cheers and celebration.
This was one of the most enthusiastic and determined teams in Prep's exceptional history and capped a year with one of the most emotional and exciting league and state championships.
Seniors Paula Faltynowicz, Nicole Holloran, Matia Ciklic, and Andrea Panaitescu end their Prep careers with another undefeated league and state championships season.
Junior Lisa Elie established herself as a top singles player for Prep and we expect her to move to an even higher level of play for her senior year.
Sophomores Donna Episcopio played a significant role in our success with an undefeated record at #1 doubles. Mary o'byrne joined the a team and should be a big factor on next years team.
Freshman Lauren Munari led the team #1 singles going undefeated in league play. Her career ah prep. Will only get better from this stunning beginning. Camille Uy and Lindsay Sayour excelled at #2 doubles and will be a major strength in next years team. Micaela Prisco and Leila Redzematovic added enthusiasm and rock solid play to our doubles line-up and show significant potential for three more excited years. Alexis sakatis continues to improve and will give prep solid depth in our 2014 line-up.
This was a season to remember as the legend of girls prep. Tennis team went to even more remarkable heights. Sixteen consecutive undefeated league and state champions and over 200 straight wins. Unbelievable but true!!!
A special thanks to the parents and friends of our players who supported us and supplied so many delicious treats for the teams multiple celebrations. The st. Francis prep tennis family truly had a thrilling season that will be remembered for a long time.
Read the Article Below from MSG Varsity!

http://www.msgvarsity.com/brooklyn-bronx/sweet-16-st-francis-prep-wins-chsaa-tennis-title-1.1522640

________________________________________________________________________________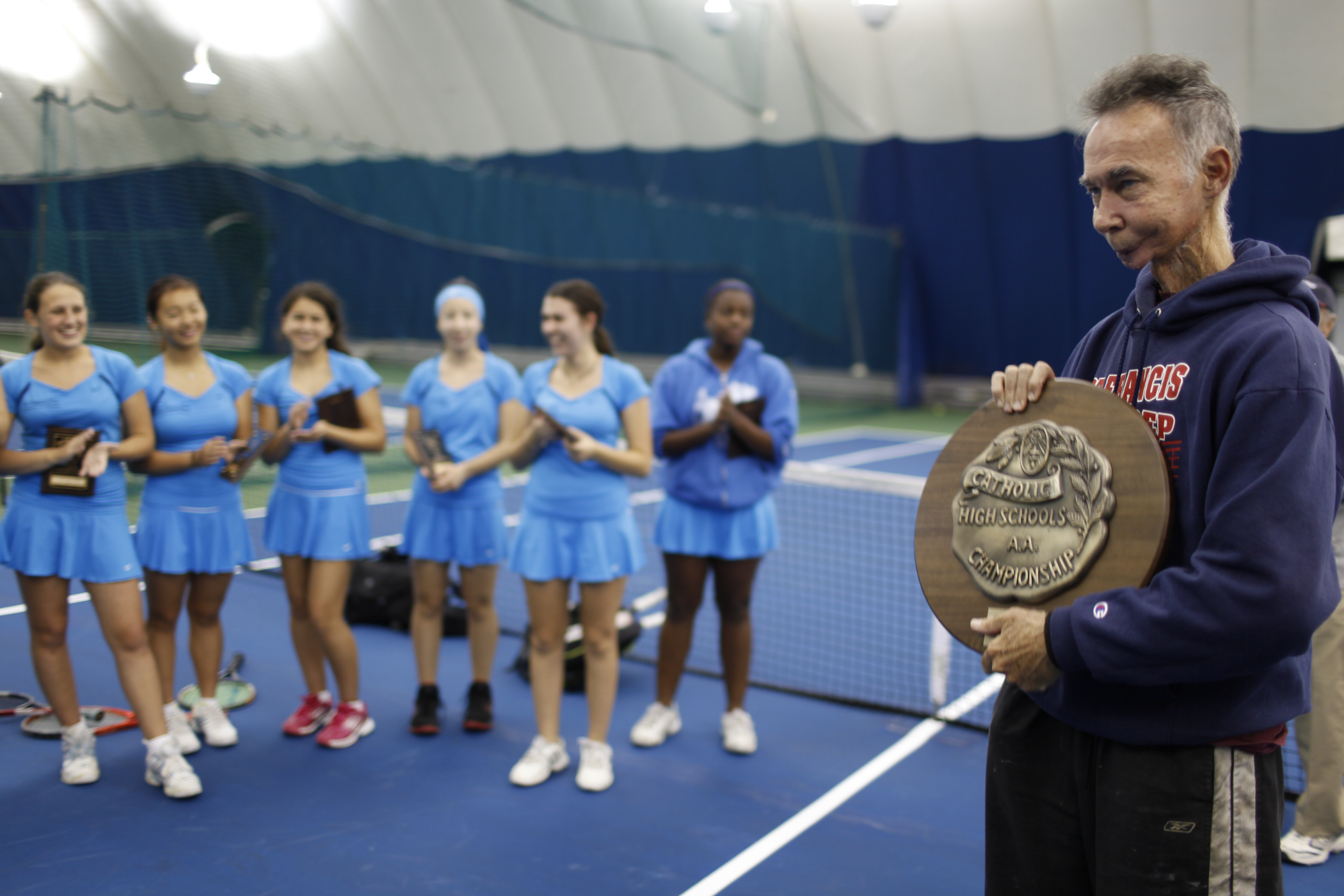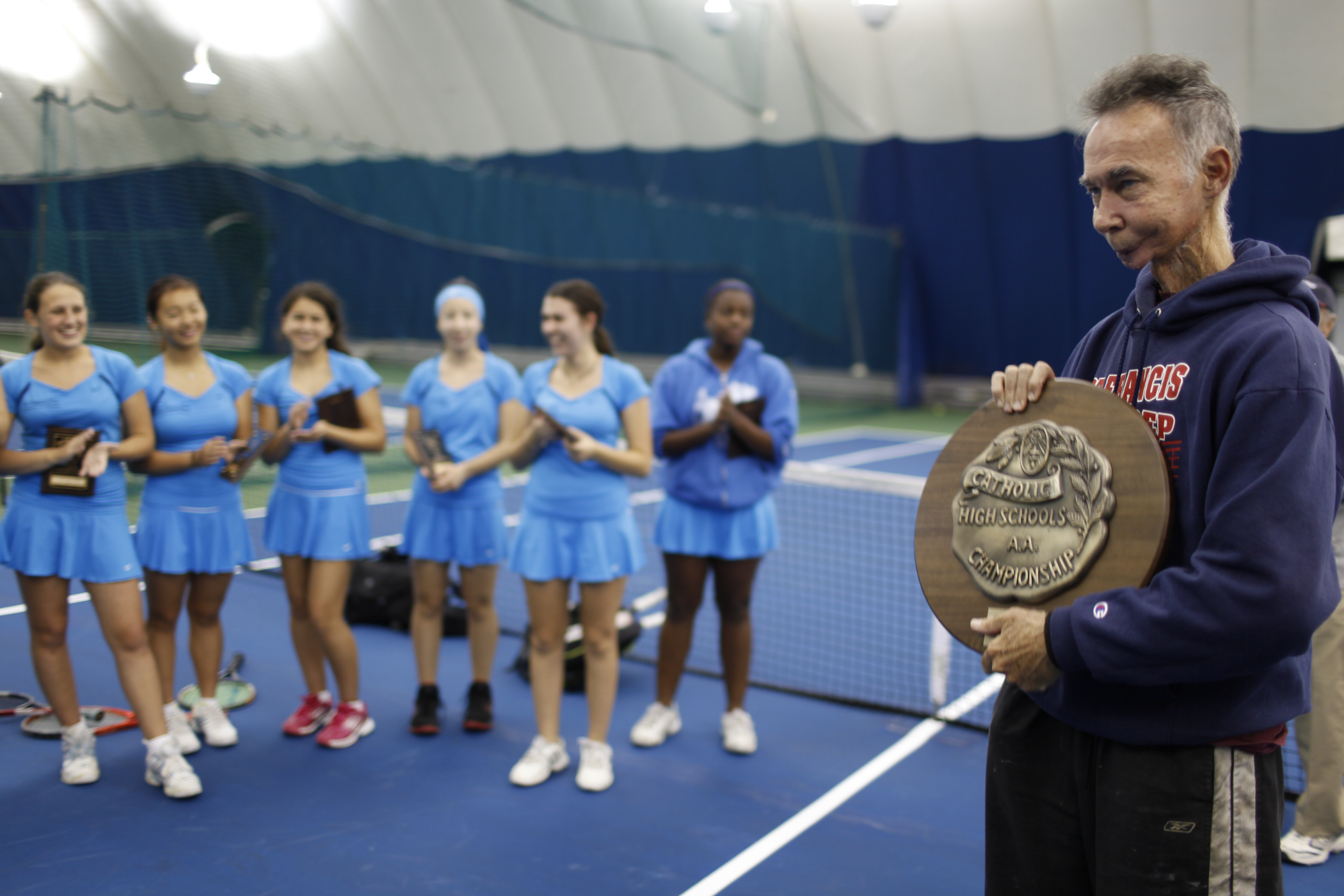 ---------------------------