---
Tennis Boys
Coaches:
---
Mr. Ted Rohrs: Assistant Coach
---
Mr. John Brennan: Head Coach
Update for: Tennis Boys
Mayor's Cup Event

May 30 - June 1st
Crotona Park, Bronx
Congratulations to Douglas Nover who recently signed a
National Letter of Intent with Saint Peter's University!!!!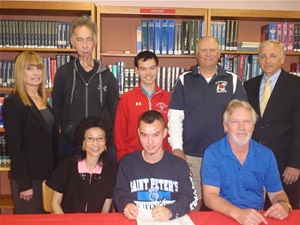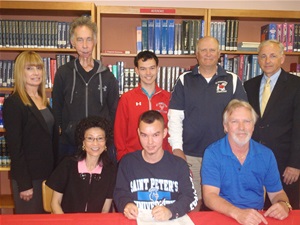 Welcome to the 2015 Boy's Tennis Season!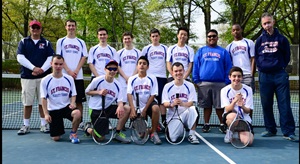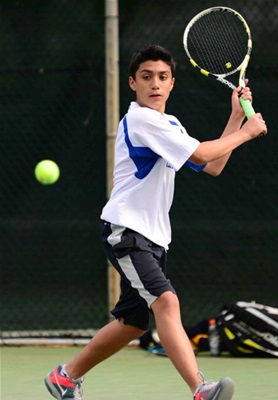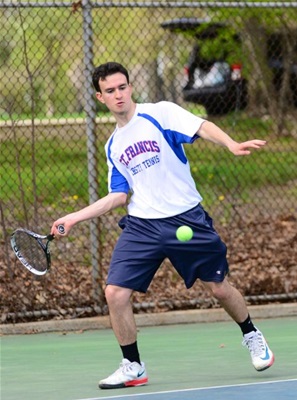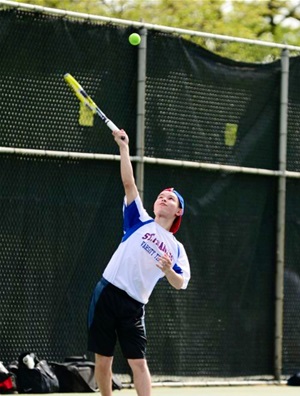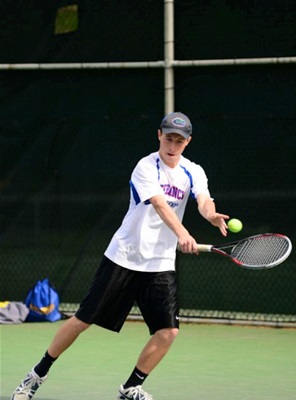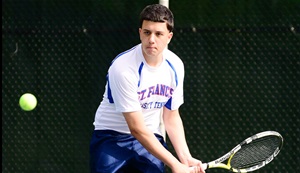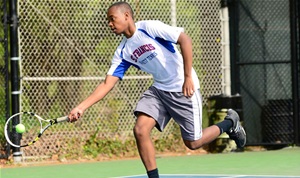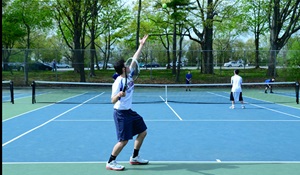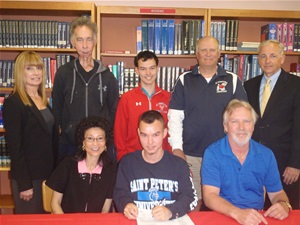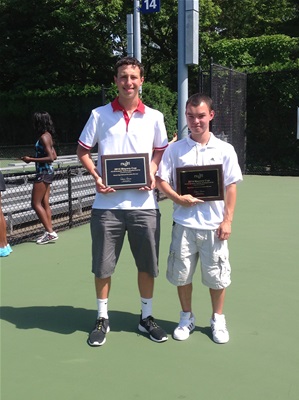 Anthony Santino and Douglas Nover
2014 Mayor's Cup New York City All Scholastic Tennis Championships
Boys High School Doubles Winners
---------------------------------------------------------------------------------------------------------------

Four-Peat
2010 CHSAA Tennis City Championship
Fourth Straight Championship Season
On May 24th, at the National Tennis Center, St. Francis Prep Boys Varsity Tennis Team won their Fourth Straight City Championship with a 3-2 win over Xavier. This win capped off the Fourth Consecutive Undefeated League Championship. Prep has not lost a CHSAA match in four years.
This was truly a team win and demonstrated why all the practice time we put in pays off with championships. All of our players laid it all on the line; that effort and heart proved to be the deciding factor in a razor-close match.
After Chris Jimenez and Laurent Octobre breezed to easy wins at #2 and #3 Singles, the next decisive win would prove elusive. At #2 Doubles, Dillan Hogan and Chris Zipf made a great comeback but fell short 6-2, 7-6. Then, David Arroyave, despite playing perhaps his best match of the year against the highest ranked player in the league, Thomis Kleinski, fell 6-4, 7-6.
Now the match and the Championship came down to one set, the third set, at #1 Doubles. Kilby Featherston and Joe Henehan, after a bad first set, made a gutsy comeback to clinch the Championship with a dramatic 2-6, 6, 2, 6-3 win.
Now it is on to the Mayor's Cup Championship on June 5-6. Where Prep boys will join the Girls Team and represent the CHSAA against the top public and private school varsity tennis teams.
Recap:
#1 Singles: Thomas Kleinski (X) defeats David Arroyave (SFP) 6-4, 7-6
#2 Singles: Chris Jimenez (SFP) defeats Nick Saffran (X) 6-0, 6-0
#3 Singles: Laurent Octobre (SFP) defeats Justin Nadler (X) 6-1, 6-1
# 1 Doubles: Kilby Featherston-Joe Henehan (SFP) defeats Matt Fillipi-Anthony Laguca 2-6, 6-2, 6-3
#2 Doubles: Sean Lee-Andrew Laguca (X) defeat Dillan Hogan-Chris Zipf (SFP) 6-2, 7-6
---
2010 Varsity Tennis
Unfortunately, few people know how good the Boy's Varsity Tennis Team
has been over the last 3 years.
St. Francis Prep has won THREE STRAIGHT CITY CHAMPIONSHIPS 2007-2009
and represented the Catholic Schools
in the prestigious Mayor's Cup tournament each year.
St. Francis Prep is the favorite to win their 4th straight City Championship this year,
with the strongest competition coming from rival Iona Prep.
Six key members of last years championship return for another championship run:
DAVID ARROYAVE, KILBY FEATHERSTON, DILLAN HOGAN,
CHRIS JIMENEZ, LAURENT OCTOBRE, CHRIS ZIPF
One of the team's goals this year is to qualify and win the Mayor's Cup.
The Mayor's Cup tournament includes the best public and private schools
in New York City.
Please feel free to come and watch our team play their home matches
at Cunningham Park Tennis
Head Coach - John Brennan
Assistant Coach - Ted Rohrs
---
2010 Boys Tennis Team
Match Summaries
S.F.P. vs. Molloy
Prep kicked the 2010 season with a resounding defeat of Molloy. David Arroyave, Chris Jimenez, and Laurant Octobre won decisively in singles play while Kilby Featherson – Joe Henehan, Dillan Hogan – Chris Zipf dominated in doubles play.
S.F.P. 5 Molloy 0
S.F.P. vs. Horace Mann
The competition stiffened considerably with a non-league scrimmage against perennial power Horace Mann. Prep won two matches at the top of our line-up with David Arroyave and Chris Jimenez winning at first and second singles respectively. Laurant Octobre lost a close match at third singles and Dillan Hogan – Chris Zipf were beaten at 2nd doubles. In the deciding match, Kilby Featherson and Joe Henehan played a dramatic match that Horace Mann finally won at 7 – 5 in the third set.
2010 Roster
Seniors
JOSEPH HENEHAN
LAURENT OCTOBRE
Juniors
DAVID ARROYAVE
KILBY FEATHERSON
DLLIAN HOGAN
CHRISTOPHER JIMENEZ
THOMAS O'BYRNE
CHRISTOPHER ZIPF
Sophomore
KENNY GUERRERO
ALEX NG
Freshman
KEVIN JOSEPH
ANDREW STAMAS
FRANCESCO CIUFFO
---

2009 SFP Boys Tennis Team
Wins
3rd Consecutive C.H.S.A.A.
Varsity Championship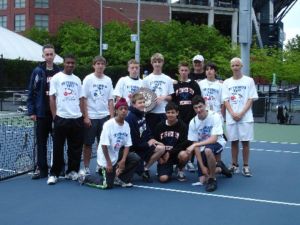 Photo courtesy of Alex DiRienzo
---
2007 SFP Boys Tennis Team
Wins
C.H.S.A.A. Varsity Championship
Photo courtesy of Alex DiRienzo