---
Admissions: International Students
International Students
International Students Admissions Information
St. Francis Preparatory School welcomes international students to join our community. A well-qualified international applicant has a strong academic record and sufficient English language proficiency to perform well in a challenging, college preparatory environment.
International Student Life at St. Francis Preparatory School
At St. Francis Preparatory School, students from around the world are integrated into and encouraged to participate in all facets of school life and learn about American culture. International students at St. Francis Prep have the opportunity to further develop their English fluency skills, experience a well-rounded, rigorous, and diverse curriculum, and challenge themselves to become good Franciscans. Engaging in service, clubs, and activities provides international students with a full immersion experience. Please note St. Francis Preparatory School does not offer an ESL program.
International Support
International students receive support from the individual guidance counselor as well as the Director of Admissions, who is the International Student Coordinator, and student mentors. They have support from the moment they arrive on campus and throughout their time at St. Francis Preparatory School. Regular conference sessions, meetings, and other support are available to all international students.
Curriculum
At St. Francis Preparatory School, we offer a college preparatory curriculum, with a variety of AP and honors level courses. All international students are required to take the school and NYS required courses and Regent Exams. (Please refer to the course catalog link.)
Application Process
Step 1: Complete and Submit Application Documents.
Download International Student application here
Required:
St. Francis Preparatory School International Application
School Transcripts officially translated into English –
Current year and previous 2 years
Copy of Passport
Autobiographical Essay
Your application will be considered upon receipt of all required documents.
Step 2: Interview with the Director of Admissions via Skype or in person.
Once application is complete and criteria is met, international applicants are required to participate in a personal interview. The interview will occur via Skype, unless applicant resides in the Tri-State area. During this interview applicants will be assessed on their English skills, with focus on their speaking, reading, and writing.
Step 3: Decision
If the student is accepted, the Admissions Office will provide a letter of acceptance conditional upon the receipt of the F-1 Visa.
Step 4: Submit Payment for the I-20
At the time of enrollment, $1350.00, is due. This includes the registration fee of $350.00 the Assurance Fund fee of $500.00, and Tuition Deposit of $500. Payment can be made to St. Francis Preparatory School in the form of a check, money order, or cash. Once payment is made St. Francis Preparatory School will issue the I-20 to the student.
Step 5: Tuition & Fees
| | |
| --- | --- |
| Tuition (2016-2017) | $9100.00 |
| Registration Fee (non-refundable) | $350.00 |
| Assurance Fund Fee | $500.00 |
Additional fees vary throughout the four the years, including items such as PSAT and graduation.
Step 6: Arrival of Student
Students must arrive at least 1 week prior to the start of classes and set up an appointment with the Director of Admissions.
 To ensure compliance with the NY State health requirements, the student must have completed medical forms (translated in English). Students must have a medical examination performed by a physician in the United States upon their arrival before they may start classes.
Students must also bring an official transcript to the Director of Admissions
Students will also need to purchase a school uniform at www.flynnohara.com
Physical Education uniforms can be purchased at http://sfponline.org/bookstore/shop.asp
For more information please contact St. Francis Preparatory School Admissions at admissions@sfponline.org
Please send completed applications to:
St Francis Preparatory School
Office of Admissions
6100 Francis Lewis Blvd.
Fresh Meadows, NY 11365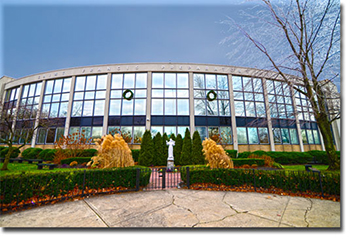 6/2/2017
The Prep
more...
5/6/2017
Student-Teacher-Parent
more...
2/9/2017
WHY I CHOSE TO COME TO PREP, AND WHY I HAVE NEVER REGRETTED THAT DECISION.
more...
1/23/2017
ST. FRANCIS PREP RECEIVES SPECIAL HONORS FOR GUIDANCE AND ART DEPARTMENTS
more...
12/15/2016
FRESHMAN YEAR: Time to Grow Not Only Physically, but Mentally and Spiritually
more...
10/18/2016
SFP Music Department Admissions Video
more...
10/1/2016
All are Welcome!
more...
9/24/2016
St. Francis Prep Walks to Benefit New Students
more...
7/14/2016
St. Francis Prep Students Immerse Themselves in Service
more...