---
All Activities are open to any student at SFP!
Update for: Varsity Chess Team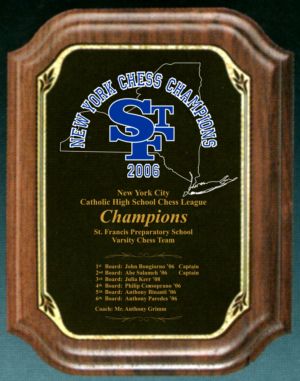 St. Francis Prep
is the Winner of the
2005 - 2006 New York City
Catholic High School
Chess League Championship.
The 2005 - 2006 Championship
is their
Fifth Consecutive
Championship.
---
St. Francis Prep is home
to the current
New York City
Catholic H.S. Champions.
The team has won
7 straight City titles.
The first two were
in the "B" Division;
the last five
were in the "A" Division.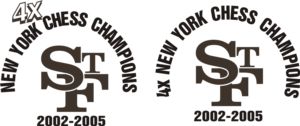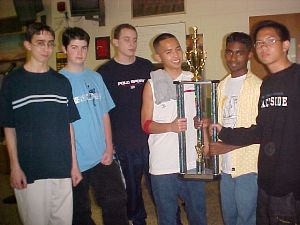 (Pictured above is the first "A" Division Chess Champion Team.
Left to right are David Doerrer, Greg Giusti, Travis Patay,
Doug Pham, Madhu Suryadevara, and Raymon Patron.)
---
Chess Team is more competitive
than Chess Club.
Those who do not make the team
but wish to compete in the
league and in various tournaments
can improve their play
at Chess Club.
Chess Club is also open to those
who wish to enjoy the game of chess
without the competitive nature of the
Chess Team.
See Mr. Grimm in W216
for more information.
---
Chess Team Wins
Third Consecutive
City Championship
By Liz Harris '04
The game of chess seems to have left a part of American culture dumbfounded. The question "is it a sport or a board game?" often arises. While it may not be as physical as football, chess is an intellectually demanding game that depends on abstract reasoning and strategic thinking. Whether one argues that chess is a sport or not, one thing is for sure. St. Francis Prep's Chess Team, from Queens New York, is a group of strong players that have devastated opponents in their league.
During the last five years, the Prep has dominated the New York City Catholic High School Chess League (NYCCHSCL). In 2000 and 2001, they won the Varsity "B" championships, and in 2002, 2003 and, once again this year in 2004, won the Varsity "A" title. Last year (2002-2003), with Doug Pham as captain, and this year (2003-2004) with Greg Giusti as captain, the Varsity team finished with a brilliant record of 15-1. Last year, their only loss came in a three-hour match against St. Raymond's from the Bronx and this year against Molloy from Queens.
Last year, in addition to winning the City Championship, individual Varsity players won five of six board trophies -- awards given to the best players in the league at their respective positions. This year St. Francis Prep won each board trophy! Three years ago, the NYCCHSCL created a Junior Varsity level. St. Francis' JV team has won the City title each year: three in all. In the first two years of its existence, Prep's JV team crushed Molloy in the finals. This year the Prep's JV team defeated the team from Regis High School from Manhattan. Last year and this year the JV team was undefeated!
So how do they do it? What makes the Terriers nearly invincible in their league? "There are a number of reasons why the team has experienced so much success," said Mr. Grimm, who has been the coach for the past six years. "The team exhibits the necessary qualities all great teams require: camaraderie, hard work, commitment, sacrifice, etcetera. Depth is one of the team's greatest strengths. This league has never seen a varsity team whose rating average is over 1500," explained Mr. Grimm. ...
(The original article published in the school's newspaper, The Seraph, may be found in the school's archives in the School library.)