---
The proud traditions of St. Francis Preparatory School stretch back over 150 years to a simple building on Baltic Street in Brooklyn, New York. There, in the Fall of 1858, the doors of what was then St. Francis Academy opened for the very first time. The school has twice relocated, first in 1952 to North Sixth Street, again in 1974 to its present location in Queens, and has since been providing intellectual and spiritual growth to young men and women who seek the finest Catholic education available.
The Franciscan traditions of peace, love and respect for the individual, community, and environment are the fundamental building blocks of the St. Francis Prep Education. The abilities of our students are nurtured and strengthened in an environment centered around the teachings of Jesus Christ. St. Francis Prep is a community of learning and teaching, committed to maintaining the standard of excellence which has been in place since its founding.
Accreditation
St. Francis Prep is accredited by the Middle States Association of Colleges and Secondary Schools. We are the first school to have received the Music Credential from the Middle States Association (Spring 2011). (The Middle States Association of Colleges and Schools is a non-profit association that fosters school improvement in early-age through higher education and other educational institutions through self-study, evaluation, and accreditation.)
Spring 1858
Two Franciscan Brothers from Ireland arrive in Brooklyn and move into 300 Baltic Street.
Fall 1858
St. Francis Academy, the first private Catholic school on Long Island, opens.
1860
Property on Butler and Smith Streets behind and adjacent to the school is bought to allow for more living space for the Brothers, boarding students, and a gymnasium and chapel.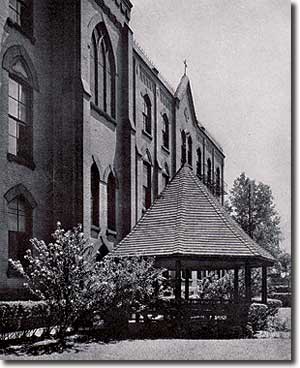 1935
School adopts its present name, St. Francis Preparatory School.
1952
St. Francis Prep moves once more to North Sixth Street in Williamsburg, Brooklyn.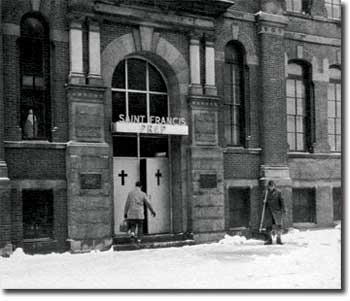 1974
St. Francis Prep relocates to Francis Lewis Boulevard in Fresh Meadows, Queens, and women are admitted for the first time.
1983
St. Francis Prep earns the U.S. Department of Education's Excellence in Private Education Award.
May 1995
St. Francis Prep begins Our Vision for the Future Endowment Campaign.
1999
St. Francis Prep is recognized by U.S.News & World Report as an "Outstanding American High School" and dedicates wall of recognition in honor of graduates, parents and friends who have made an investment in the St. Francis Prep Endowment Fund.
May 2000
St. Francis Prep dedicates Alumni Hall of Fame.
October 2008
St. Francis Prep celebrates its 150th Anniversary with a Gala at the Brooklyn Marriott and "kicks-off" year-long commemorative activities as well as The Campaign for St. Francis Prep to help fund the school's major capital improvement and modernization program (which continues today).
 September 2011
St. Francis Prep dedicates the new Coach Vince O'Connor Physical Education and Athletic Training Center and The Art Education Center  and announces plans for Stage Two of The Campaign for St. Francis Prep to help fund a new Science and Music Complex (with groundbreaking scheduled for June 2014).
 September 2013
St. Francis Prep institutes a new administrative model as Brother Leonard Conway, O.S.F. becomes the first-ever President of the school (after having served 30 years as Principal) with Patrick J. McLaughlin '73 becoming the Principal. This represents a natural progression for the Prep as it looks to build upon past success and prepare forThe Next 150.
Today
St. Francis Prep is the largest private Catholic secondary school in the United States. The Prep is registered with the Board of Regents of New York State, member of the New York State Association of Independent Schools, recipient of the U. S. Depatment of Education's "Excellence in Private Education" award recognized by U.S. News and World Report® as an Outstanding American High School. Ninety-eight percent of the graduating seniors go on to the college of their choice. There are over 25,000 proud alumni.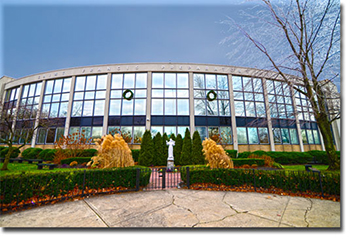 Prayer of St. Francis
Lord Jesus, make me an instrument of your peace.
Where there is hatred,
let me sow love
Where there is injury, pardon
Where there is doubt, faith
Where there is despair, hope. Where there is darkness, light.
And where there is sadness, joy. O Divine Master,
Grant that I may not so much seek to be consoled as to console,
to be understood as to understand,
to be loved as to love;
for it is in giving that we receive;
it is in pardoning that we are pardoned
and it is in dying
that we are born to eternal life.