---
SFP Tech Help
Technology Acceptable Use Policy
All students and families are required to comply with the Prep's Technology Acceptable Use Policy.   This policy provides guidelines for proper use of the devices, services, apps, etc that are all part of the technology landscape here at the Prep.  It is important that each student and family be familiar with the Technology Acceptable Use Policy and be in full compliance with it.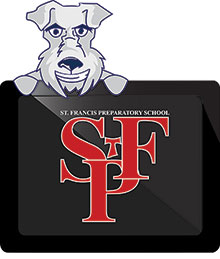 Parent/Student Portal
Registration/Pre-Registration info here
The Parent / Student Portal enables the parent/guardian and student an important and timely view into the status of the student's progress in a number of areas: grades, discipline, and attendance.  You can drill down on a grade to determine where issues may lie.  You can email the teacher directly from the Parent Portal.  You can also configure the portal to send you periodic emails with grade, discipline, and attendance information. 
We have recently added a page to allow parents/guardians to change demographic data.  So, if your home phone or address changes, you can update it right online. We will be adding capabilities in the future to allow you to enter more data via this online interface.
There are free mobile apps available for both the Parent Portal and the Student Portal.  You can download these by going to the App Store on your device and searching for "PowerSchool for Parents" or "PowerSchool for Students".
IF YOU HAVE A PARENT PORTAL PROBLEM, try the links below.  If you continue to have a problem, please contact the Prep at 718-423-8810 and ask for extension 250 for assistance.
Student / Guardian Email Accounts
Graduating Seniors
Your prep email account (studentID#@stfrancisprep.org), as well as the associated guardian email account
(g-studentID#@stfrancisprep.org) will be deleted on or about August 1.
If there are any important emails you wish to save, you need to forward them to a personal email account prior to that date.
You should also inform your important contacts that this email address will no longer be valid after that date.
Current Students Important Email Info HERE
Each student receives a St Francis Prep email account.  In addition, we have created a Guardian email account for each student's parents/guardians. THE GUARDIAN EMAIL ACCOUNT AND PARENT PORTAL ACCOUNT ARE TWO DIFFERENT AND UNIQUE THINGS.
These accounts are essential as we will be sending information home via these accounts.  In particular, ALL REPORT CARDS will be emailed to the Guardian account; we are no longer sending printed Report Cards via U. S. Mail.
The email accounts have already been created for you; you just need to login to activate them. IF YOU HAVE GUARDIAN OR STUDENT EMAIL ACCOUNT PROBLEMS, please send an email from your personal email to email.questions@stfrancisprep.org; make sure to include the student's name and student number, and the nature of the problem you are experiencing.
Link to Email Login Screen
Information on Account ID and Password Formats
How to Set Up Forwarding of Emails
How to Add Your Email Account to your iPhone or Android
SchoolMessenger
St Francis Prep uses SchoolMessenger to broadcast information of importance to Prep families.  School closings (snow days), important events at Prep, discipline information, and in the near future, attendance information may be sent home via a voicemail or email notification.
Parents can use the Parent Portal to personalize the ways messages are received.
How to Customize SchoolMessenger
MySFP